In this review, we take a look at 3 new TC35 DAC/AMPs: the ddHifi TC35 Pro Eye, Mountain and Tetris. Available for $94,99 USD.
Disclaimer: the ddHiFi units were sent to us free of charge by ddHifi in exchange for our honest opinion. 
About ddHiFi
Established in 2017, ddHiFi is a new brand of adapters, DAC, and more recently, earphones. Led by Demond Ding, a former member of FiiO and Oppo, the brand has gained some fame recently, and I was pretty curious to try their products.
The company goal?
"To use concise and brief design language to make user-friendly accessory products, abandon any decorative design that is irrelevant to practical usage and pay more attention to product material and craftsmanship details with cost-controlled"
Or in simple terms: good products at an affordable price. Which is often equal to Chi-Fi if you want to shorten it even more.
We have reviewed many of ddHifi's USB units before. You can find them all here. The previous TC35 review can be found here: https://www.headfonia.com/ddhifi-tc35i-tc35b-review/
Today I'm reviewing three of their newest and coolest looking DAC/AMP units of the ddHifi TC35 Pro model: the Eye, Mountain and Tetris.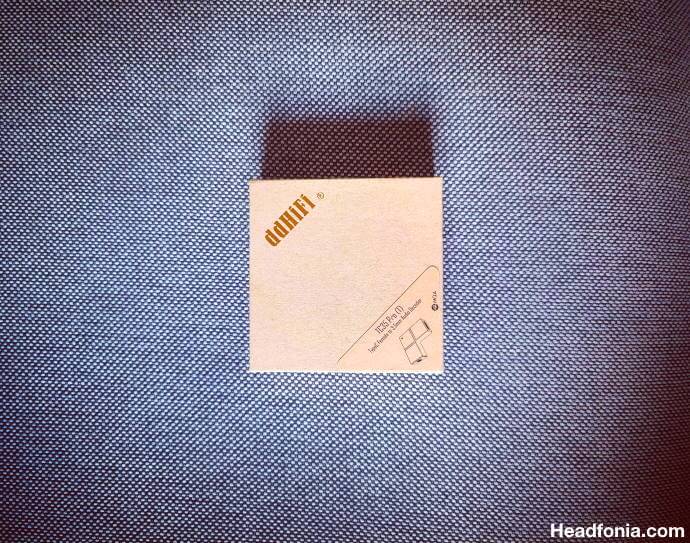 Delivery, Design & Build Quality
Intro
ddHifi has released these 3 new units all at the same time, the difference being the form factor and the "using method", how ddHifi calls it. We will go over all 3 models in this article.
The ddHifi TC35 Pro Tetris, Eye and Mountain all use the same DAC chip from ESS, the ES9281AC. I pretty sure that we haven't reviewed this chip before, so that's quite refreshing. You can find out all about this chip, right here: https://www.esstech.com/wp-content/uploads/2021/04/ES9281A_80A_PRO-Product-Brief-v0.2.5.pdf
Box
ddHifi stopped using the nice wooden boxes of their early days, and now they're using small card wood boxes. On the inside you next to your unit (packed in a small plastic bag) you will find a card with info on the warranty, a bag of desiccant gel, filling and a card explaining the TC35 models specs (with the color codes for the LED)
It's simple but it works well and at these awesome prices, we can't expect too much either.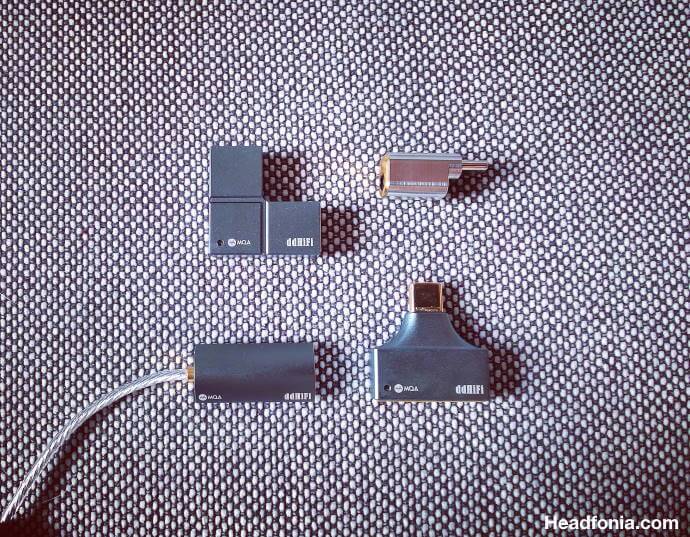 Size & Design
Size and design wise we this time get 3 completely different models, all selling at the same price: $94,99 USD. Why 3 different designs? Easy, according to ddHifi they all 3 have different use cases.
ddHifi TC 35 Pro Eye: Based on the TC44B design, but a whole lot smaller. It's small, thin and light and it has a non-detachable cable terminated in USB-C to connect it to your source of choice. ddHifi made the body into a waisted arc edge in order to reduce the weight. It also looks like an eye with the 3.5mm connector right in the middle. Eye weighs 8g and measures 28 x 22 x 8mm.
https://www.ddhifi.com/productinfo/699360.html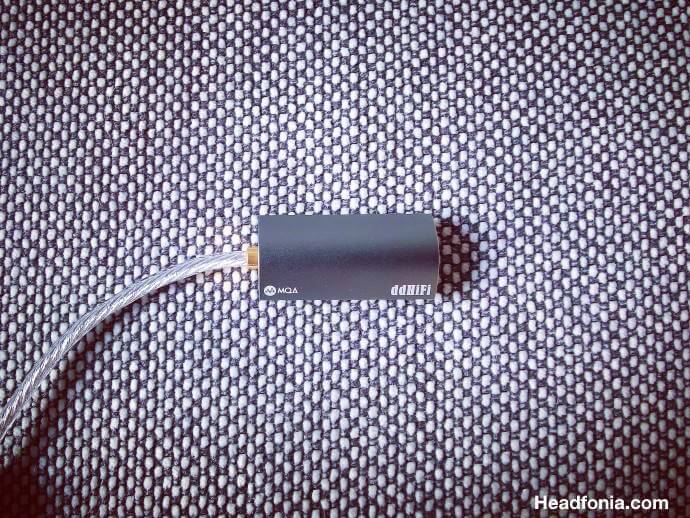 ddHifi TC 35 Pro Mountain: Also small with a slick T-design. It's smooth, it's sexy and it has the ddHifi house design all over it. This time the shell is thinner. Mountain weighs 5.8g and measures 30 x 14,8 x 7 mm. The cable length is 6cm.
https://www.ddhifi.com/productinfo/747134.html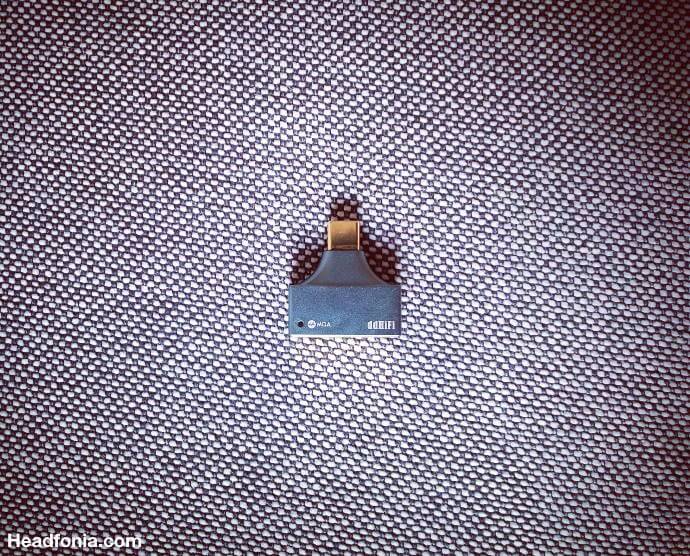 ddHifi TC 35 Pro Tetris: Perhaps the coolest looking unit, with a 90° angled design. It's pretty obvious where the name comes from as we all know the game. Absolutely adorable and ddHifi even calls it a piece of art. It's made from 6063 aviation aluminum alloy and you need to hook it up by using a USB-C cable. Tetris weighs 8g and measures 28 x 28 x 8mm.
https://www.ddhifi.com/productinfo/747133.html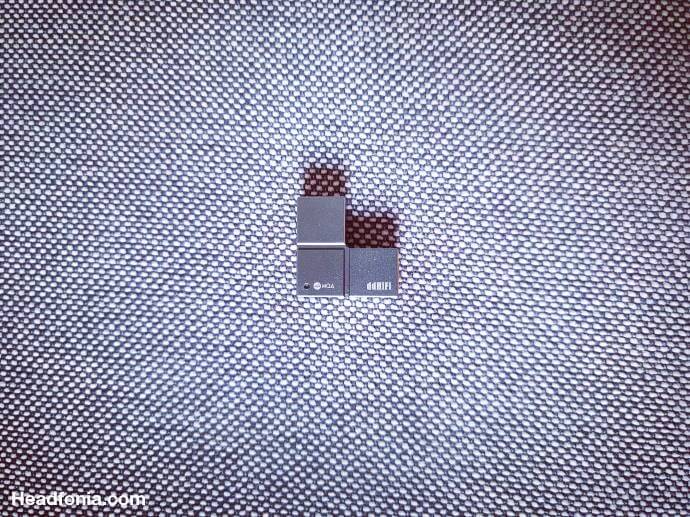 All of the units have a tiny indicator light incorporated in their design. In addition to it displaying the on/Off status it also identifies the different sample rates as you can see explained in the image below: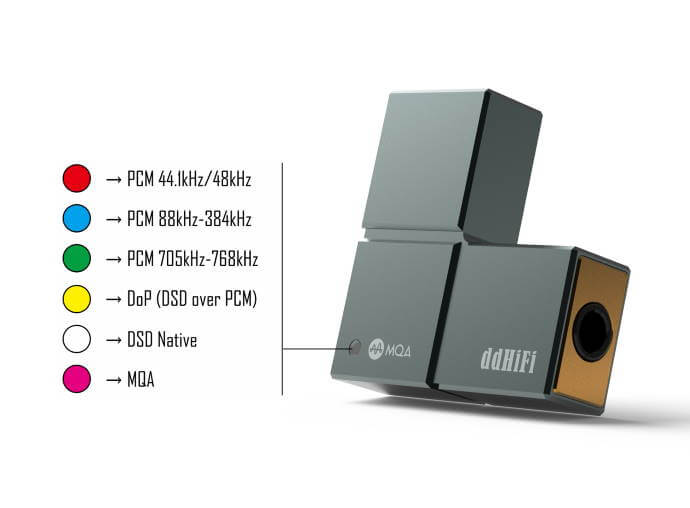 Build Quality
All of the units have very good finishing and the units feel solid. I do have to note that I on the Mountain unit see some glue residue around the USB-C connector. But all-in-all, I really couldn't ask for more.
Usage and Specifications
All ddHifi TC35 Pro units support remote control and microphone for CTIA standard earphones. The units al share the same specs as the same chip is being used in all three units.
Usage-wise these are very simple, it's plug and play. For Tetris, make sure you're using an OTG cable that works. This sounds weird but not all of my OTG USB-C to USB-C cables work with the Tetris. Also plug in your ear/headphone using the 3.5mm socket before you connect the USB-C connector to your source.
Using these on the go is awesome as they only take up little space. Their size however is the biggest disadvantage of the TC35 Pro as well, especially for the Titan and Tetris. They're so small that they're easy to lose when you're out. I never just put them in my pockets, but I use a Pelican hard case to store them in when they're not being used.
Specs
Output Power 1: ≥30mW(16Ω)
Output Power 2: ≥62mW(32Ω)
Output Power 3: ≥7mW(600Ω)
SNR: -118dB
THD+N: 0.0004%
DAC (DSD): Native DSD512
DAC (PCM): Up to 32bit/768kHz
The three devices also are MQA enabled renderers. You either like that or you don't but they will complete the final unfold of an MQA file and the LED will glow Magenta to indicate that the unit is rendering an MQA stream/file.
The units also automatically detect the ear/headphone's impedance and they switch between low and high gain modes. Pretty cool!
The part on sound starts on the second page. Click here or use the jumps below.
Page 1: ddHifi + TC35 Pro
Page 2: Sound + Conclusion