In this review we take a close look at the EarMen Angel portable DAC/AMP and Pre, selling for €799 Euro or $799 USD.
Disclaimer: The EarMen Angel was sent to me directly by EarMen in exchange for our honest opinion about their newest unit.
EarMen
If EarMen doesn't ring a bell yet, then the Serbian "Auris Audio" just might. In fact, if you've been following Headfonia you will know that we're quite the Auris fans here. Their amps have won multiple of our awards, and models like the Euterpe, HA2-SF and Nirvana get praised all over the world.
A while ago Auris Audio decided to enter the portable market and to do so they came up with new brand name: EarMen. EarMen is registered in the US but all of their products are built and assembled in Europe to ensure the highest standards in production quality.
EarMen is all about delivering the best possible value for money and their new product line-up consists out of 9 models currently.
The EarMen Line-up
The Donald DAC – A USB-DAC only with an RCA output to hook up to your dedicated amplifier
The TR-Amp – A portable DAC/AMP solution
The Eagle – A single ended USB DAC/AMP dongle and DragonFly Cobalt competitor.
The Sparrow – A single ended and balanced USB DAC/AMP dongle.
The Tradutto – An ultra-high resolution fully balanced compact DAC with advanced BT streaming capability.
The Colibri – A dongle sized transportable DAC/AMP with volume control, lots of power and double outputs
The Staccato, a streamer from the Tradutto range
The CH-Amp – A mini sized fully balanced amplifier from the Tradutto range
The Angel (by Filip Tot), a fully balanced portable DAC/AMP
In this article we look at the last unit in this line-up, EarMen Angel. Let's dive in.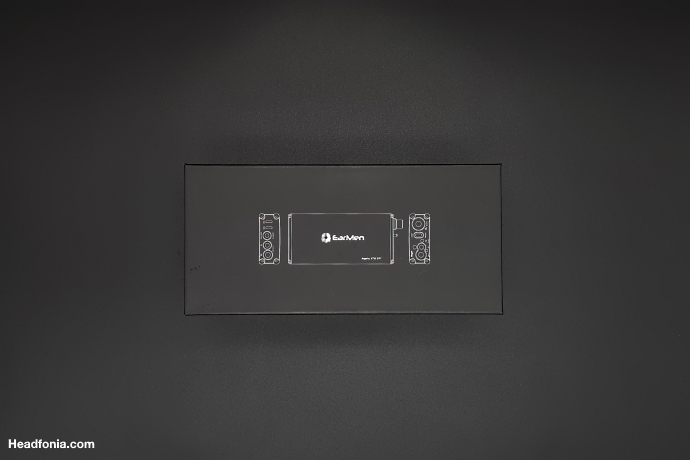 Angel – Intro & Price
The EarMen Angel's dedicated web page can be found here. It's selling for $/€799 USD/Euro, and you can buy it directly from EarMen here, or you can get it from one of their official dealers.
Behind the Angel stands EarMen's engineer Filip Tot, who I had the pleasure to meet at High End Munich back in May. Filip was involved in the development of many of Auris Audio's amplifiers such as Headonia, Nirvana, Euterpe, Legato, Ha2-SF.
From the very beginning, we set out with all our might in search of the perfect sound, like a gold rush. That's why we pay a lot of attention to subjective feeling, not just measurements. Whenever I work on something I always stick to our motto: Sound above all.
The EarMen Angel is designed to be multifunctional with a lot of power, a big battery and beautiful sound.  Angel – according to Filip – portrays great dynamics combined with low noise and low distortion.
Angel – Features
The EarMen Angel is a fully balanced DAC/AMP and it comes with a pre-out function in both a Single Ended as well as a balanced output. The Angel is a real fully balanced device, and the balanced signal goes intact from the DAC all the way to the headphone output. There are no changes in the audio signal itself except for the amplification. The device is designed so that in the path of audio signal sound, there are no additional capacitors and other components that would introduce distortion.
Gain +: By switching to the Gain + mode, you will get more power, volume and according to EarMen, dynamics (120dB). This option gives you the ability to adjust the volume to a more precise level, allowing Angel to be used with all types of sensitive and insensitive headphones. More on that later.
The new EarMen Angel uses the ESS DAC ES9038Q2M DAC chip, which has great SNR and THD + N characteristics. It's a popular chip that's being used in many other units. The Angel comes with the newest XMOS USB receiver which can decode up to 768kHz/32 bit PCM, DSD256 via DoP and MQA Studio. Yes, the EarMen Angel does support Tidal MQA (Master). You like MQA or you don't, but if you're into it, the Angel has you covered.
The Angel features a linear power supply with ultra-low noise to guarantee great clarity in the sound. The DAC/AMP sports 2-cell battery (2x3000mAh) which will last you a very long time. You do not have to worry about battery consumption, as the charging time is less than 3 hours. The Angel has separate DATA and USB charging ports, so you can run the unit continuously when it is on the charger.
Output-wise you have the choice between a 3.5mm single end output as well as a balanced 4.4m output. Whatever you choose, Angel will automatically recognize your selected output. You can't use them both at the same time, if 2 headphones are connected, the Single Ended output will be the one putting out sound.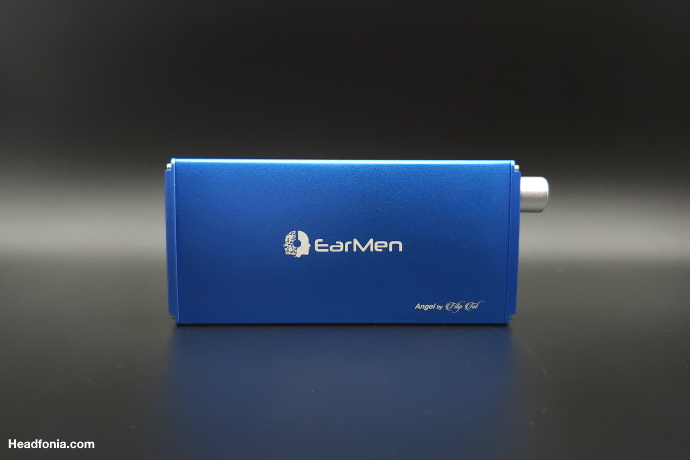 Here are some useful links for the driver, manual and firmware.
Windows Driver: https://drive.google.com/file/d/1f56jQiio-8lbtLvl4bvC_rss3HjkhvtU/view?usp=sharing
Manual: https://drive.google.com/file/d/19CW0IoQeT14vJc4I6iJvviokwRs4CjKm/view?usp=sharing
Firmware: https://drive.google.com/file/d/1pIEBvqvVsPYdi6K9Ya7YSKiqcxC-Bx3v/view?usp=sharing
Full specifications for the EarMen Angel can be found here: https://earmen.com/index.php/products/earmen-angel
Angel – Design, Build quality
The Angel only comes in blue, and it has the typical style and size of most of the higher end portable DAC/AMPs on the market. The Angel measure 152 x 27 x 66mm – or 6" x 1.05" x 2.6" – and it weighs 340gr (or 0?75 lbs). It's not a small unit and as such it will not fit in your pocket, but it's a fully transportable unit that you can take with you to the office or on holiday. Combine it with a small source like a mini DAP from Shanling or Hidizs, or with the super versatile xDuoo X10Tii and you have a high-end quality sound system in a small, transportable package.
The Angel is built in Europe and the build quality simply is good. You wouldn't accept anything less at this price level either. All the connections look and feel solid, and the volume dial has a nice grip. You can even open the unit and you will see everything is spick and span on the inside as well.
The Angel comes delivered in a nice box with a set of accessories. Below the unit, you will find a USB-C to USB-C cable, an adaptor for the Coaxial input and a small adaptor for the SPDIF input. Of course, you will also find the manual in there.
A complete package with a nice set of accessories and a well built unit. Absolutely nothing to complain here.
The article continues on the second page. Simply click here or use the buttons below.
Page 1: EarMen, Angel – Intro, Price , Features, Design, Build Quality
Page 2: Angel – Layout, Usability, Sound Intro, Sound General
Page 3: Sound Balanced vs Single Ended, Digital Inputs, Pre Out, Comparison, Conclusion