Disclaimer: The Auris Audio HA2-SE was sent directly from the Auris Audio factory in Serbia and it will stay here with me. 
Auris Audio
I'm pretty sure most of you have never heard of Auris Audio before but in the High-End speaker world, the Serbian company has been on the map for several years already.
"Based on experience in design amplifiers and other electronic devices, Auris Audio's philosophy is rooted in Superior design, natural materials and skills of making, which give us the right to claim that our products are handcrafted with soul"
Auris Audio was founded in 2013. Their mission is to fulfill the desires of the most demanding audiophiles and delight both listener's ears and visual senses. Auris Audio puts tubes first, and how I like it.
Last May, during High End in Munich, I was having a beer at the famous beer garden at the High End show when someone came up to me, asking if I was Lieven. My Headfonia shirt probably gave that away. The guy that came up to me was Mr. Milomir Trosic, Auris Audio's big boss. He quickly showed me a couple of pictures and asked if I would be interested in reviewing his headphone amp. We exchanged business cards and we both went our own way. After High End, things got so very busy that I didn't get to contacting Auris to arrange a review. A few months later I discovered the Auris headphone amp at Canjam Europe in Essen and I reserved some time for it. I sat down with an original HD800 I borrowed from Jan Meier and within five minutes I knew I had to set up that review as soon as I got home.
Now, Auris Audio doesn't only make headphone amplifiers but they have full product line-up with speaker amps, pre amps, DACs, speakers and even a full system. Auris Audio often visits the big trade shows and their setups and rooms always get a lot of attention. Check out their Twitter and Facebook accounts to keep up with what they're doing.
The HA2-SE
The Auris headphone amplifier is called the HA2-SE and according to Auris Audio the HA2-SE represents high end stereo amplification for headphones.
The HA2-SE is a single ended amplifier and there is no balanced circuit, only RCA inputs and one 6.3mm headphone output. It has three inputs which I found very useful as one was connected to my Violectric V850 DAC, the second to my Pro-Ject Phono amp and the third to my AK380 DAP. Depending on the headphone type used (and its resistance) you can simply select the output impedance by turning a knob at the back of the unit. It has specific settings for 50, 150, 300 and 600Ohm headphones.
The HA2-SE comes with a remote control which allows you to change the volume or mute it, nothing more. The remote is rather heavy but it feels awesome. The reason? It's carved out of a solid block of aluminum. It's a detail, but it matters.
Tube Galore
The Auris HA2-SE of course is a tube amp and it uses four PL95 or EL95 power tubes together with an ECC82 input tube. The EL and PL95 tubes can both be used in the amplifier and you only have to flick the switch on the back as these tubes have different heater ratings. You can learn more about the EL95 (and replacements like the 6DL5) right here: http://www.radiomuseum.org/tubes/tube_el95.html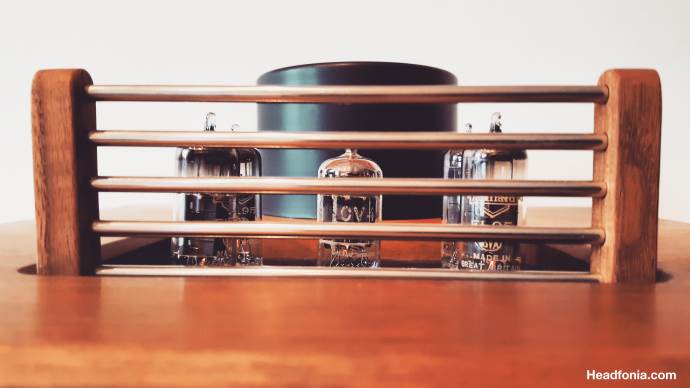 According to Radiomuseum.org, the EL95 is an economic output tetrode, launched late 1955. The EL95 is designed for car radios or equipment with low power consumption and / or smaller output power demand. There are a lot of EL/PL rebrands on the market and the tubes are available for very little money
"Vacuum tubes used in Auris Audio products are subject to individual testing and internal inspection, so that only selected and match-paired tubes of the best features are incorporated in our products."
The ECC82 input tube (which equals to a 12AU7, CV4004, CV491 etc) is a miniature nine-pin (B9A base) medium-gain dual vacuum tube. The tube is popular in vacuum tube audio as a low-noise line amplifier, driver (especially for tone stacks), and phase-inverter in vacuum tube circuits. You can learn everything about this tube type on the following two pages:
http://www.radiomuseum.org/tubes/tube_ecc82.html
https://en.wikipedia.org/wiki/12AU7
Contrary to the EL/PL95, the more famous and rare ECC82 tubes can set you back quite a lot when you want to buy them NOS.
Stock tubes & replacements
The Auris Audio HA2-SE came delivered with a "made in Yugoslavia" Ei labelled set of PL95 tubes. The replacement tubes I have in my tube stock are Siemens and Philips branded PL95 all three sets actually are identical, just rebrands.
The stock 12AU7/ECC82 tube that came with the HA2-SE was a recent Russian made Electro Harmonix (EH) tube and especially changing this one will improve the HA2-SE's sonic quality. Not that this is a bad tube but it isn't great either. I have a couple of 12AU7 RCA clear tops I use in several of my amps but for the HA2-SE I selected a different one.
After having listened to the overall reasonably good sounding stock tubes for several days, I switched the power tubes to a set of Mullard branded EL95 and I replaced the EH tube with a gorgeous little NOS Philips Holland made/branded ECC/CV491 tube. This combination of good NOS tubes should set you back around only $40/€40.
The article continues on Page 2, after the jump below or the click HERE