In this review we take a close look at the Feliks Audio Euforia evo. It's Feliks Audio's latest version of their successful Euforia tube headphone amplifier, and it's selling for €2.699 Euro.
Disclaimer: Feliks Audio is not related to Headfonia in any way. The Euforia evo was sent to me to be featured on Headfonia.com.
Feliks Audio
I have had the pleasure to meet Lukasz Feliks and his co-workers in person at the High-End shows in Munich over the last years and they're all very kind and professional. Lukasz is now co-running the business which his father started, and he's clearly doing an excellent job.
Feliks Audio has been around for quite some time already, but I have to say that they gained a lot of importance these last few years in the personal audio segment. Feliks Audio has also been displaying their products at the Head-Fi Canjam and other shows and I'm convinced this has helped them a lot as they have great gear and the best way to prove that is by letting people listen to it.
Feliks Audio is a family, boutique manufacturer of hand-crafted tube amplifiers, with over 20 years of audio solutions development experience. All their products are in-house engineered, tuned, and assembled at their site in Lubliniec (Poland). They create special and unique designs, blending technology and tradition. Originally, Feliks Audio focused mainly on custom made amplifiers tailored to client's order. Over the time they developed many innovative and sophisticated audio solutions. Thanks to that they have gained valuable knowledge and experience across broad range of applications. Their amplifiers like the Elise, Euforia and Euforia AE, have won many awards across the world. Their products offer a perfect blend of passion for honest sound, great attention to technical details and beautiful finish. Feliks Audio follows design simplicity, minimizing the number of elements in projected signal path. Thanks to this approach they ensure that the sound produced by their devices is pure and true
You can find the Feliks Audio website here https://feliksaudio.pl/ and their Facebook page is here https://www.facebook.com/feliksaudio/
In this article we are looking at Feliks Audio's newest amplifier, the Euforia evo.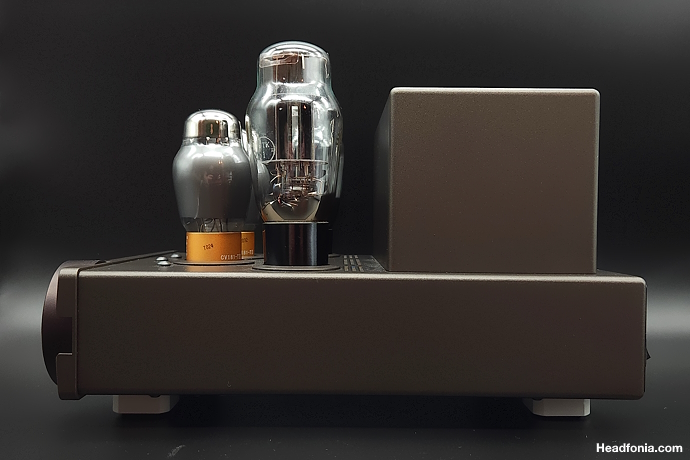 The Euforia evo – Intro
The Feliks Audio Euforia evo already is the 3rd version of this famous design. We reviewed the original Euforia amplifier back in 2018, and the Anniversary Edition saw the light in 2019.
"Evolution never ends"
As technical evolution never ends (and because we all like new and updated gear), Feliks Audio decided to launch a new and improved version of their OTL flagship amplifier. It isn't 100% clear what exactly was done to the evo version, but we do know that it now comes with an XLR output (not a balanced design) and UPOCC wiring. A large part of the internals upgrades has been carried over from Anniversary Edition and the evo now has an optional tube protecting mesh.
The Feliks Audio Euforia evo is selling for €2.699 Euro. the Anniversary Edition is selling for €3.099 but it's sold out right now. The original and regular Euforia is not for sale anymore.
The Euforia – Main Features & Options
The Euforia evo, like its predecessors, still is an OTL design. OTL stands for Output Transformer-Less. It's a term used to describe tube amplifiers that do not have an output transformer. You can find out all about OTL design here on Wikipedia.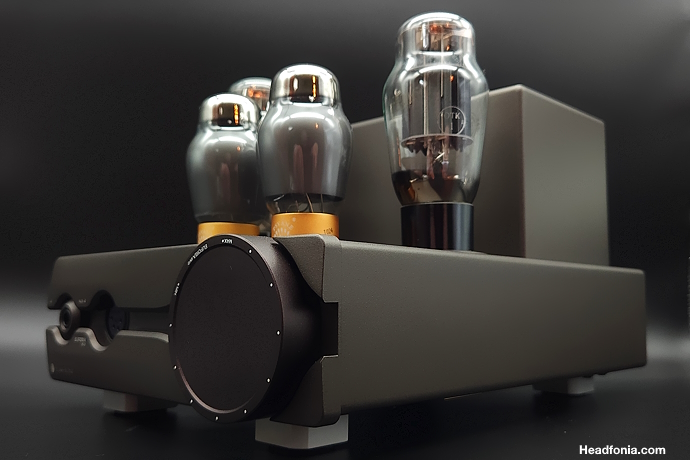 We all know that OTL amplifier performs nicely with higher impedance headphones, but Feliks Audio states it's a perfect match as well for some planar magnetic headphones. We'll find out more on that later in this article.
With the evo, it's the first time we're seeing a double headphone output, and an XLR one for that. Do note that this isn't a balanced design, it's more of a convenience for the user. Inside the evo you will find UPOCC wiring, a P2P design, and premium components (though it's not clear which ones exactly).
As usual, the evo also features Feliks Audio's famous cross-feed button on the back of the unit. Cross-Feed is a revolutionary solution in the class of tube amplifiers that provides better control over the listening experience. This is a system that enables more natural channel separation and wider sound stage by moving a part of the lower frequency range to the opposite channel. Cross-Feed function gives you a possibility to try a more natural, less clinical "front facing orchestra" experience, like in real life! Personally, it's not something I tend to use, but you might like it so it's nice to have the option. New this time round is the optional Tube Protecting case you can order with the Euforia evo. It will cost you €100 Euro more.
Of course, the Euforia evo still works as a Pre-amp as well, just like before. I have been using it this way in my speaker setup in my office and I must admit it is very good. The smooth tonality the evo ads to the delivery is a pleasure to the ear. This review will focus on the headphone amplification part only, but it's important to say the evo is an excellent pre-amp as well.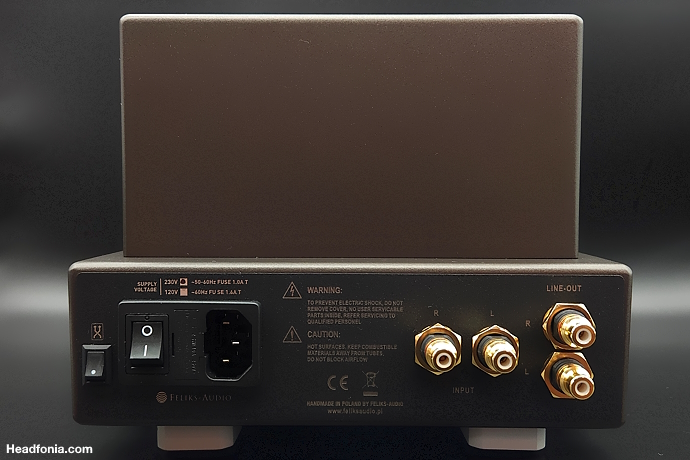 Power-wise on paper, the Euforia Evo isn't the strongest amplifier, but we'll get back on that later in this review.
You can find the Euforia Evo's dedicated webpage here: https://feliksaudio.pl/product/euforia-evo/
Tube Galore
The Euforia is designed around two 6AS7G power tubes and two 6SN7 driver tubes. The amplifier is equipped with an automatic bias circuit; therefore, no re-tuning is required after changing tubes. Feliks Audio claims the optimal sound quality will be reached after approximately 30 – 50 hours of run-in. In day-to-day use, tubes reach their operational temperature after 15 minutes from starting the device.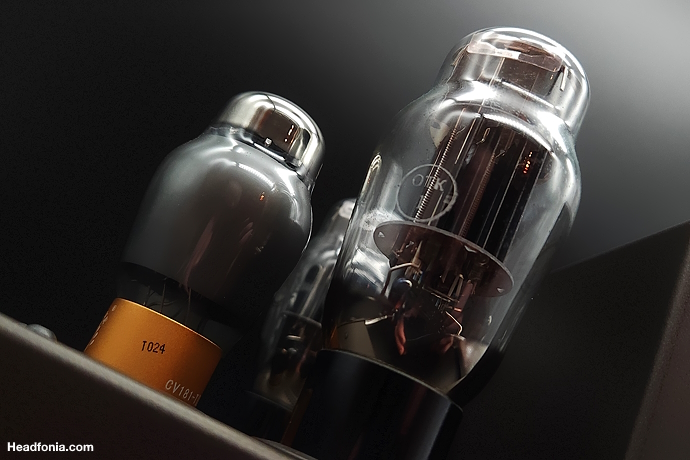 The stock driver tubes are 6SN7 and the power tubes are 6N13S. That means the driver tubes can be switched out for 6N8S, CV181, ECC32, 5692 and 6F8G tube types. For the power tubes you can use 6080, 5998, 6N5P, 6N5S, ECC230, 7236 and CV2523 tube types.
The 6SN7 is a dual triode vacuum tube with an 8-pin octal base and you can find out more about the tube type here: https://www.radiomuseum.org/tubes/tube_6sn7.html and here: https://en.wikipedia.org/wiki/6SN7
The 6N13S is the Russian name for the 6AS7G (6Н13С) and it is a dual power triode. I have a lot of amps running these tubes and there still are very good affordable ones available. For the more famous NOS tubes you can spend a lot of money though. You can find out more about this tube type here: https://www.radiomuseum.org/tubes/tube_6n13s.html.
Stock tubes & replacements
The Euforia evo is originally equipped with a matched pair of NOS Russian 6N13S power tubes. I've heard good and bad Russian 6N13S power tubes, but the winged Svetlana are quite nice depending on the amp design. I have to say I listened to the stock tubes for a long time before I swapped them out for a burned in set of Tung-Sol 7236 tubes. These tubes are hard to find nowadays but together with the Bendix 6080WB they're my favorite power tubes of this tube type. You could also use a nice set of 6AS7G black plates from Chatham or RCA as well, or you can stick with the Russian tubes, these are just not as smooth sounding but they're more than just ok.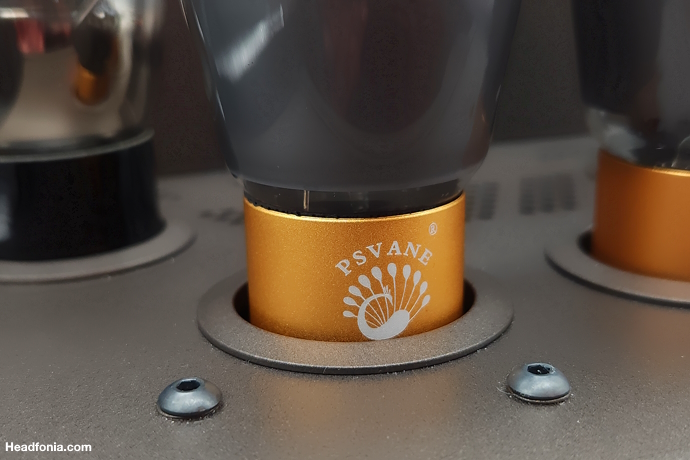 The driver tubes that came with the amp are a matched pair of PsVane CV-181 Mk2 "Gold" 6SN7 tubes and I must admit they really surprised me in a good way. I didn't expect them to sound this detailed and dynamic and in combination with the 6AS7G. They just sound great and as a result I didn't swap these out. The PsVane tubes are well constructed, and they look very nice too. These are selling for around $200 USD for a matched set.
Note that for the review, I used all the stock tubes.
The review continues on the second page. Click here or use the simple jumps below.
Page 1: Feliks Audio, Euforia evo, Tubes
Page 2: Box, Packaging & accessories, Design Lay-Out, Specifications, Sound Pt. 1
Page 3: Sound Headphone Synergy
Page 4: Comparisons, Conclusion