Today at Headfonia we're taking a look at the $1,999 USD A8000, the flagship in-ear monitor from Japanese manufacturer Final. 
Note: This review sample was loaned to us from the good people at Busisoft A.V, the local Australian distributors for Final. Our thanks go out to them for the opportunity and for their support.
The Final (in-ear) Word 
Audio manufacturers use wildly fluctuating fashions of naming conventions for their product portfolios. Some use simple names like 'Dave' (thank you, Chord Electronics) while others opt for a bewildering alpha-numeric moniker for each of their products (I'm looking at you, Sony & Audio Technica). I'm sure that every letter and number has an engineering explanation that sits behind it, but the name "WH-1000XM4" isn't likely to inspire poetry. Japanese audio house Final (based out of Kawasaki and part of S'NEXT Co., Ltd.) opts for a mix of both schools of product labeling with their headphone and IEM ranges with evocative titles such as 'Sonorous', 'Heaven' and 'Adagio', but they have reserved alpha-numeric designations for their flagship products: the D8000 and A8000.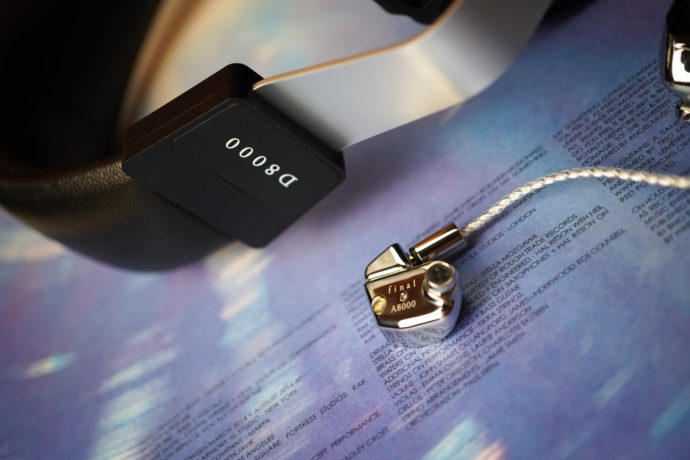 8000 is a Big Number, so it must be pretty great, right? Well, Final's products certainly do get more expensive the higher you go up the numerical food-chain. The D8000 planar (reviewed here by Linus) tips the scales at $3,999 USD, while Final's flagship IEM, the single dynamic-driver A8000 – the subject of today's review – comes in at a not-inconsequential-and-yet-not-unheard-of in the world of exotic in-ear-monitors price of $1,999 USD. Readers' jaws might loosen a little at a price-tag like this if they haven't delved too far into the crazy world of audiophilia, which is certainly understandable for a tiny pair of in-ear monitors
What's clear, from an in-depth read of Final's product page for the A8000 is that there is some serious design and engineering intent that has gone into their flagship IEM. It's well worth a read. The short version is that Final has spared no expense to create an in-ear experience and design that lives up to the '8000' moniker, and they have made a product that they believe sits alongside the (very impressive) D8000 full-size, open-back planar in terms of capability and craftsmanship. 
The hunt for transparency
"…the most critically evaluated aspect of classical music recordings is called transparent sound, a sound impression by which sound is very clear even it is localized at a distant location. We have been considering the realization of this sound impression to be extremely important for becoming uplifted by listening to music." – Final. 
Final state that they were seeking the ultimate expression of transparency when it came to creating the A8000, a quality that they believe is most important when it comes to 'uplifting' the listener. At the end of the day, I'm all about getting 'uplifted' by music so I'm keen to see how if the engineers at Final have managed to bottle this experience within the shiny, shiny shells of the A8000. To go about achieving this state, Final decided that they had to go and create an all-new type of IEM driver made out of Beryllium, a fancy (and also toxic, if handled incorrectly) metal which happens to be the fourth-smallest element on the periodic table. Or, as Final calls it, the 'Truly Pure Beryllium Diaphragm'. Final explains that this Beryllium makes for the ultimate driver material due to its lightweight and speed, being able to achieve a velocity of 12,900 m/s – which Final says is second only to diamond (perhaps we'll see this eventually in the Final A10000?). 
To house these innovative drivers Final has opted to house them within four interior chambers ('Tetra-Chamber Construction' in Final engineering-speak) inside an impossibly-polished, angular stainless-steel chassis that has all the 'bling' that you'd expect of a super high-end piece of jewelry. This is in stark contrast to the black, imposing industrial look of the enormous D8000, and this gives us a preview as to the spiritual and sonic difference between the two Final flagships. 
Accessories
Final ships the A8000 with a premium, silvery 1.2-metre Litz-style braided cable which they developed in collaboration with the Junkosha corporation. Needless to say there is some impressive and bewildering-sounding engineering behind the cable itself which is better read on the product page that within the confines of this review. I get the impression that like the IEM itself, no expense was spared in its development. The cable is has a single-ended 3.5mm termination and is connected to the A8000 shells via MMCX connectors which Final has developed in-house.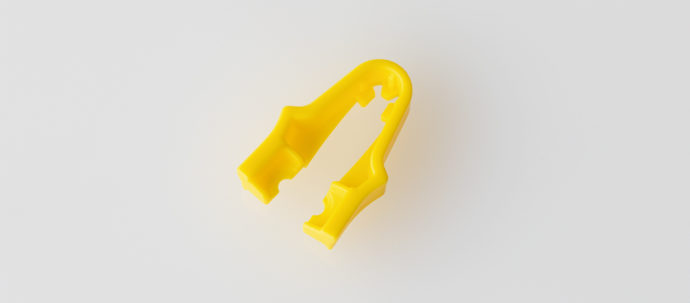 The connection between cable and IEM is rather firm, and so thankfully Final includes a very handy plastic MMCX remover tool to help pull them apart. I can't tell you how many times I've nearly busted a cable/IEM trying to pull apart MMCX connections, so this is reassuring for long-term build integrity and general convenience.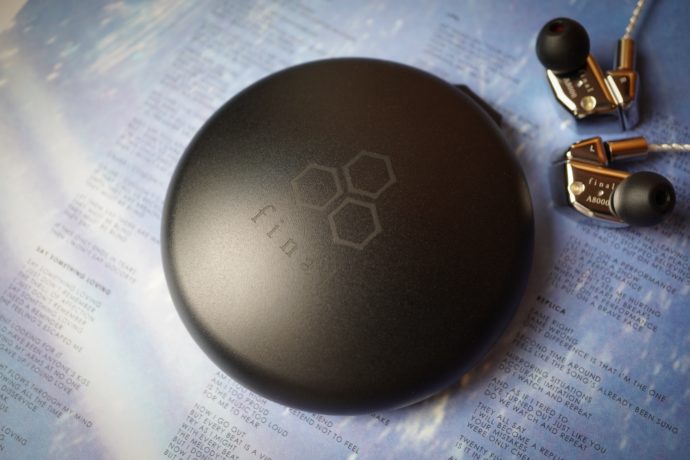 A beautifully-machined matte metal storage 'dome' is included to safely store your fancy new two-grand earphones which can be opened underneath via a rubber lid. It's certainly very nice and all, but it's a little impractical. Plus, you might worry that those pretty steel shells will 'clink' together inside while along for the ride inside pockets or briefcases. More on this later.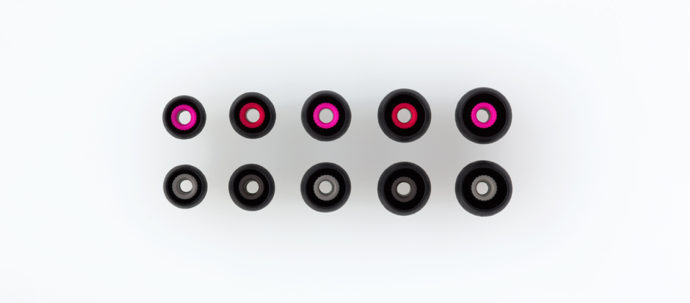 Rounding-out the included accessories for the A8000, Final ships the A8000 with five different sizes of silicone tips, handily designated for the left and right shells by virtue of either red or grey silicone used to attach to the IEM bore. Eight sets of IEM replacement nozzle dust filters are provided, along with a pair of ear 'hooks' to help keep the ear-loops in place should the cable themselves not work mechanically with your ears.
I was fortunate enough to be able to spend some extended review time with the A8000, and so I got some pretty clear impressions as to how all this engineering stacks-up in terms of day-to-day comfort, as well as what the A8000 is like to live with as a daily driver in the long-term. Head on over the page for more on this.
The review continues over the jump on page 2.