In this article, we review the Grado GT220 TWS, which is selling for $259 USD.
Disclaimer: Grado sent us the GT220 TWS for this review, free of charge. I only covered the import taxes and fees. All thoughts and experiences with the product are naturally my own. However subjective, 30h burn-in was completed before the review. 
We are taking a look at the first TWS from Grado Labs. They launched their first wireless headphones a couple of months ago and we loved it! If you haven't read the review, you should look here first! Keep on reading to find out all about their new true wireless stereo earphones!
Grado
Grado is a Brooklyn-based audio company that was founded in 1953 by Joseph Grado. The nearly 70-year-old company specializes in dynamic open-air, supra-aural, high-fidelity headphones, and cartridges. Most of their products are hand-built and as niche as it gets. They're prioritizing sound before anything else and they stick to their unique, old-school aesthetics even today. 
Brief History
67 years ago, Joseph Grado, who was a watchmaker at the time, began to craft phono cartridges. After the immediate success, he closed the Grado Fruit company and Grado Laboratories was founded. Cartridge production continued, and Mr.Grado was awarded patents for the first Stereo Moving Coil Cartridge. In 1960, the popularity of Grado cartridges was piqued and they also started the production of new products including the Dustat Record Cleaner, the Lab Series of phono cartridges, speakers, tonearm, and turntables. In 1965, John Grado took the first step into his uncle's world and his journey started there as his uncle took him under his wing to teach him all about sound & electrical engineering. Grado continued to grow and In 1975, John graduated and joined Grado full-time. In 1990, John bought the company from his uncle and became the President & CEO. A year later, John built the first Grado headphone. Jonathan Grado is born. In 1993, the SR325, the first metal Grado headphone was released.
A year later, John carved & built the first wooden Grado AKA RS1. (Such a wonderful headphone. I did not move for an hour when I first heard the RS1) Meanwhile, the SR60 was getting more famous every passing day. Grado focused on building headphones primarily. In 1996, the first wooden cartridges were built. Additionally, Grado's first single wood block amplifier was built as well. In 2007, Grado released their second generation headphone lineup, The i Series. In 2013, Jonathan started working at Grado Labs. In 2014, Grado released their third generation headphone lineup, The e Series. Grado continued to receive praise from the press. In 2015, Grado built the first headphone ever to be out of the Brooklyn tree, the GH1. Joe Grado, passed away. In 2016, the first wooden hybrid headphone was built. The GS2000e. In 2017, Metal meets maple in the new flagship PS2000e. In 2018, Grado released their first wireless headphone GW100.
For even more detail, you can go here for the full story: https://gradolabs.com/company/timeline
Grado GT220 TWS Earphones
Today we're taking a look at the Grado's first true wireless stereo earphones, the Grado GT220. It features Grado's signature mini-drivers and has 36 hours of battery life. It also comes with wireless charging capability and a USB-C port.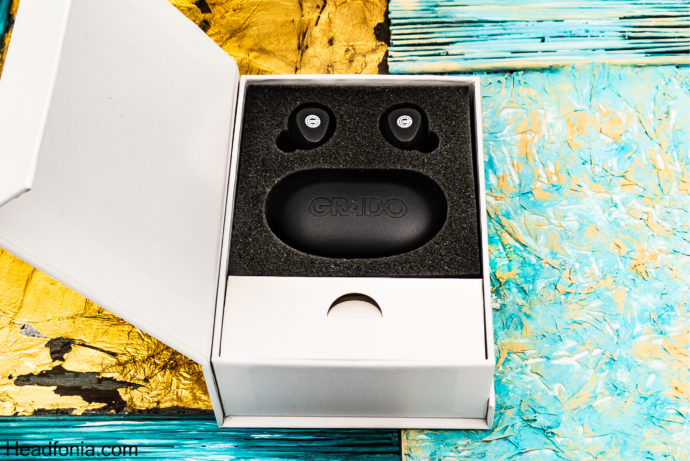 Specifications & Technical Data
Driver: 8mm Dynamic Polyethylene Terephthalate Full-Range
Frequency Response: 20Hz-20kHz
Impedance: 32 ohms
Controls: Touch-Sensitive Faceplate & Voice-Control
Mic Layout: x1 Each Side
Connection: Bluetooth 5.0 with AptX, AAC, SBC
Charging Case: 500 mAh, USB-C & Qi Wireless Charging Compatible
Battery: IEMs 6H – Battery Case 30H
Charging Time: 2 Hours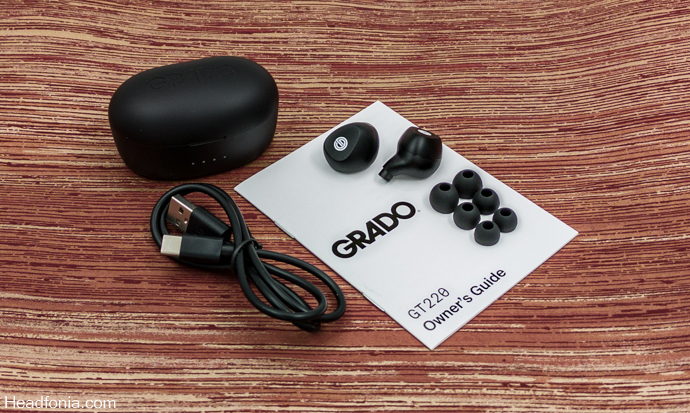 Packaging & Accessories
The Grado GT220 comes with a compact, white cardboard box. The specifications and details are listed on the backside of the packaging. As for accessories, only one type of ear tips are provided. USB-A to C cable is of good quality. 
*GT220 with Charging Case 
*USB-A to USB-C Charging Cable
*Silicone Ear Tips – 1xS, 1xM, 1XL
*Manual
Design
Opening the compact white cardboard reveals gorgeous matte black Grados inside. The company name etched on top of the charging case, looking very sleek & professional. Both of the earphones and the case feel somewhat smooth in hand thanks to the polycarbonate construction. They both are very light, especially the IEMs, they're 10 grams in total. The IEMs do not feel cheap in my opinion, just the contrary, I really like this simple design language over the ones full of LEDs and such. We saw a similar approach with RHA with their TrueConnect series. Can't a man love simplicity over garish, tiring designs? Well, I do and for this reason, I really liked the whole package.
As for the form & factor, the charging case is not too big and easy to carry. That can also be said for the earphones. They're definitely not small but not huge either. The housing is surprisingly resistant to scratches. Many smooth feeling surfaces are not. It is also rounded with no sharp edges or protrusion of any kind. The GT220 features touch controls and the touch-sensitive panel is located on each faceplate. It features a wide nozzle and is compatible with many third party wide tips such as the JVC Spiral Dots.
There is a microphone located on the outer side of each earphone. We will check the microphone quality in the features section. The Grado logo on the faceplate has 2-color status LEDs, blue & red. I would prefer something less cliché and more elegant, like a single white LED illuminating the Grado logo but it's all subjective. The charging case also has 4 status LEDs to let you know about battery levels and charging status. Overall, the design is really good and looks very chic. The smooth to hand feeling of polycarbonate complement the sleek look of the Grado GT220 very well. Polycarbonate is a durable material and the GT220 will serve you for a long time without any problems.
Fit & Isolation
The shape of the housing is great. No edges or anything just pure smoothness. It stays in my ears without any pain, even after long listening sessions. Included tips are limited however, the fit with them is great for my ears. This does not mean that it will be the same for you since every ear is different but it is a lot easier to find wide nozzle compatible tips compared to narrow ones. I tried Spinfits and JVC Spiral Dots for the fun of it and both work flawlessly with the GT220.
Isolation is really good, I don't know if it is the material or the form of the earphones nevertheless I am very happy with the isolation it provides. To sum this section up, the fit & isolation is just great. They almost completely cancel out my loud (40db) computer fans. I can wear them for hours and hours without feeling them at all. Very nice!
Connection & Stability
My experience with the Grado GT220 was flawless. The pairing process, connection stability, range… Pretty much everything was perfect. Grado did not specify anything about the range but they're good for up to 8 meters with my Android phone, which is around the industry standard. The pairing process was really smooth and the connection was stable during my time with the GT220. I took it to a few walking sessions, a few public transportation routines, and had NO audio cut-out at all. None! That's really good because even the best TWS earphones suffer from some degree of instability. Remember the weird phenomena about Bluetooth devices and traffic light poles! As for the codecs, the GT220 only supports AptX, SBC & AAC. I would definitely want to see LDAC or at least AptX HD support here but as long as it sounds good, I am okay with the sub-optimal codec. The GT220's best available codec, the AptX transfers audio at a set 352 kbps bitrate for a 16-bit 44.1 kHz. 
As for the latency, I found out that the GT220 is excellent in this regard, I conducted my tests with an Android phone via BL 5.0 & AptX. I tried YouTube and a couple of other apps including VLC. Absolutely no issues! No delay whatsoever. Excellent.
Features
Let's start with the battery. Each earphone utilizes 50mAh of battery and the charging case has a 500 mAh battery inside. The earphones offer 6 hours of playback and you can charge them 5 times via the charging case. So that's around 36h in total. It is only adequate, definitely not bad but definitely not industry-leading either.  Also, fully charging the earphones takes around 1hr 45m, and charging the case takes a little under 2 hours. The GT220 features Qi wireless charging support. It works with my Qi-compatible charging pad and it charges seamlessly without any wires. However, it charges slightly slower than its cable counterpart. As for controls, I mentioned in the design section that there are touch sensors on the faceplates, via these sensors you can increase or decrease the volume, accept, refuse, and end calls, skip to previous or next song, activate Android or iOS assistant and of course, play or pause tracks.
Note that after searching through the internet rigorously, I couldn't find any information about the IP rating of the GT220. It may not have an IP rating at all. In this case, you should be careful about excessive sweat and keep the water away from it. It does not have a venting port apart from a microphone hole as far as I can see and you should be fine doing sports with it but personally, I wouldn't risk a 250 USD earphone.
The article continues on page two with the part on sound. Click here or use the jumps below.