Astell&Kern launched a new flagship DAP over a month ago at Munich's High End show. In contrary to AK's previous top-of-the-line models this one didn't feature any true innovation however, at first glance it appears that it's just a redesigned and upspec'd AK380. But take a closer look and you'll see that AK did not just put a new DAC chip in there, they also reworked their entire user interface and implemented very useful features. I have always been a huge fan of their firmware. It's simple to use, offers wonderful playlist management and just works. The new one kept the stability but enhanced it with better looks and a more fun workflow. The UI now reacts to swiping from all four sides and puts the now playing screen in its center. Pushing the Home button will always bring you to the track you're listening to right now. This new user interface has been made possible by the new eight-core CPU AK is using. It guarantees a much faster and more fluid user experience and also shorter boot times. DSD files also load much faster with the octa core CPU. This lag was one thing that has always bugged me with the AK380.
The A&ultima SP1000 retained the same storage size of 256GB internal memory. While I was hoping to see a replaceable mSATA SSD in there, I think it's still more than enough space to put a huge library in there. What they have changed though is the USB connection, and I am very glad they did go with the new standard USB C. This allows for much faster file transfer since you're using an USB 3 data transfer protocol. My average transfer speed was around 70 megabytes per second, so it's around three to four times faster than before! Filling the internal storage in no time. And on top you can always put in a micro SD card to enhance your total space up to 512GB. Still not enough? AK's newest also (unofficially) supports USB OTG so you could even hook up an external SSD or HDD to it. This feature still is under development right now, so you might want to wait a bit before you strap on a 2TB SSD.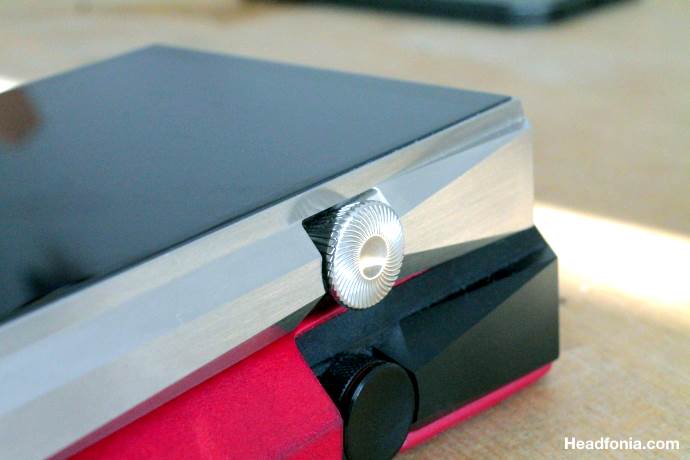 The A&ultima did also get a new 5" HD screen, which is nicely clear and sharp. One thing AK seems very proud of is the new multifunctional volume wheel, with which you are able to turn your SP1000 and its screen on and off. I don't really care too much for that function to be honest, but the wheel looks incredibly good, almost like a crown of a luxurious watch.
On the outside Astell&Kern has now chosen to offer two materials for you to pick from. Stainless steel or copper, both of which were used for their limited, and higher priced, versions of the AK380. I think the stainless steel looks very sexy and makes it especially resemble a real luxury item. Those new housings have one downside though, they make the DAP pretty heavy, but users of the AK380 copper or stainless steel might already be used to that. The entire design in my opinion is the absolute best they have ever done! AK has placed a five-pin output on the bottom of the device which allows accessories, like an amplifier or recorder, to be piggy-back attached to the device. Just like they have done for the AK3XX series. But to my understanding Astell&Kern will not develop those add-on modules themselves but rather open the pin-out to third parties to become partners. A neat idea in my opinon. Quick – someone better develop a docking station with XLR output and Ethernet connection for it!
Soundwise I don't want to go into great details, as it has been only with me for the better part of a week, and I didn't get as much listening time as I'd hoped. But from what I have gathered it is a definite step up to the AK380. It is more dynamic, renders a higher resolution picture, goes deeper and is just clearer to me. More sound impressions will follow in upcoming reviews! So keep your eyes on Headfonia for more.
The A&ultima SP1000 is the sexiest DAP out there and it offers great sound but secretly I wished for it to be Roon Ready. It certainly should have the power to implement it…That would make it the most awesome device on the market in my opinion. Maybe with a firmware update?