We together with our partner Apos Audio continue our series of gear giveaways with the Topping A50s headphone amplifier. Just keep reading and enter the giveaway!
EDIT: THIS GIVEAWAY IS CLOSED. THE WINNER CAN BE FOUND HERE: https://www.headfonia.com/apos-hfn-topping-a50s-giveway-winner
APOS Audio & Headfonia Christmas Giveaway
Not so long ago we gave away a Feliks Audio Elise tube headphone amp, and we're back already with a new prize draw!
This time for Christmas we've partnered up with APOS Audio and we together are giving you the opportunity to win the Topping A50s headphone amplifier. The link to the entry form can be found at the bottom of this article. Good luck!
But first, let's look at APOS Audio, Topping and the A50s amplifier you can win.

About APOS Audio

APOS Audio is an Oakland, US based authorized retailer of new audiophile equipment from a growing but carefully curated set of brands. By partnering directly with the brands they carry, they guarantee 100% authenticity of everything they sell. APOS even offer Free Shipping, Lowest Price Guarantee, Apos 2nd Year Warranty and 30-Day Return Policy on all their products, so you can be confident you'll be happy with your purchase.
Not convinced yet why you should order from them? Well here are 8 more reasons: https://apos.audio/blogs/news/8-different-reasons-that-make-apos-audio-awesome
You can find the APOS Audio website here and their Topping A50s page is right here.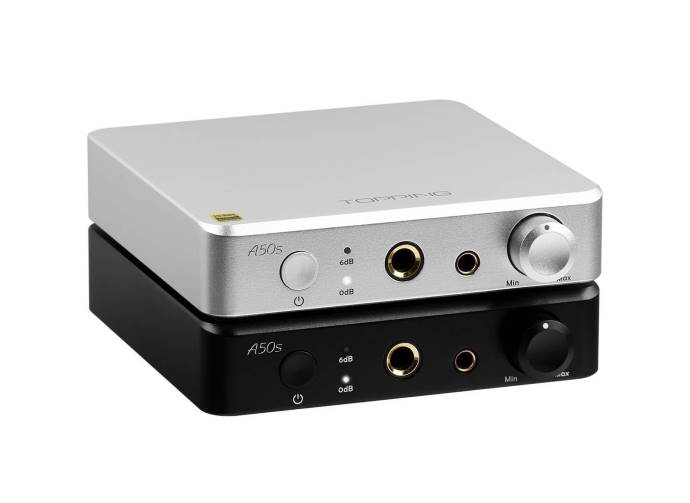 About Topping
Topping is a Chinese company that makes all sorts of audio products. Their portfolio stretches from portable DAC/AMPS to desktop sized electronics. Topping has been founded in 2008 and has been on somewhat of a purple patch of late when it comes to bringing an impressive range of both digital and analogue gear to market.
In the past couple of years alone, they've released a range of DACs, amps, and hybrid units that have impressed both our review team as well as the personal audio community at large with thoroughly well-packaged products that combine performance and thoughtful design with extremely sharp pricing.
You can find the Topping website here and their A50s page is here.
The Topping A50s Amplifier
The Topping A50s is one of Topping's latest headphone Amplifiers. It's also a pre-amplifier with NFCA Module.  The A50s according to Topping brings a precise, detailed and musical restitution with a near-Zero-Ohm output impedance.
Don't Look Down
With a THD+N of 0.00007% and SNR of 143dB, the TOPPING A50s' noise floor is so far down you might get dizzy. Compare this to the original A50, which has a THD+N of <0.0004% and an SNR of 123dB.
The Power Hitter
The TOPPING A50s swings for the fences with its output power, driving a whopping 3,500W x2 @32Ω (more than 1,000mW more powerful than the A50). With that sort of power, you can drive anything from sensitive IEMs to power demanding headphones.
6.35 Single-Ended and 4.4 Balanced Outs
The A50s offers both a 6.35 single-ended and a 4.4 balanced out on its front plate. Both options deliver stellar dynamic range (138dB/144dB) and output impedance (<0.1Ω/0.2Ω).
High-Low Gain Setting
Drive high impedance headphones with ease thanks to the A50s' high-low gain setting of 0dB/6dB at the SE output and 6dB/12dB at the balanced output.
Winner
The lucky winner will get his/her unit shipped directly by APOS Audio. APOS Audio will cover the shipping fee of the Topping A50s amplifier to you but neither Headfonia or APOS Audio will cover any other expenses such as VAT, import fees, tax, etc. This is all the winner's responsibility so if you're not up for that, it's best not to enter. APOS Audio also won't lower the unit's value for shipping.
In order to enter the competition you need to do the following steps:
Fill out the form on the page linked below. Use a real full name/surname to enter the contest (partial name entries are not accepted) + real email address as this is the address we will use to send your entry confirmation and to contact the winner.
Leave a comment on this post you're reading here. Any comment is good but I prefer you telling me why you want to win this amp.
And while you're at it like the APOS Audio and Headfonia Facebook pages HERE and HERE, if you haven't already.
The winner will be chosen at random out of those that completed all 2 steps! By sharing your personal entry link, you can add extra credits to win the amplifier, so share away! (link will shop up after you entered the contest)
Participants will be contacted by email after subscribing, so by participating all entrants also accept us to email them. Do check your spam folder, but if you didn't get an email you're still entered. (Gmail addresses receive it slow/late! Don't request us to check your entry)
The winner of the Topping A50s headphone amplifier will be announced on Friday January 8. And you have till Wednesday January 6 at midnight to enter this Topping A50s giveaway!
Thank you APOS Audio for doing this with us! Good luck to everyone!

TO ENTER THE GIVEAWAY, leave a comment below and then , CLICK HERE:
https://www.headfonia.com/giveaway/giveaway-apos-audio-topping-a50s/
GOOD LUCK