[responsivevoice_button]
Nanotechnos' Selections
So, it looks like we are reaching the end of 2019. For me, it looks like everything happened in the blink of en eye, and that's all thanks to the Headfonia crew !
You may have a grasp of how cool those guys are, reading their reviews, but I can assure you they are a million times better in private (no s*x joke here). So Berkhan, Linus , thank you again ! You saved my *ss more time than I can count. (Still no joke here)
Now, it's time to reveal my personal highlights of the year. Again, thanks to all the brands that played along and sent me their gear all along 2019, and beyond. I keep receiving tons of products, and if most are very good, these are the excellent!
Best Universal IEM
Wireless: Jays M-Seven
I've been using these ears daily for a few weeks now, and I absolutely love them. I'll tell you more in the upcoming review, but if you can grab a pair… treat your self! It's a bass-headed one, just be warn, with that extra-punch to make it through the day. Like a guarana drink !
Large Pockets: Meze Rai Penta
After the award winning Empyrean, Antonio Meze and his team have done it again. The 5 driver Rai Penta isn't only comfortable, it looks beautiful and sounds like a high end IEM should sound.
Rai Penta is detailed, precise and transparent and with its neutral yet musical tuning the Rai Penta will win over many hearts. Making a correct sounding hybrid is hard but Meze makes it seem oh so easy. And did I mentioned their look ? Yes ? Because they look stunning !
Smaller Pockets: Fearless S8F
Time after time, Fearless has shown us how good chi-if has become. But, from all the IEMs we tried (Crystal pearl, S6 Rui, Roland…) one really stood out in my opinion: The Fearless S8F.
These IEMs have it all: superb design, exceptional performance and excellent isolation. And the cherry on the cake? All of that for less than $500USD! The price/quality ratio is simply of the charts, as the S8F sounds clearly better than the S6 Rui, which I found amazing at the time.
It's available in multiple choices of colours and finishes : +50 points for Hogwarts !
Best Amplifier
Tube: xDuoo TA-20
The xDuoo TA-20 takes what made the TA-10 a great amp, to the higher ground. It can drive virtually any headphone you like, or want, with a sound stage much wider than its transistor competitors. True, it's not a full Tube amp, but that's also what makes the TA-20 affordable (and compact).
Build quality is still astounding, with real attention to details and a comprehensive layout. It's not the most transparent amp you can get, but that's the magic. If you've never had a tube amp before, maybe this should be your first one, even more, if you own a planar headphone.
Best DAC/Amp
Desktop: FiiO K3
One of the biggest underdogs of the year : the FiiO K3. The E10K Olympus was a massive hit, even up to this day, but I couldn't feel the same vibe coming from the audience regarding the K3. Too bad as it really is the best entry-level DAC you could get this year !
The K3 is so versatile, allowing you to plug almost anything to it on your desktop. It's powerful enough to drive classic headphones and if you plug another amp to the line-out, it's just brilliant. It's a carefully designed product which had to be at least as good as its previous iteration, but the K3 is better in every way.
Portable: iBasso DC01
On the run and you need a DAC on the go ? iBasso got you covered with its iBasso DC01. It's a dongle, like the infamous iPhone headphone adapter, but with an AKM AK4493EQ DAC, an aluminium enclosure and… a balanced output. For cheap !
I use mine almost everyday, attached to my iPad (which ditched the 8-pin adapter for an USB-C) and any IEM I can grab. It sounds surprisingly good, more than a Dragonfly Red, almost like the Dragonfly Cobalt, but for a fraction of the price. A DC02 with an unbalanced output exist, but the DC01 is the way to go !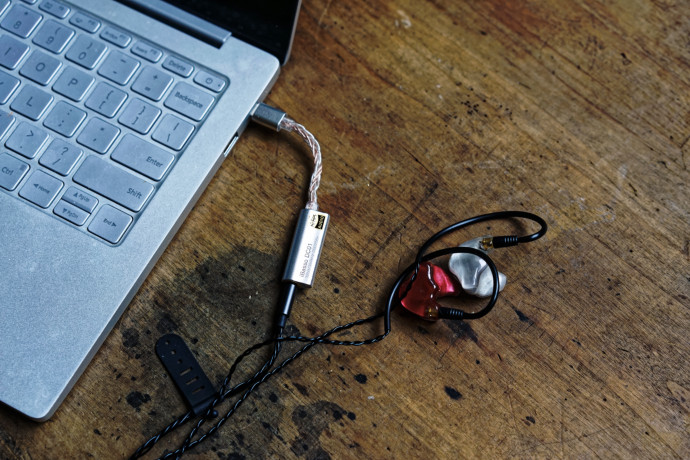 Best Headphone
Audeze Mobius
I own almost all of Audeze headphones, and yet the best models they made, in my opinion, is… a gaming headphone : The Mobius 3D BT. Yes, a gaming, Bluetooth, planar, connected headphones. The name sounds geeky, the design look geeky but the audio quality is truly out of this world, for the genre.
The Audeze Mobius is a fantastic piece of hardware, that doubles up as a great headphone. It embeds all of what Audeze did during the last years, and mixed it into one of the most thrilling devices I've ever tried. Try it, love it, keep it. That's what I did.
Best DAP
Large Pockets: FiiO M11
With its latest player, FiiO is pushing the last nail in the coffin, taking the crown as the best DAP in the mid-tier section. At the moment, I can't think of any other player that can compete with the M11 : fluid UI, double micro-SD slot, solid WiFi connection with apk pure and the complete balanced layout.
Again, there are better players out there, if you focus on musical performance only. But, if you want a player, that does it all without costing an arm, the FiiO M11 is the one to go for. So just imagine if a FiiO M15/M17 were to come…
Smaller Pockets: Shanling M2x
Shanling had to make a few tries before hitting the right spot, but here they are now ! The Shanling M2X is the perfect small DAP for those who want good sound, without sacrificing good design. Even more if you're on a low budget,
Simply put, the Shanling M2X is an M5S in kids clothes. You get the same sound signature – dry, precise, subtle – without the awkward design previously shown by the M5S. I was afraid the M2X might have lost what made the M5S different, in a good way, due to the mono DAC circuit instead of dual mono, but that didn't happen. The sound stage is a bit narrower but honestly, that's the only issue you have compared to the M5S.
Best Accessory
FiiO UTSW1
Last but not least, here comes the FiiO UTSW1, another FiiO device! This Bluetooth ear kit gives you the chance to switch all your IEMs into the wonderful world of… TWS IEM. Just plug the MMCX adapter on each of your ears, et voila!
It's not as good as a wired connection, by far, but in my opinion, this is the future of audio. We'll see more and more gear like the UTSW1, which supports all majors' Bluetooth connection, with better DACs and powerful amplifiers. Or this will sink in the depth of the abyss, like the Pono player, only time will tell.
Meanwhile, I gave a new life to my old CIEM thanks to the Bluetooth connection and the UTSW1. Hurray!
End Words
And that is a wrap for 2019 awards! Congratulations to all of our winners! We appreciate all of the brands that have worked with us this year, and we hope that we will see even more competition in 2020, providing lots of choices in the market for audiophiles.
If you have questions or suggestions about how we're doing things, head over to the comments section and we'll do our best to make Headfonia.com even better in 2020!
Happy Holidays and Happy New Year!