In this article we review the xDuoo TA-10 DAC/AMP. It sells for $319 USD.
Disclaimer : the xDuoo TA-10 was sent to us free of charge by Xtenik in exchange of our honest opinion. Check their website here.
About xDuoo
If you're fluent in chi-fi, you may have come across the xDuoo name. Sure, they are not the most famous, but that's a shame as they offer one of the most comprehensive ranges of products out there. When most of their products were ODM for various brands, xDuoo decided to make a shift and produce their own gear.
From DAPs to DAC/Amps and even niche products such as portable transports, the brand is proud to fill every spot.
The T-Series
Lately, the xDuoo T-Series was revamped to give a fresh new look at the tube amp range. The TA-02 became the TA-20, the TA-03 became the TA-03S and then you have the all new TA-10.
xDuoo TA-20
The xDuoo TA-20 is an hybrid tube/mosfet headphone amplifier. It shares a lot of traits with the xDuoo TA-10 we'll review today apart from two things. First, it's an amplifier only, no DAC or any digital converter inside. Second, it gots two vacuum tube and therefore works in full balanced.
This is even more obvious if you look at the back panel, xDuoo doting the TA-20 with two XLR-3pin input.
xDuoo TA-03S
The xDuoo TA-03S is an update of the previous TA-03. It's a compact full tube headphone amplifier which use 1x 12AU7 for pre-amplification and 2x6C19 for power amplification. For Digital to Analog conversion, the TA-03S uses a set of two Cirrus-Logic CS4398 and the classic XMOS U8 to decode PCM up to 32bit and DSD files up to 128.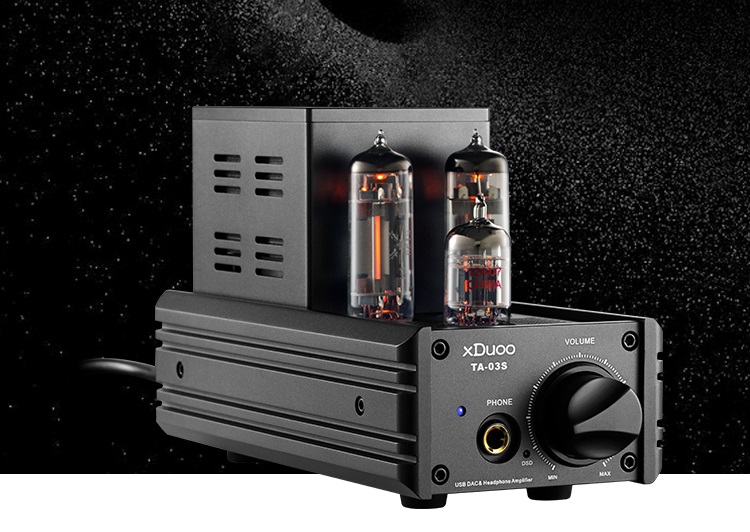 The design looks a bit odd and old compared to the all-new TA-10 and TA-20 but the massive potentiometer at the front looks very cool, in my opinion.
xDuoo X10T II
I could not talk about the new xDuoo line-up, without a few words on the X10T II. Lieven already tried the X10T a few months ago and praised it. So much it ended up in its buyer's guide list ! The X10T is a very specific device : a portable transport.
It's not a DAP as no conversion takes place inside, it gives you a digital source for all your DAC thanks to a wide array of digital outputs (coaxial, AES or optical). The new version also support USB out and can extract music directly from your phone. I can't wait to try it :
The review continues on Page Two, after the click HERE or by using the jump below.