In this article, we review the HiFiman EF600, the latest desktop DAC/AMP from the Chinese brand, available for $799 USD.
Disclaimer: the Hifiman EF600 was sent to us, free of charge, by the brand in exchange for our honest opinion.
About HiFiman
Founded in 2007 by Dr. Fang Bian, Hifiman has become, throughout the years, one of the most renowned hi-fi brands – pretty much like FiiO, who began around the same time.
An unexpected success, as the manufacturer succeeded in the audacious challenge of bringing orthodynamic transducers, back to the forefront of the scene. A real challenge, taken up in less than a quarter of a century, especially since Hifiman did not benefit from the aura of a BeyerDynamic, or AKG, true secular institutions.
If the brand was located in New York during its beginnings, it quickly moved to China, and more precisely to TianJin, to be closer to its production plants. A choice that allowed Fang and his team to expand their catalog, while fixing some early mistakes – like the Hifiman HE-400 and TWS600.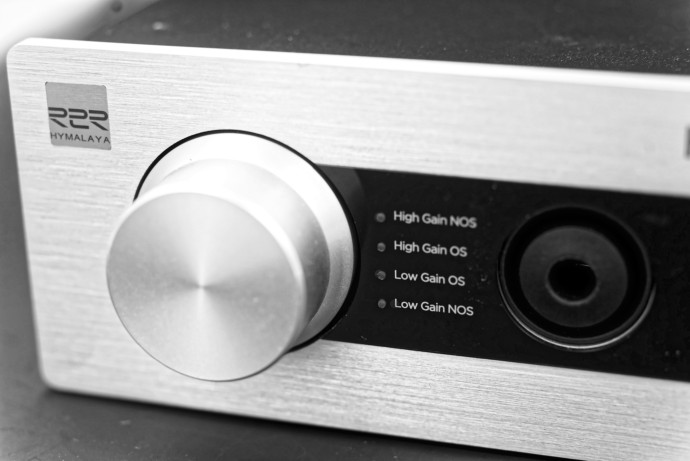 But, before headphones, Hifiman also produced DAPs – who remembers the HM-801 and HM-601 ? – followed pretty quickly by DACs. The quirk? Almost all of them used R2R DACs at the beginning, instead of the traditional delta-sigma setup favored by… everyone else?
A difference nurtured by the brand, which kept on trying, putting R2R DAC in everything they can, from DAPs like the R2R Streaming HD – a VERY quirky one – to TWS like the Svanar Wireless we reviewed recently, or even the EF400, my favorite desktop amp below the $600 threshold.
A lovely amp that earned my personal recommendations, that paved the way for the new Hifiman EF600, a beefier version with twice more power and a dual DAC. Another gem? Time to find out.
Design & Build Quality
Casing
Big and bulky, the Hifiman EF600 is a pure desktop amp that strongly remind me of… the PS5.
It's a slender body, tall-enough to fit any headphone at its top – yes this DAC/AMP also doubles as an headphone-stand – with silver-toned aluminum front and back plates, contrasting nicely with the black plastic which constitutes the inner body. It's a daring design, if complete opposite of the square case that the EF400 displays, but personally, I quickly became fond of it.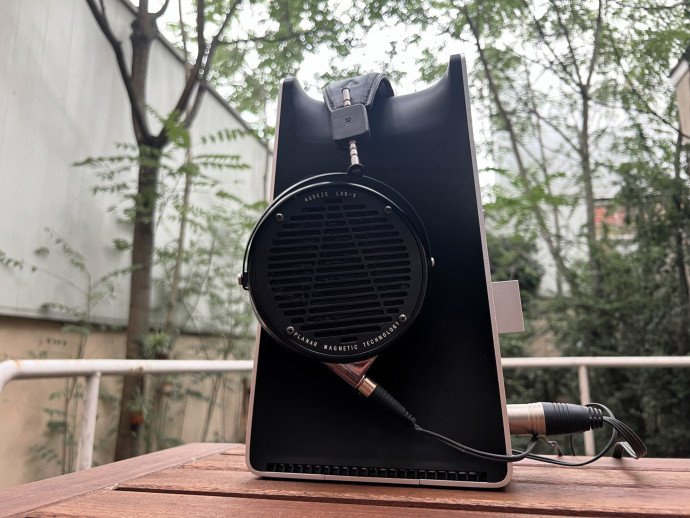 In terms of dimensions, this new amp takes a smaller footprint than its sibling too, being just 104mm wide and 165mm long – in opposition to the 246.5mm and 228mm of the EF400 – but the height (283mm) could be a hindrance on many desk. On mine, I couldn't swap the previous Hifiman for this one, as the new EF600 couldn't fit under my screen, where the previous could. That said, if your desk is wide enough to accommodate the EF600 besides your screen, then the headphone-stand feature will be really handy in the long term.
Finally, if not entirely made of aluminum, like the EF400, the Hifiman EF600 still looks and feels like a real desktop device, something that'll become the centerpiece of your setup. A feeling reinforced by the funny knob on the front panel, supplemented by a complete I/O.
A big baby, packing a lot of features, as we'll see later…
Build Quality
It's common knowledge that Hifiman products can be hit or miss. Sometimes you get a device that can outlast you, and sometimes… it's complicated.
Thankfully, the Hifiman EF600 seems to belong to the first category and is absolutely flawless in terms of build quality. The silver front and back plate fits impeccably upon the black case – even if plastic cannot match the sturdiness of aluminum – and the single knob offers a perfect grip with its flat design. And, cherry on top, even after weeks of plugging/unplugging my headphones, none of the ports show any sign of wear.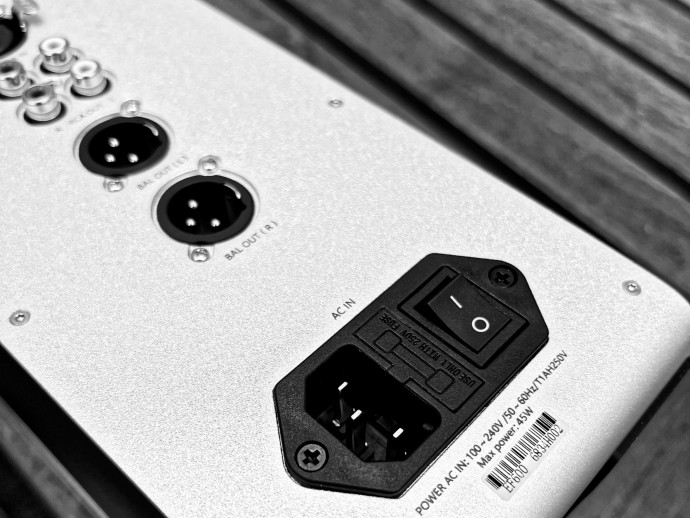 And, this time, I read the voltage bias right and kept it on its 230V position : no blown fuse!
I do miss the four-stop gain selector though, replaced by a single button, but I'm happy to see that Hifiman added a source selection on that new amp – the EF400 only supported USB input, so there was no need for that. Still, it feels premium on and out, and for whoever wants a flawless device, and doesn't mind the PS5-like look, this is a sure choice.
All in all, a very nice piece of work.
UI & Usage
Layout
As expected, the Hifiman EF600 offers an elevated experience compared to the EF400. Both remain extremely simple to use, and don't fuss with a screen or special features. But the new model now comes with four inputs, in stark contrast to the single-one offered by the lesser version.
From top to bottom you have : USB-A / Coaxial / USB-C / XLR-In / RCA-In, and even a Bluetooth antenna in case you'd want to connect wirelessly. An I/O that reminds me of the SMSL DO200 that could be connected to almost anything you want/need, and make the EF600 much more versatile than the EF400. Still, like the EF400, there's no power button on the EF600, just a power switch which means that the device is either on or off, but never in a sleeping state.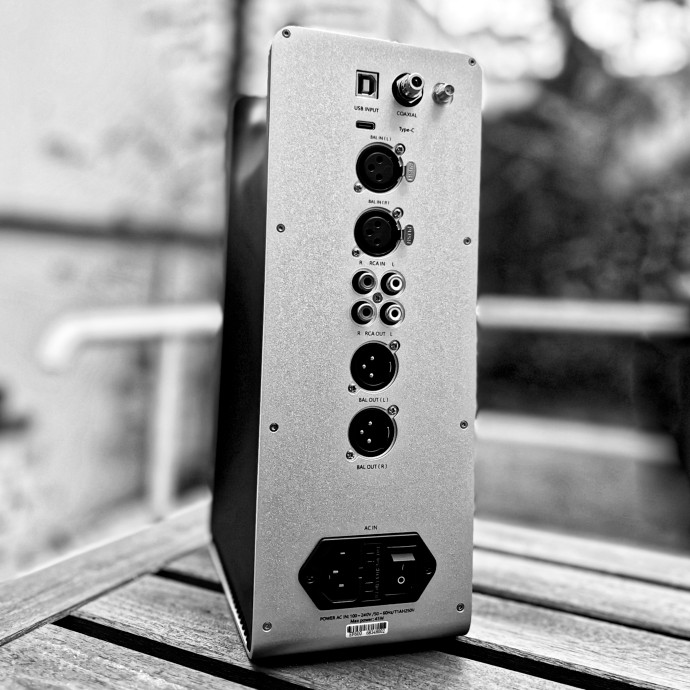 Daily use
Once plugged to a wall socket, just plug it to your computer/phone/DAC, or any digital source, insert your headphone jack, and you're good to go. Same goes for the analog inputs, I connected my FiiO M17 and only used the amp section of the Hifiman, but could also used the Line-out to feed my SMSL HO200. Quite versatile I'd say.
There were no issues with my MacBook, or my PC, each time, the Hifiman EF600 was immediately recognized as a DAC. On Windows, I had to wait a minute, until the OS got the right driver but after that, it worked flawlessly. The same goes for my iPhone, connected with the classic ddHiFi TC28i and a regular USB-C to USB-C cable, the DAC was directly identified by my phone. With the iPad, a simple USB-C to USB-C cable was enough.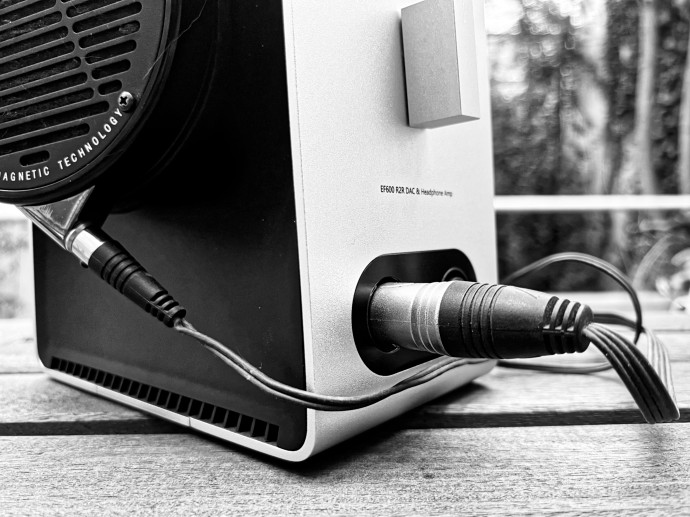 On the quirky side, the EF600 once again comes with four different gain settings – NOS (no oversampling) and OS (oversampling):
High Gain NOS
High Gain OS
Low Gain OS
Low Gain NOS
Regarding the headphones outputs, I was a bit disappointed though, as the new amp now only comes with two different headphone outputs, two less than its predecessor:
Great for my Audeze and Sennheiser that all came with an XLR, but for the 4.4mm Pentaconn one, I had to use ddHifi adapters, to convert from XLR-4pins, to 4.4mm Pentaconn.
Let's take a quick look at the specs now!
Specifications
R2R Hymalaya Pro
As stated before, the EF600 uses the same R2R architecture DAC you can find in their DAP and the EF400: the Hymalaya PRODAC.
In case you're not familiar with R-2R DAC, this kind of digital to analog converter uses two sets of precision resistors, to convert a digital binary number into an analog output signal, proportional to the value of the digital number. Needless to say that compared to your usual Sigma Delta DAC, they can be quite bothersome to produce, and expensive.
So, Hifiman took a different approach and tried to mix the best of both worlds. Something they seem to achieve with… an FPGA chip – once again! – that takes place in the center of the R2R DAC module. This chip, thanks to the brand's unique algorithm, can reduce electrical interference between the various peripheral components, since – by essence – R2R may be greatly affected by those electric gremlins.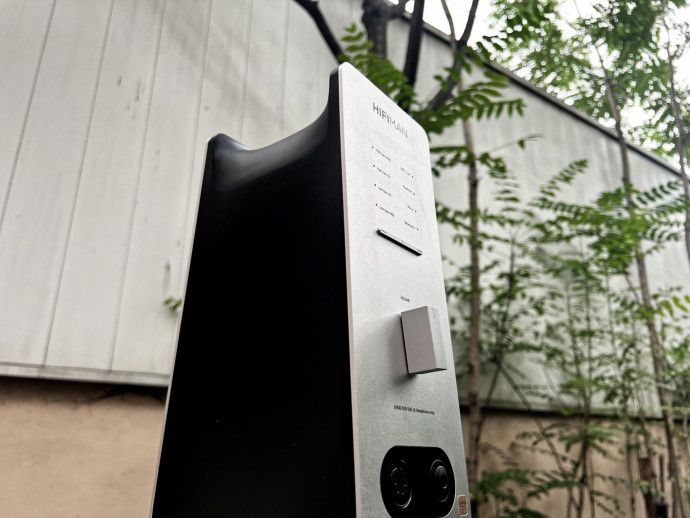 This new DAC, branded Hymalaya PRO was even doubled in the EF600 to create a dual-mono circuit able to output 5.12W per channel, or 10W overall. A good number that should allow you to drive even the most unforgiving headphones – think HE-6 – but if you check closely, you'll see that Hifiman remains quite conservative with its numbers. On paper, the dual set – one per channel – offers high-end specs with :
full PCM decoding up to 24bit / 768kHz,
excellent Signal to Noise ratio (118dB) – but 2dB less than the EF400 then
low total harmonic distortion (0.014%) – but at -8dB
and exceptional channel separation with 131dB
Surprisingly, for a reason that only Hifiman has the answer to, the press kit only show a comparison with the old PCM1704K. A good chip by any means, but completely out to date nowadays, so a comparison with an ESS SABRE 9038PRO or something from Cirrus-Logic would have been much more logical.
For the power section, Hifiman installed a full-discrete, high-current amplifier circuit, with large 30 000uF capacitors, and the same dual-channel architecture, for utmost performance. The four-channel differential structure features a maximum output of 10.7 Vrms on a 36ohm load, so you should be able to drive any headphone with ease, like its predecessor (spoiler alert, it did)
Finally, you can spot a MASSIVE oxygen-free copper wire toroidal transformer, located at the bottom of the amp, sporting oxygen-free copper wire wound, which might be the main reason why the HiFiman EF600 weighs so much. And, for the nerds out there, here are the full specs.
Technical specs
Type: USB DAC + headphone amplifier
Model: Hifiman EF600
Chipset: 2x HYMALAYA PRO R2R DAC
Frequency range: 20 – 20 000Hz
Compatibility: PCM up to 24bit/768kHz
SNR: 118dB (A Weighted)
THD: between 0.0014% (-8dB)
Output power: up to 5120mW per channel (balanced) / up to 1800mW per channel (unbalanced)
Size: 104mm x 165m x 283mm
Outputs (headphones): 6.35mm TRS / XLR 4 pins
Outputs (line) : RCA / XLR
Inputs: USB-C / USB-A / Coaxial / XLR / RCA
Bluetooth: LDAC / aptX / aptX HD / AAC / SBC
The article continues on Page Two, after the click here