In this two page article, we review the $599 USD Hifiman HE-R9 closed back headphones. It sells for $749 USD with the Bluemini R2R Wireless DAC & AMP.
Disclaimer:Hifiman sent us the HE-R9 Headphones with Bluemini R2R Wireless DAC & AMP for this review, free of charge. All thoughts and experiences with the product are naturally my own.
HIFIMAN
It is simply impossible that you have not heard of Hifiman. They're this big, bold China-based personal audio company led by Dr. Fang Bian. It was founded back in 2005. I have used many of the company's marvels such as HM801, HM901s, HE-560, and HE-6… These were all legendary devices, gold standards in their respective time periods. I can't forget the first time I heard the HM801. Its liquid sweet sound pulled lots of memory strings. How easy the time flies.
Today, Hifiman still continues to set new bars and records. One of the many points that make Hifiman stand out is that they are a very innovative company and they are constantly chasing the better, in every price range. They create different flavored headphones, warm, neutral, and balanced, for every kind of audiophile out there. We've reviewed many Hifiman gear in the past at Headfonia, and each time we get excited as if it's the first time. Today, we are going to be looking at the HE-R9, their new closed-back, full-size headphone with a topology diaphragm dynamic driver. 
You can take a look at our Hifiman reviews by clicking here and you can always read our interview with Dr. Fang Bian from here.
Hifiman HE-R9
Hifiman added a new member to its closed-back family in January and introduced the new Hifiman HE-R9. Hifiman states that they designed the HE-R9 specifically for extended listening sessions. Everything from the ergonomics of the headphone to the sound signature has been carefully selected to serve this purpose. Hifiman offers the headset in 2 different packages, the barebone package containing only the headset is priced at $599 USD. The other package includes the Bluemini R2R Wireless Adapter and it costs $749 USD.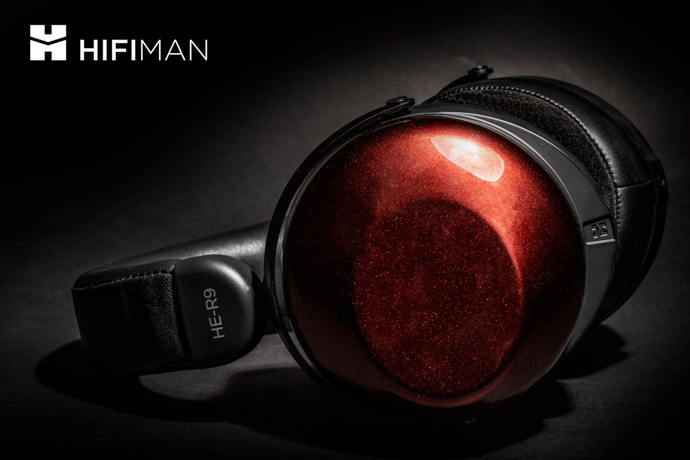 Bluemini R2R Bluetooth DAC & AMP Adapter
Bluemini is a Bluetooth wireless adapter designed with the R2R architecture, which includes the Himalayan DAC developed by Hifiman. The unique shape of the product is compatible with Hifiman's new headphones and provides wireless connectivity to the headphones. Due to its ultra-low power consumption architecture, Bluemini offers up to 8 hours of battery life and has a power value of 200mW. It transmits this power from the 3.5mm TRRS socket. We'll take a more detailed look at it further in the review.
Hifiman HE-R9
Specifications & Technical Data
Frequency Response: 15–35 kHz
Impedance: 32 ohm
Sensitivity: 100 dB
Weight: 328 g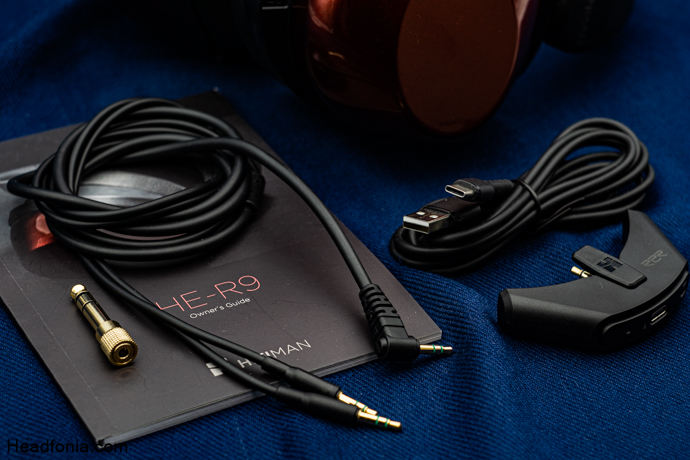 Packaging & Accessories
The Hifiman HE-R9 comes in a big, black, cardboard box. The box is designed well and the unboxing feels premium. As for accessories, you get a dual 3.5mm to single 3.5mm headphone cable, an owner's guide booklet, a warranty card, and a 3.5mm to 6.35mm gold plated adapter. If you opted in for the Bluemini version, you get a Bluemini R2R Adapter, a USB-A to USB-C cable, and a manual booklet. 
The HE-R9's booklet is quite thorough and gets over the design details both technology and material-wise. It also includes a message from Dr. Fang Bian, the CEO, and founder of Hifiman. I recommend taking a look at this booklet if you like to know more about the details of the Hifiman HE-R9. As an enthusiast, I like to learn more about the details of the product that I am spending my money on. One item that I wished to see here is a carrying case. It is a closed-back unit, it is perfectly usable in an airplane or during long train rides therefore a carrying case would certainly come in handy.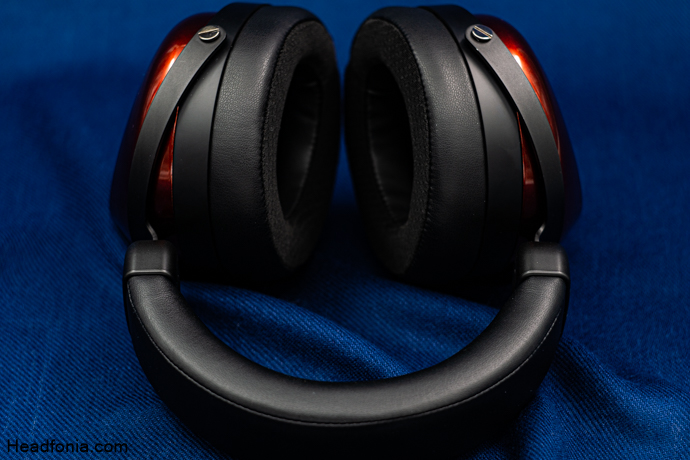 The included cable features a very nice, smooth texture with great ergonomics. It has low microphonics and is quite bendable/soft. One interesting thing I noticed is the sheathing of the cable is a lot bigger than the actual wires inside, I wonder why that is. There is a good amount of free space inside the cable jacket. Anyway, the accessories and the unboxing experience feel nice and apart from the absence of a carrying case, there is nothing to complain about.
Design, Build & Comfort
First, let's talk about the build quality of the headphones. I would like to convey to you what was on my mind the moment I took the Hifiman HE-R9 out of its box. First of all, the product is quite light for its size. If you ever used Audeze's LCD series headphones, for example, you know that over 500 grams weight is a gamble when it comes to full-size headphones. I mean, don't get me wrong, I really like LCD-X but I also love my neck. The HE-R9 weighs just 328 grams. If you listen to music for long hours like me, this is a huge plus, comfort-wise. After some time with it, you conclude that the rigidity of the headphones is quite good and Hifiman did not cut any corners here. Of course, the headphones feel much more fragile when compared to heavy and well-made cans such as Fostex's TH900s but at this price point, I think there is nothing to complain about.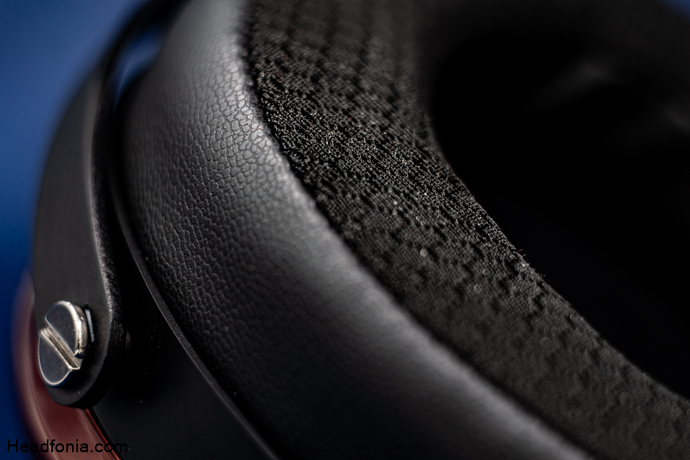 Hifiman used leather and a nicely padded memory foam headband on the R9 and I must say that it is very comfortable. Additionally, the skeleton of the R9's headband is steel and features a good bending capability. Overall, I found it very comfortable and there were occasions when I used it for over 12 hours in a single day. Furthermore, the earcups of the R9 remind me of Fostex's TH-900. The TH-900 had these wonderful dark pearly red cups made of Japanese Cherry Birch. The Hifiman HE-R9's ear cups also feature a similar red to the TH-900 but are slightly lighter in color. 
The shapes of the earcups are unique and Hifiman states that this shape was specially designed for the driver, taking the acoustic properties into account. Moving on to the ear pads, well, these are one of the most comfortable pads that I used in my plus 10-year audiophile journey. The padding is thick, the memory foam is comfy and the clamping force is perfect. It is not too strong, not too light, just right. The pads cover my ears completely and provide very good isolation during listening sessions.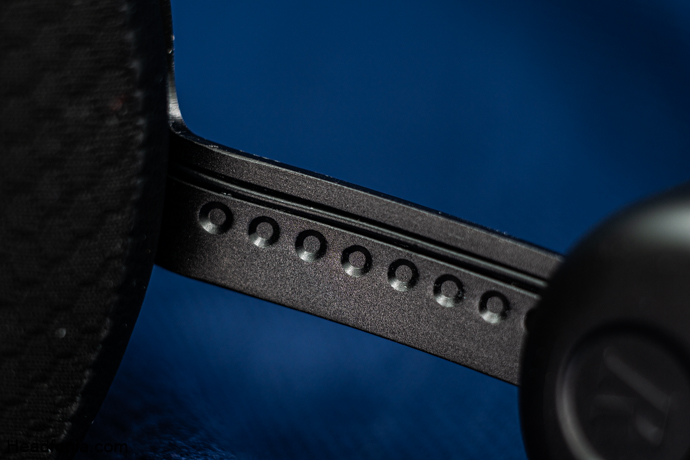 Overall, I quite liked the Hifian HE-R9's comfort and build quality. The red finish on the cups and its shiny texture looks even better up close and I think Hifiman did a great job with the unit. I couldn't find any imperfections on the product, QC-wise. The sockets feel sturdy, the skeleton feels well-built. Also, the stitching is consistent with no errors on either side of the pads. In my opinion, the best thing about the HE-R9 is that you just don't need to worry about comfort, at all. 
The review continues on Page Two, after the click HERE or by using the jump below.
Page 1: Hifiman, HE-R9, Bluemini R2R Adapter, Packaging & Accessories, Design, Build & Comfort
Page 2: Sound Quality, Technical Capability, Pairings, Bluemini Wireless Adapter, Last Words