A cost/benefit approach on increasing the sound quality of The Pan Am
The Pan Am. In my opinion one of the best transportable amplifiers for the LCD-3 and HD800* in the "reasonable" mid-price category. Playing the role of the chronic improver/tweaker, this quality (read: vice) has progressed my quest for the best sound possible from this tiny little cubic wonder. Thus the scope of this text. Let's squeeze out every possible drop of audio ambrosia**.
For starters if you want to make your Pan Am truly transportable, check out the pics in this review. A lot can be done with double-sided foam-tape, custom cables and 3M-DualLock-tape. If you're on a tight budget and only have the stock cable for your cans. Ain't it grand that the Pan Am also has 1/4″ TRS output? Just plug it in. You might be bummed out that your cable may be a little to long or stiff, thus asking yourself "wouldn't an aftermarket-cable be a good investment"? Yes and no. They usually cost quite a bit, when compared to the pure sonic benefits they bring to the table. If it's all about sound/cost, we sure are lucky that there is an abundance of good and cheap NOS-tubes. They make substantial difference without reducing your upcoming culinary experiences to chinese noodles and ketchup.
—
* Most certainly for a whole lot of cans, however not having heard it with all flagship phones one might want to name-drop, that remains to be elucidated by others; **Pushing them further into Audio Nirvana with other transportable amps, will be the theme for one or two future reviews, with help from Red Wine Audio. So expect a cost-no-issue approach. Soon.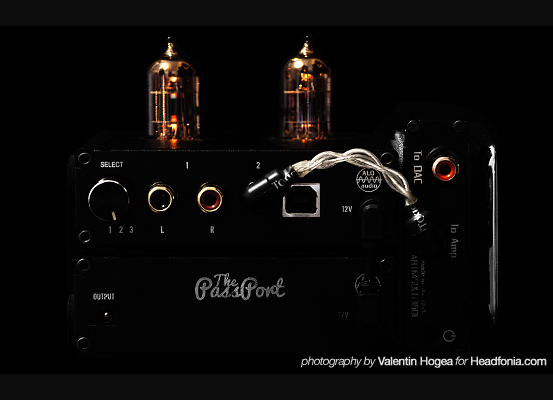 Tubes compatible with The Pan Am

If you're new to tubes, they can be very confusing at first. Triodes, pentodes, rectifiers, drivers, outputs and a whole lot of numbers and letters. Different names in different countries. The easy thing would be to stick to the tubes offered by ALO Audio, at quite a favorable price too by the way. But that's too easy, right? If they sell these tubes stock, they can't be all that? We'll get back to that topic. Meanwhile, I'm saving you the time to read up on the pin-layout, voltage and heater current and google translating german enthusiast web sites. Because once again. Information is pretty scarce on these. So here I bring to you the fruit of my research. All these tubes are identical*, regardless of their name: EF95, 5654, 6AK5(W)**, 6AJ5**, 6ZH1P-EV, 6J1-Q, 5591, 403A, 403B, CV4010, M8100, CV850, 6F32(V). There are a few other denominations, but since I haven't found any tubes currently for sale under that nomenclature, I suggest we skip them.
NOS-tubes can at first glance be tricky to order. What should I get? So many vendors, so many types, so many manufacturers. Different vendors have different tubes. Priced very differently. And last but not least, how do they sound? Generally I would say that there's a huge lack of comparative reviews on NOS-tubes. Word-of-mouth or trusting an eBay-seller – that probably doesn't even own the amp in question – is not something I advise others to do. There are however exceptions, well-established audio tubes like 300B, KT88, 12AX7's, 6922"s etc. Tons of information. Why? Well those NOS-tubes are so rare and [sic] expensive, that there isn't room to own all rare NOS-ones, so cooperation (or should we say: boasting) in the audiophile-community is quite established. The other part is, that even though you know which is "the best", you most certainly can't find it/afford it. So in those cases it's a compromise between lower grade NOS-tubes or re-issues/new designs by modern tube manufacturers (e.g. JJ Electronics, Shuguang, Tung-Sol etc). This is not an issue with the driver tubes for The Pan Am. Yes, the sun sure is shining down on us on this glorious day.
My aim with this article/review is to try to help you both sonically and economically. I've spent far too much on these little miniature tubes (and could spend a lot more, there are at least 20 different tubes more that I'd like to hear) simply because there aren't a lot of options when it comes to high quality transportable audio. Even small differences count.
Let me introduce you to a question I often pondered: "How can something that is built to – almost – the same specs, sound so different?" Since I am not a vacuum tube enthusiast in my late 60's with a funky Zappa-mustache and flannel shirt (yes, that is the stereotype image projected in my mind), I will try to use common sense and some minor flashbacks from high-school electronics classes. Readers are free to correct me on the following: Different materials. Higher or lower tolerances of performance (retail/industry/military/audiophile-grade etc.) in different aspects of the desired specifications etc.
—
* Theoretically, or have minor practical differences e.g. heater current 150mA instead of the usual 175mA-180mA, an obvious example 403A = 175mA, 403B = 150 mA** Just to clarify: It so happens to be that 6AJ5 and 6AK5 are identical. However, this is not valid for changing the J or K to anything else. So don't go there.
Continued on Page 2, Making something subjective as objective as possible