Today we're reviewing the new iFi Audio GO pod True Wireless DAC/AMP! It's selling for $399 USD.
Disclaimer: iFi Audio sent us the GO Pod for this review. As always, I'm here to convey my honest experience with the product.
iFi Audio
iFi Audio is an esteemed audio company founded in 2012 and based in the United Kingdom. Known for its innovative design, advanced technologies, and ever-growing commitment to audio excellence, iFi Audio has quickly gained recognition for its high-quality audio products, including DACs, headphone amplifiers, and audio accessories. With a focus on audio performance, meticulous craftsmanship, and environmental sustainability, iFi Audio has become a respected brand among audio enthusiasts all over the world.
iFi Audio GO pod Wearable Wireless DAC / AMP
The GO pod is a true wireless Bluetooth adapter. It is designed to bring the convenience of wireless listening to high-end IEM users. It allows many wired IEMs to be seamlessly converted to wireless by offering compatibility with a wide range of connectors. In this review, we're going to explore how it works and evaluate how well it performs. Over the years we have reviewed a large number of iFi products here at Headfonia, and you can have a look at those reviews here: Headfonia iFi Reviews.
Here are the highlights and specifications of the new iFi GO pod:
DAC: Cirrus Logic Master-HiFi 32-bit DAC
Bluetooth Chipset: Qualcomm QCC5144 Bluetooth 5.2
Supported Codecs: LDAC, LHDC/HWA, aptX Adaptive, aptX HD, aptX LL, aptX, ACC, SBC
Sampling Rate Support: Max. 24bit-96kHz
SNR: 32Ω ≥ 129dB (A) / 300Ω ≥ 132dB (A)
THD+N: ≤0.002% (1kHz/32Ω)
Auto Impedance Detection: 16Ω / 32Ω / 64Ω / 300Ω
Output Power: [email protected]Ω; [email protected]Ω 16Ω: ≥0.98V/60mW 32Ω: ≥1.96V/120mW 64Ω: ≥2.77V/120mW 300Ω: ≥4.0V/53mW
Battery Capacity: 180 mAh Each Adapter + 1500 mAh Case
Battery Life: Up to 35 hours
Features: TWS Mirroring, Snapdragon Sound, IPX5, MMCX/2-pin, Qi Wireless Charging 5V/1A or 5V/2A + USB-C Fast Charging, cVc Mics, Single GO pod Mode & more.
Case Dimensions & Total Weight: Approx. 116 x 76 x 38.5 mm (4.6″ x 3″ x 1.5″), 126g
Ear Hook Dimensions & Total Weight: Approx. 43.5 x 16.4 x 9.5 mm (1.7″ x 0.6″ x 0.4″), 12g
MSRP: 399 USD/GBP
GO pod's dedicated web page can be found here. Also, be sure to check the manual for detailed info about the features.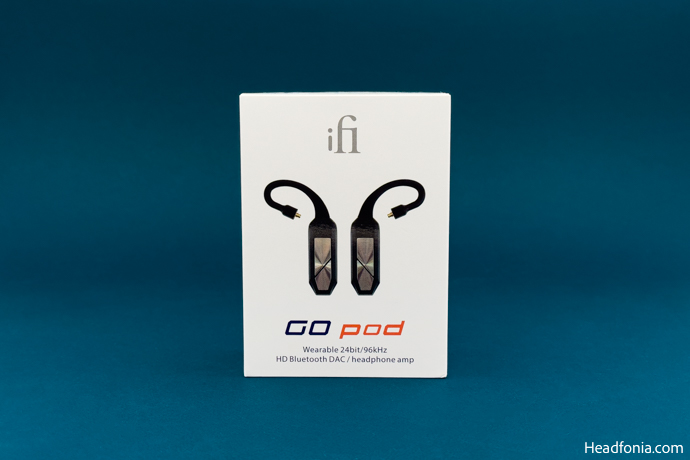 Packaging and Accessories
Upon receiving the GO pod, the first thing you'll notice is the iFi's customary packaging which is both sleek and minimalistic. The outer box sports a clean design with the product image and model name on the front. Inside the box, the adapters are safely stored in the charging case.
Inside the accessory pack, you'll find a not-so-small 1500mAh charging case, a USB-A to USB-C charging cable, three pairs of ear hooks (one pair pre-installed), an iFi sticker, a quick start guide and a user manual. iFi has included 0.78mm 2-pin, MMCX and Pentaconn ear hooks in the package. As for other options, iFi says that more connectors are on the way and will be available for purchase in the future.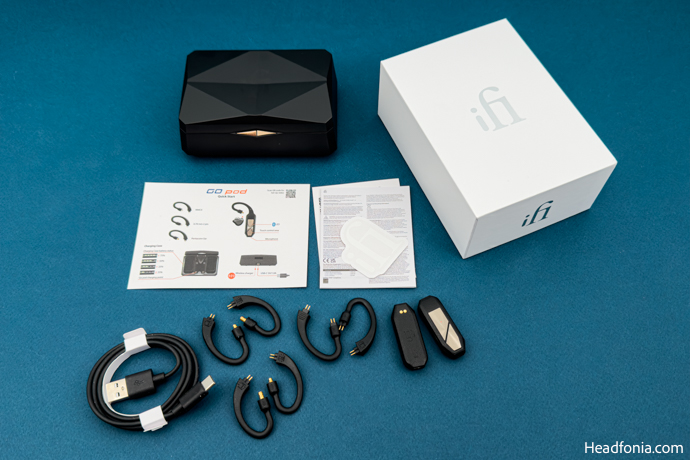 The accessory package is comprehensive and well thought out, ensuring that you have everything needed to start using the GO pod immediately.
Overall, the packaging and accessories that come with the GO pod demonstrate the company's attention to detail and commitment to delivering a first-class user experience right from the start. Frankly, this has always been my experience with iFi. As someone who has been buying and using the company's products for over 5 years, iFi has never let me down in this regard. Kudos to the team!
Design & Build Quality
Let's start with the charging case. The charging case measures approximately 116 x 76 x 38.5 mm. This is by no means a small case. Its size is comparable to that of the Pelican 1010 case, which is often used by audio enthusiasts. The case is made of plastic and is relatively light, weighing in at 126 grams. It has an elegant and cohesive look, with a sleek matte black finish that matches the aesthetic of the adapters.
Upon opening the case, you are greeted by a pair of elegantly placed LED lights that illuminate the charging cradle, where the adapters and IEMs rest securely. As soon as the case's lid is opened, the LEDs cast a soft glow, enhancing the visual appeal of the setup. The contact surfaces within the case are lined with luxurious velvet material, reminiscent of a fine jewelry box, providing a touch of sophistication. The well-placed LEDs, combined with the velvet-lined interior, lend the case a refined and premium appearance, elevating the overall user experience.
While the case is indeed transportable, its dimensions might prove to be a bit too large for pocket use, even when considering jacket pockets. However, the ample size of the case ensures that there is enough clearance to accommodate larger IEMs with multiple drivers and larger tips, providing versatility for a wide range of earphones. The choice of plastic for the outer shell material, though not as premium as aluminum, might be perceived as less suitable for a product in this price range. Nonetheless, an aluminum case could potentially increase the weight beyond its current 130 grams, which may not be preferable for those seeking a balance between durability and portability.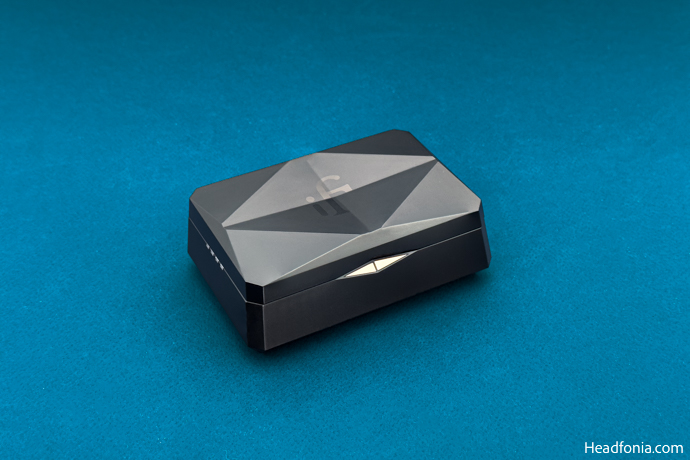 As for the adapters, iFi has opted for a modern design that strikes a good balance between aesthetics and functionality. The adapters are made from high-quality plastic with a rough, leather-like texture. The leather-like texture not only adds to the visual appeal but also provides resistance to fingerprints and smudges. The outward-facing part of the adapters has brushed aluminum faceplates with a glossy finish, which houses a touch sensor. The adapters are relatively lightweight, which helps to keep the ears comfortable and minimizes strain when listening for long periods.
The ear hooks are made from a soft and flexible material to ensure a secure and comfortable fit. They easily conform to the contours of the ear, ensuring the adapters stay in place during activity. The ear hooks are fitted with a notched 2-pin connector at the other end and can be quickly replaced thanks to the modular design. The included adapters feature three connector options: MMCX, Pentaconn, and 2-pin (0.78mm), catering to a wide range of IEM users. The connectors are well-built and sturdy, providing a reliable and secure connection with compatible IEMs.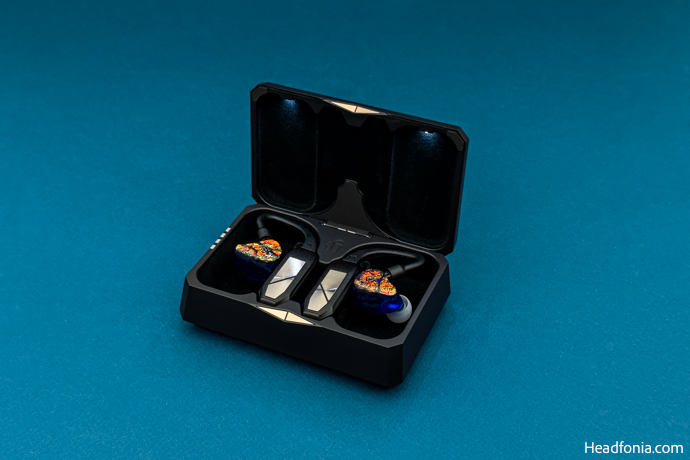 One of the standout design features of the GO pod adapters is its IPX5 water resistance rating. This ensures that the adapters are protected against sweat and light splashes, making them an ideal choice for workouts, outdoor activities, or daily commutes in unpredictable weather conditions. Of course, the earphones you use with the adapter must also have protection against water and sweat.
The review continues on Page Two, after the click HERE or by using the jump below.
Page 1: iFi Audio, GO pod, Packaging & Accessories, Design & Build Quality
Page 2: Controls, Technology, DAC & Amplification, Battery Life,
Page 3: Sound & Performance, Technical Capability, Comparison, Last Words