Today, we are taking a look at the $530 USD XENNS Mangird Top In-Ear Monitors.
Disclaimer: Linsoul sent us the XENNS Mangird Top IEMs for this review, free of charge. As always, I am here to convey my honest experience with the product.
XENNS / Mangird
Mangird is the brainchild of a group of music-loving engineers with a passion for high-definition audio. The Mangird team has created a range of professional in-ear monitors that have impressed the audiophile world, using their expertise in electrical engineering and studio performance audio equipment. Their most notable creations include Xenns UP, a fusion of advanced driver technology and good tuning, and Tea, renowned for its clear and balanced sound.
Each Mangird unit is meticulously hand-crafted in small batches, giving each a distinctive and bespoke character. Today, we have their latest creation, the XENNS Mangird Top.
XENNS Mangird Top In-Ear Monitors
The Top features 8 balanced armature drivers and a dynamic driver in each shell. It is configured with Knowles' 32406 dual balanced armature driver for ultra-high frequency, two E50D dual balanced armature units for high frequency, two Sonion 2600 series mid-high frequency balanced armature drivers, and one 10mm beryllium-coated dynamic driver for bass. Its shell is made of medical-grade German resin and is bespoke. The faceplate is also made by hand and is unique to each pair.
The Top comes with an upgrade cable. The cable uses single-crystal SPC, therefore offering comfortable and flexible use with very minimal microphonics. It also comes with a modular system so its plugs can be customized according to the sources in your inventory. As for the price, the IEMs are available for $530 USD via Linsoul.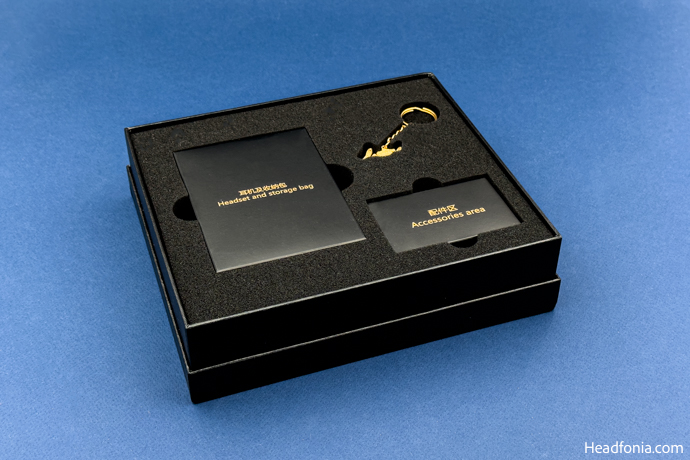 Specifications
Driver Configuration: 8 BAs + 1 DD
Socket: 2-Pin, 0.78mm
Housing: Resin Body, Metal Nozzle, Bespoke Faceplate
Cable: 1.2m, Silver-Plated Single Crystal Copper Cable with Modular 2.5/3.5/4.4mm Plugs
Impedance: 25Ω
Sensitivity: [email protected]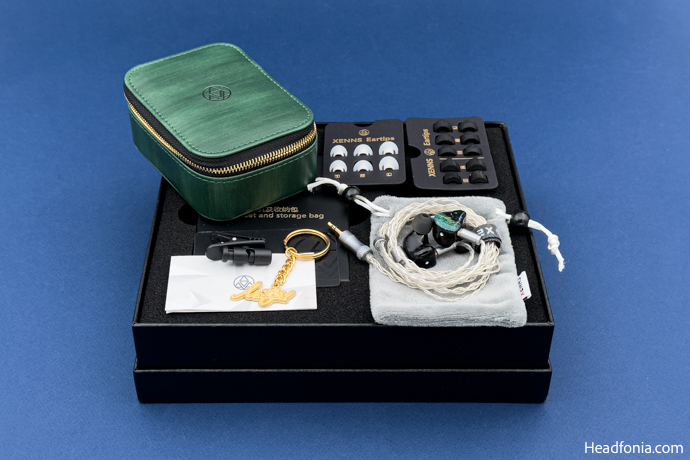 Packaging & Accessories
The Top IEMs make a lasting impression from the moment they arrive. Encased in a good-looking box with a galaxy-themed aesthetic, the packaging hints at the beauties nestled within. Gently lifting the lid reveals several boxes in a foam compartment, with gold lettering indicating their contents. You will find the IEMs inside and also the carrying case, while the detachable modular cable is coiled neatly next to it, adorned with a Velcro cable tie to keep it tangle-free.
Mangird's attention to detail extends to the array of ear tips included, ensuring users find the perfect fit to suit their unique preferences. Six pairs of silicone ear tips in various sizes (S, M, and L) cater to those who prefer a softer, more adaptable feel, while two pairs of foam ear tips (S, ML) provide an alternative option for those seeking enhanced noise isolation and a more secure fit. The premium, zippered carrying case, featuring a sturdy green-colored leather exterior and a plush, velvet-lined interior, ensures that your IEMs are well-protected and scratch-free.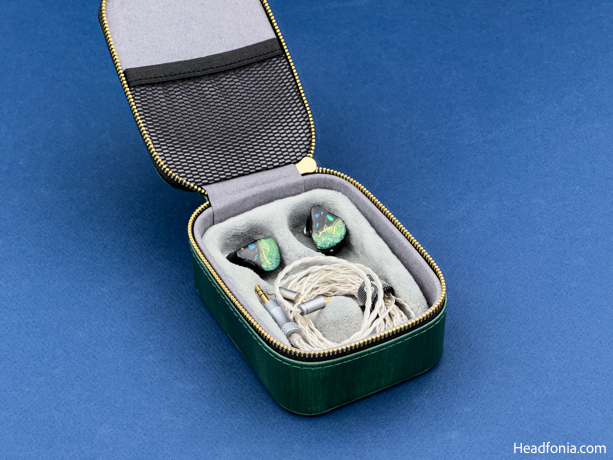 There is also a small velvety pouch included in the package to put your IEMs or cables in. As the final item, a sleek, golden Mangird key ring completes the ensemble, giving you a memento to carry with you.
Overall, the Top's unboxing is similar to the experience of the more expensive XENNS UP, and that's pretty good. The accessories are of good quality and you feel that you are opening a valuable piece of equipment.
Design, Build & Fit
The Top IEMs are a harmonious blend of striking design, great build quality, and a comfortable fit. The design is characterized by the bespoke, handmade resin shell, of which faceplates showcase a unique pattern featuring shiny green powder and sparkling blue leaves. Each pair of IEMs is distinguished by its one-of-a-kind pattern, with varying shades of color that create an aesthetically pleasing visual effect. This artistic approach is complemented by the discreet, gold-foil Mangird logo, which lends an air of elegance and sophistication to the overall design.
The build quality of the Mangird XENNS Top IEMs is quite good. I have experienced various IEMs from Mangird and each one shows impressive elements of craftsmanship. The resin shells are not only visually appealing but also provide a solid, durable construction that can withstand the rigors of daily use. The company states that the resin is imported from Germany and is of medical grade. The build quality deserves praise as all the joints look well-built. I can't find any imperfections on the shells. Another subtle but nice detail is the use of a sleek piece of aluminum instead of a plastic filter in the DD's air vent. I love it.
The cable itself is also quite good, featuring a high-quality, braided design for increased durability and a thinner geometry that resists tangling. The ear hooks, in particular, use a thin memory shrink with no guide metal to reduce the strain on the cable and provide a good fit. Even for audiophiles that wear optical frames.
The ergonomic design of the Top IEMs plays a crucial role in achieving a comfortable fit that remains stable even during extended listening sessions. The contoured shape of the IEMs is designed to fit snugly within the natural curve of the ear, while the lightweight construction minimizes pressure on the ears. The included assortment of silicone and foam ear tips allows users to find the perfect fit for their unique ear shape and preferences. Properly fitted ear tips not only enhance comfort but also contribute to optimal sound isolation, enabling listeners to become fully immersed in their music without being disturbed by external noise or the less-than-optimal bass response.
To my ears, the Top offers the highest possible comfort with its 9-driver shells. For a 9-driver IEM, it's quite compact and its lightweight structure really makes a big difference. The Mangird Top is one of the best-fitting IEMs I've reviewed this year.
The review continues on the next page. Click here or use the jump below.
Page 1: XENNS / Mangird, Specs, Packaging & Accessories , Build Quality & Design
Page 2: Sound, Low, Mid, High, Technical Capability, Comparisons, Last Words