Today, we take a look at the Jays M-Seven. It's the first true-wireless IEM from the brand and it's also one of the cheapest ones available on the market, priced at a mere 129$/€.
This is part of our Picture Sunday series, where we take a quick look at some products in the review cycle. You can find all previous Picture Sunday posts here.
About Jays
Jays have been in the market for a long time now, offering low-priced, well-designed, good sounding headphones. The Swedish brand gave us very nice looking earphones in the past, whilst focusing on sound performance too, even if not labeled "audiophile" by any means.
That said, at Headfonia, we care about sound, whatever the form, so when they asked us if we'd be interested to check their new true-wireless IEM, we said yes!
Jays M-Seven – The design
Like all true-wireless IEMs, the Jays M-Seven comes with a charging box. This serves a dual purpose :
firstly, it's a carrying-box. Since there is no cable attached to each side, you can easily lose one piece when the IEMs are not in use. Anyone who owned a pair of AirPods knows what I'm talking about.
secondly, it charges the monitors. A true-wireless IEM where you'd have to plug a cable to each ear-piece would be terribly inconvenient. That's why all TW IEMs, like the Jays M-Seven, use a charging box. (You still have to use a cable to charge the box though).
The box is small, covered by soft-touch silicon which seems to be scratch-proof and a tad water-proof. The Jays logo is engraved on the front side, leaving the other sides free of any marks. You have one single button at the rear of the box, press it and 4 LEDs light up to indicate how much battery is left.
The Jays M-Seven retains the same design. They are small, black, smooth pebbles, with the Jays logo engraved on the backplate. It's very subtle and you really have to lookup close, with a grazing light to see the logo. Once fitted inside the charging box, a tiny led turns red, to confirm the charging process. You'll never see the led again after that.
In my opinion, this is one of the nicest TW IEMs available at the moment. The sober, dark design, combined with the small dimensions and soft touch make them adequate for every use and style. And… they are really comfy.
Jays M-Seven – A quick view
For 129$/€, those little buggers are really impressive. Both technically and sonically.
Inside each piece, you will find :
a 6mm dynamic driver, 
a battery
a DSP
a Bluetooth receiver
a microphone
Again, it's impressive how far we've come in terms of miniaturization. We can now pack a whole audio system, inside one small IEM, and get more than nine hours of playtime out of it.
Yes, Jays says that the M-Seven will last 9.5 hrs in continuous play. For each charge.
So 38h of play, if you use the four charges of the carrying box. That is damn impressive if you ask me!
Like most wireless devices now, the M-Seven is compatible with Bluetooth 5.0, but no apt-X HD, LDAC or HWA… This might be a deal-breaker for most of us but, as we all know, this isn't the end of it.
Waterproof, the M-Seven is even IPX5 certified. So you can run, hike, bike or do whatever sport you like, with your M-Seven. You can even use them in the rain, or rinse them at the end of your workout. The box is just sweat-proof, so you mustn't rinse it too.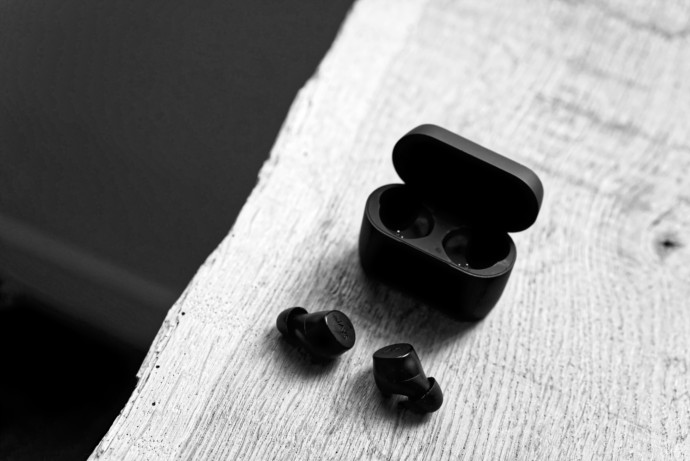 Last but not least, the faceplate is touch-sensitive. So you can control the playback, answer/decline your calls, invoke Siri/Google Assistant, with your phone in your pocket.
Jays M-Seven – First impressions
Sound-wise, it's a big surprise. In a good way.
I compared them to various true-wireless IEM and the M-Seven really holds it ground. Sure, there is a bit too much bass, but that's not overwhelming either, or at least for me. The sound stage is fairly wide, dynamic is lower than multi-driver IEM, similarly priced, but hey: this is a true wireless IEM.
On the go, I found the sound pretty addictive. The boosted bass is pretty pleasant, especially if you're in a crowded/noisy environment, as it seems to "elevate" the overall presentation. Honestly, if Jays didn't mention the size of the driver, I'd never thought the M-Seven uses a tiny 6mm dynamic…
There is no transparency mode, nor special tuning presets, but that was not an issue for me. What bugged me although, was the lack of APT-X/LDAC support. If you own an iPhone, this won't bother you as iDevices only support SBC, but DAP and Android users will be given the poor choice.
To sum it up, I've been using those ears daily for a few weeks now, and I absolutely love them. I'll tell you more in the upcoming review, but if you can grab a pair… treat your self!