In this article we review the JDS Labs ATOM DAC, which is selling for $99 USD. It is built to pair with the enormously popular JDS Labs Atom Amp.
Disclaimer: JDS Labs sent us the Atom DAC for this review free of charge, I only covered the import taxes and fees. All thoughts and experiences with the product are naturally my own.
JDS Labs
Many of you already have an acquaintance with JDS Labs because of the widely popular DACs & AMPs that they design. They are one of my favorite Audio companies of all time. I have used many of their products in the past, even the old ones such as the JDS's production of NwAvGuy's O2 amplifier and Altoid can JDS CMoys. Those were the times! I can honestly say that I have never used anything "mediocre" from JDS. They always deliver in my experience. Today we will talk about their new Atom DAC and how it pairs with the Atom AMP.
But first, let's talk a little bit about the company! Who are they, really?
Well, everything started with an audiophile's pursuit of excellence. The story begins with John Seaber, the JDS in JDS Labs. John, who was not happy with the bass response of Sennheiser HD-280 Pro , designs a bass boost circuit and shares it with the audio enthusiasts. In no time, John's keen hands gets overflown full of requests from other audio enthusiasts. Though JDS Labs was never planned to be a company, Co-Founder Nick joined in 2011 and the evolution that will make JDS Labs what it is today, begins.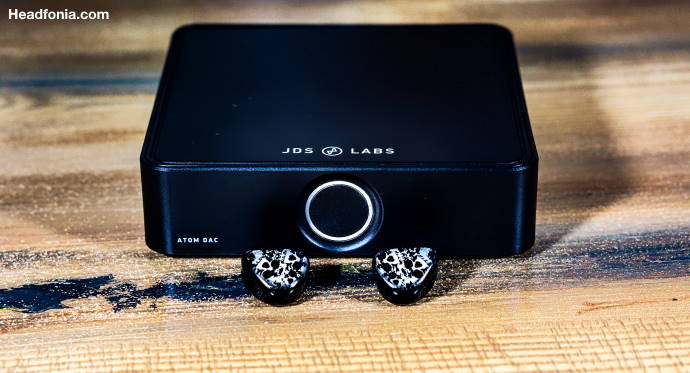 They are now this hugely popular killer company, who is trusted by the fans because of their honest and transparent attitude towards everything they do.
We have reviewed and awarded a lot of JDS Labs gear here on Headfonia over the years, check out their reviews here: Headfonia JDS Labs reviews
Now that you're acquainted, let's get to good stuff.
JDS Labs Atom DAC
Specifications & Technical Data (more here.)
Frequency Response 10Hz-20kHz: +/- 0.15dB
SINAD: 110 dB
THD+N 20Hz-20kHz: < 0.0008%
Noise (A-Weighted): -109 dBu
Dynamic Range (A-Weighted): 117 dB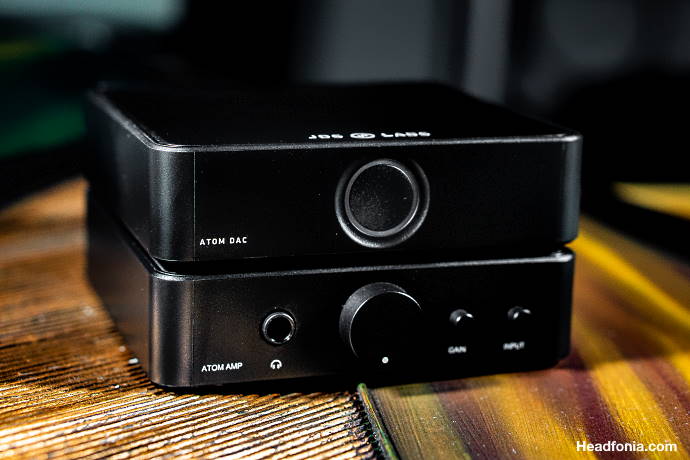 Packaging & Build Quality
Packaging is quite straightforward, the stack comes in a static bag inside a cardboard box. The ATOM AMP features a similar unboxing experience. Gold-plated plugs feel solid, well made. The Atom DAC works with a 15VAC Power Adapter, it comes bundled with the DAC, in a cute little box. After unboxing and holding the device in my hands, I immediately noticed how lightweight it is, just like the amp. It weighs only 226 grams. The case is plastic, but don't let this discourage you. It looks very, blacky chic. Seeing plastic build after so many CNC'd JDS products reminds me that I am paying for the sheer, absolute performance. It's true, we'll find out more in the sound section. Anyway, both the Atom DAC & AMP feature the similar white-ring design. They look beautiful together, especially at night. I like the dimness of the LEDs, they do not hurt my eyes in my pitch black room.
As you know, both the DAC and the AMP come bundled with power adapters. This means that you have to have space for 2 huge adapters which by the way, blocks 4 of my adjacent outlets, when plugged in.
JDS also placed 4 anti-slip rubber feet under both of the units. They work well and they have a low profile so you don't see them easily.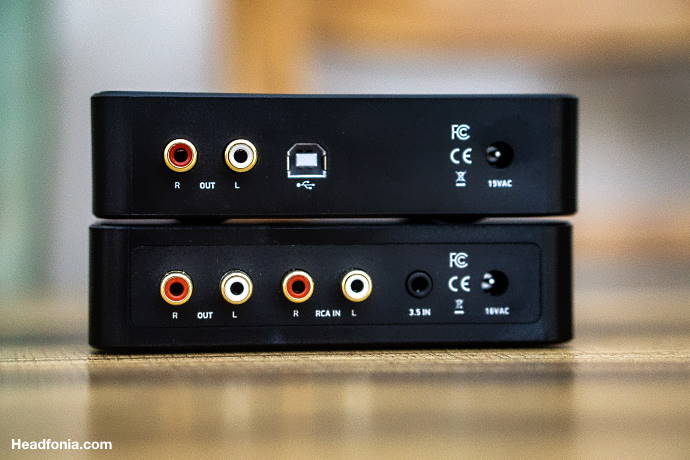 To recap, the build quality is fair, especially for the price. These will last a really long time, don't worry. Plus, JDS has one of the best warranty track records I have seen in this industry, so you're in good hands.
Design & Features
JDS is popular among audiophiles for their killer price to performance ratio gear. The OL DAC & OBJECTIVE2 stack was a huge hit sub 200, rivaling gear that is double the price. ATOM is here to get that crown back. The DAC has excellent measurements, it is a technical marvel for the price. MEMS oscillators, external power design, Asahi Kasei's premium-grade 4490EQ DAC chip with Velvet Sound architecture featuring a really low noise and distortion, XMOS AC2 controller with upgradeable firmware support… The Atom is full of good stuff.
Did I mention the automatic standby feature? Atom DAC does not feature an on board power switch, instead, it enters standby after 15 minutes of inactivity, powering down its light ring and D/A circuitry, and wakes up when you need it, within milliseconds. For the old fashioned, you can get an external power switch if you like but I felt absolutely no need for that.
The part on sound starts on the next page. Click HERE or just use the jumps below.