Today, we are reviewing the newest DAC from Maktra, the Maktar Spectra X2, available for $199.
Disclaimer: True to source sent us a sample, free of charge, in exchange for our honest opinion.
About NextDrive/Maktar
Designed by NextDriver, produced by Maktar.
If the name Maktar doesn't ring a bell to you, don't worry, I was the same. On the other hand, NextDrive sounded much more familiar to me, and for good reason: we previously reviewed the Spectra and Spectra X, two superb dongle-DAC made for Android/PC and Mac users.

And so, for the Spectra X2 – the DAC we are about to cover – NextDrive partnered with Maktar to "take advantage of their extensive manufacturing and design prowess with Apple peripherals", or to put it more simply: ensure that the new X2 gets the holy MFi certification.
The Spectra Series
As usual, we are going to take a quick tour of NextDrive range's. And, for once, this will be a real quick tour, as the brand only released… 3 products at the time of writing.
NextDrive Spectra
The NextDrive Spectra is a dongle-sized DAC/Amp, made for computers and smartphones. It's well-built with a beautiful aluminum, tube-shaped, case and a classic USB-A port/3.5mm output. Inside, you can find the classic ES9018Q2C from Sabre, able to decode 32 bits / 384 kHz PCM files and drive medium to high impedance headphones.
Nathan reviewed that model a few years ago, so here is an excerpt: 
"The NextDrive Spectra is a 129$ Plug & Play that's an ergonomic miracle for otherwise poorly-accessible ports. It is trivially easy to use. It kicks out sound on the level with devices many, many times its price.[…] Apart from its reliance on the boring NextDrive logo, it is pretty much perfect. Well done."
NextDrive Spectra X
Like the name suggests, the NextDrive Spectra X is an updated version of the first Spectra. Same design, same DAC, but better sound thanks to various optimizations across the PCB and the addition of various features. Not a big upgrade on paper, but a real upgrade whatsoever.
Again, Nathan had the chance to review it:
"As you know, Spectra blew my mind. Great benchmarks, low noise floor, super loud, and basically all the performance of a mid or high-end DAP but for a fraction of the price, size, and complication. If you get the right plug, it even works with your favourite smartphone. X is the same, but everything is slightly better. I only wish it had a hardware attenuator built in. NextDrive, you've hit it out of the ball park. So on to the Recommended gear list it goes!"
Maktar Spectra X2
And now, NextDrive, or Maktar, is releasing the Spectra X2, which is both an upgrade, and a variant of the previous X1. It gets a better DAC, the same aluminum case, but ditch the USB-A plug, for a Lightning port. 
I know, you'd have expected USB-C here, but remember that Apple KEPT the 8-pin port, even if the iPad or MacBook switched for USB-C long ago. So yeah, the Spectra X2 will definitely find its own niche, as long as sound follows.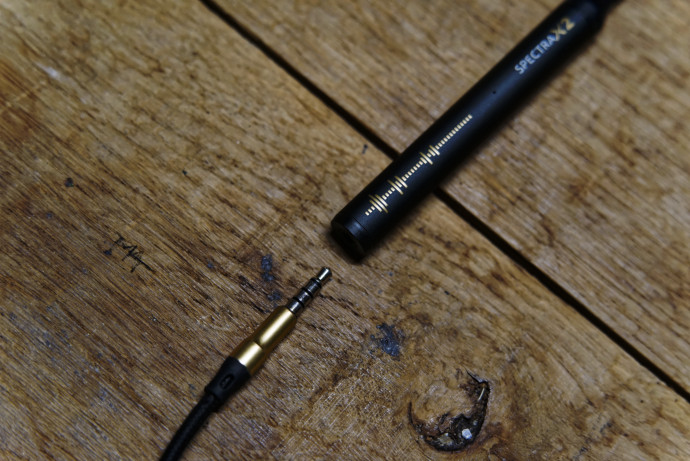 So let's see, if the new Spectra X2 remains on the recommendation list, as did the Spectra X.
The review continues on Page Two, after the click HERE or by using the jump below.