Today we're looking at the N6ii, the brand new DAP from Cayin Audio.
Disclaimer: This post is part of our Picture Sunday series, you can find all of the previous ones here.
Cayin Audio
Cayin is a premium Chinese high end audio brand (since 1993) and their focus has mostly been on dedicated HiFi equipment, covering every chain in the music reproduction path, from CD players to speakers, but the essence is no doubt their tube amplifiers. Their equipment ranges from around US$100 to just below US$10,000 per item, covering the needs of different requirements and budgets. Lately Cayin has been focusing on the portable market as well with successful units such as the N5ii, the N3 and the reference N8. Now Cayin is back with the N6ii, a brand new DAP with changeanle AMP and DAC.
N6ii
Yes, you read that right. "If you're not first you're last", that's what Cayin must have been thinking as they are now giving us a  DAP in which you can change the AMP and DAC module. We've seen interchangeable AMP cards before with Fiio, Hifiman and iBasso to name a few, but changing the AMP and DAC? That's a first!
The first version is called the Master Quality Digital Audio Player and it comes with Audio Motherboard A01, which has an AK 4497EQx1 DAC chip. It will sell for around US$1,199. So High-End for sure.
The N6ii's dedicated web page can be found here: https://en.cayin.cn/products_info?itemid=119
Here you can see a short video of the N6ii navigation:
According to Cayin, the N6ii is a smart DAP that offers high quality audio playback, versatile system platform and enhanced user experience for the advanced Personal Audio users and serious music lovers. It is Android 8.1 based with Google Play pre-installed, and enables users to use online and offline music streaming services. N6ii is our first modular based portable player, and we have adopted a very innovative approach to our modular concept. Our Audio Motherboard consists of DAC and analogue amplification circuit. Every Audio Motherboard is a fully optimized solution from the ground up, with class leading digital audio capability and powerful audiophile grade headphone amplification packed into a very compact module.
N6ii is our latest smart DAP based on customized Android 8.1. With Google Play pre-installed and Direct Transport Audio (DTA) bypassing Sample Rate Conversion (SRC) of Android system completely, all music playback (local and streaming) from all applications will decode in original Hi-Res without resampling. The player is powered by a Snapdragon CPU with 4G DDR3 memory, the overall operation is very smooth. This is our third generation customized Android system (i5 with v4.4, N5ii with v5.1, the UI is relatively mature and stable when compare to previous versions.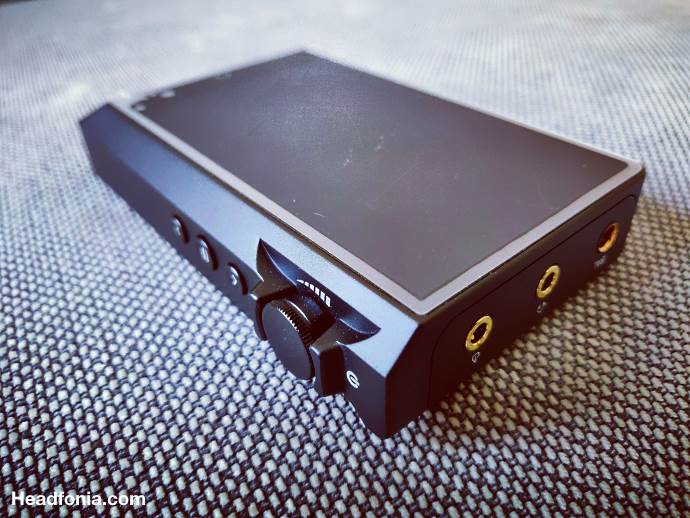 Motherboard A01 is fully optimized for fully differential amplification, and the final headphone output stage employs 4 pieced of OPA1622 in parallel amplification configuration and offers up to 530mW per channel (@32ohm) from its 4.4mm balanced headphone output. Parallel amplification increases the output current capability and lower the output impedance. In practical, these improvements will translate into better control, ability to sustain a heavier loading, and drive most portable headphones with ease and offers lots of headroom.
A01 offers 3.5mm single-ended phone out, 3.5mm single-ended line out (dedicated), 4.4mm balanced phone out and line out (shared)
Specs
On paper the Cayin N6ii's specs are impressive, especially the DAC, Snapdragon MCU and OPA1622 x 4. Cayin is also confirming their choice for the 4.4mm balanced port.
First impressions
I've had the pleasure to listen to the N6ii at the High End Munich show last month and it was really impressive. I have listened to it with my favorite JH Audio JH13Mk2 pro and the brand new Cayin IEM and it was/is incredibly good with both.
The Cayin N6ii woth the A01 motherboard sound more neutral yet musical. Delivery is fast, precise, tight and detailed. As it's neutral is linear and very balanced and the N6ii will not put things more upfront or increase voices, treble or bass. The N6ii is balanced and perfectly in control at all times.
Cayin has chosen to take the musical path of neutral and they did well doing so. The result is a precise, detailed and very clean/ clear sounding DAP. I can't really call the delivery smooth and it certainly isn't warm. With the A01 the N6ii takes the route of how AK is doing sound with their high end players: precise, yet musical. Clean yet addictive. Dead silent with a fully black background. It's the kind of tuning I love.
It's big brother the N8 has different features, but he N6ii is the big winner when it comes to versatility. No it doesn't sport a vacuum tube, but it does Spotify, DLNA and Tidal without any issues so far.
It's a bit soon for the full review, but it's looking very good for the N6ii. In the full review we'll tackle all the different characteristics and how the N6ii performs and sounds, but it does look like AK and the other top end DAP companies have a real contender with this one.
We'll be giving you the full review as soon as we can.