Another day, another FiiO, it looks like there isn't a month without a new player from the brand. This time it's the new FiiO M6 and oh boy does it look and feel good.
Disclaimer: This post is part of our Picture Sunday series, you can find all of the previous ones here.
FiiO M6 : first look
If FiiO already made entry-level players before with the M3 and X1, the FiiO M6 is a definitive improvement from those two models. The build quality is top notch, it's small, the screen is nice and offers vibrant colors (for a DAP) and it feels like a real player, not a toy.
Compared to the previous generation, you can see a few improvements on the FiiO M6 :
a USB-C port, the new all-in-one port that should give you fast charge and quick transfer,
a sleek design with a screen that take up the whole front,
a full support of streaming applications, thanks to a modified version of android
a SABRE ESS 9018 DAC, in entry level !
Compared to the upper Model, the FiiO M7, it doesn't feel as good of course. The M7 displays a full-aluminum case without any visible screw, making it – I think – the nicest player from the brand. It's an AK120ii in a smaller case, the perfect player.
FiiO M6 : in the hand
The FiiO M6 is surprisingly light and feels more like a Shanling M0 than a FiiO X1. The silicon housing gives you a good protection but the trade-off is a lack of class. The matte black aluminium catches the eye as long as you don't look the player too close.t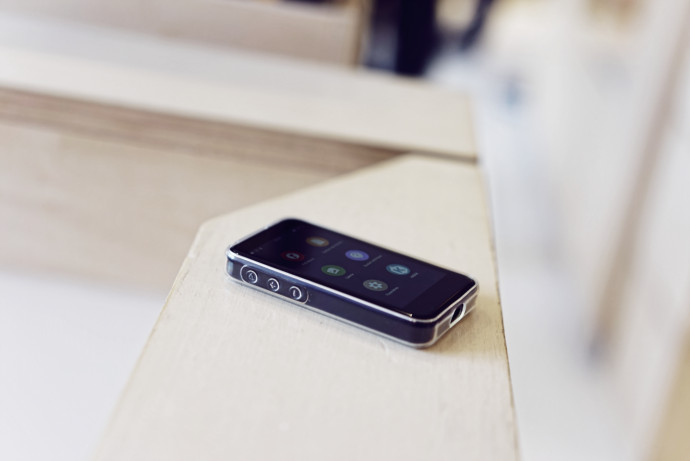 There is no balanced output, the only headphone port is a 3.5mm jack. I don't think this would be an issue for this kind of player. The micro-SD port is a push-pull one, no tray or anything of that sort here. It was one of the worrisome features of the FiiO X5iii and X7ii, SD-tray being less convenient that good old port.
It's a fully rounded player, all edges have been smoothed and that makes the FiiO M6 great to carry on. It reminds me the old Creative Zen V, the audio pebbles.
FiiO M6 : what's new
Surprisingly, the FiiO M6 supports all of the major features :
Bluetooth, apt-X HD, LDAC and SBC. Even better, like the Cayin N3 it works in duplex mode, you can either connect an headphone or a smartphone.
WiFi, you can use your favorites streaming plateforme like Qobuz or Tidal, it even supports airplay to steam your music to your all new HomePod
USB audio output and input, you can use it as a DAC or connect a DAC.
I didn't have time to test everything but on a quick listening it sounded pretty good with a fine control of the volume. It goes up to 120 and it can get very loud with my IEM, even paired in Bluetooth with the iPhone as a source. For a quick run or on an everyday basis, it's perfect in my opinion.
The headphone power is supposed to reach 70mW on a 32ohms headphone, not great but if there is the whole 118dB of dynamic range… it's well enough ! The ESS 9018Q2C is still a great chip, even to this day, so I'm fairly optimistic. Even more after what I heard from the FiiO M9 and FiiO K3 !
I still don't understand why FiiO would create a new M6 that could be more versatile and cheaper than the M7, but for customers and audiophiles it's a great news. We may get more sound for cheaper, and maybe that's FiiO is really aiming at.
See you in 2019 for a compete review of this new DAP ! Meanwhile, you can still check our Hall of Fame here and here!