Today we review one of PlusSound's 10th-anniversary cables, the PlusSound Silver+, which costs around 1499$.
Disclaimer: PlusSound provided the Silver+ free of charge for this review. PlusSound is not a site advertiser and is not affiliated with Headfonia.
About PlusSound
PlusSound is an American company seated in Los Angeles that specialized in aftermarket cables but has also dipped its toes into the portable amplifier market. Recently PlusSound has also launched their new universal IEM lineup.
PlusSound made its debut in early 2012 and has gained a lot of respect and interest for its outstanding products from the community. Ordering from PlusSound is pretty neat and easy. You can go to their website, select the type of cable you want and customize the materials, terminations and even the Y-splitter and chin-slider. Like most other cable-manufacturers PlusSound also provides you with the opportunity to colour-code your left and right side connectors.
We have covered many different products by PlusSound in the past, and if you're interested to learn more, follow this link.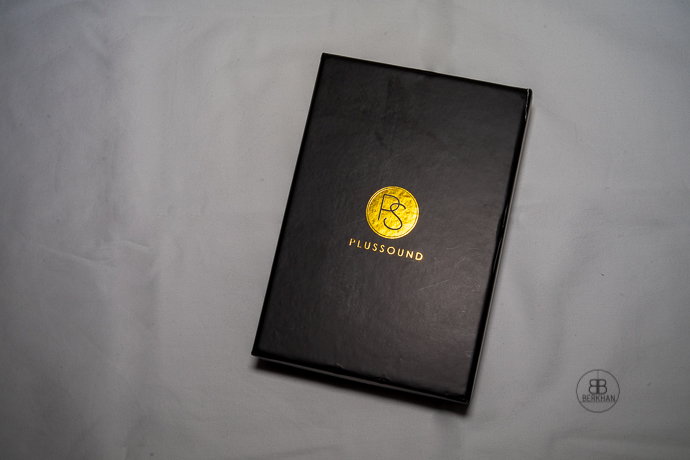 About PlusSound Silver+
PlusSound lately announced their new cables in Hybrid+ and Silver+ as their 10th-anniversary products. We were offered to review the Silver+ wire and we took the opportunity to see what PlusSound came up with.
Here's what Christian, the owner of PlusSound, tells about the new Silver+:
"Our new wire is named Silver+ and it is an all pure silver wire with the same design as our latest copper+ wire. We are starting our 10th anniversary with this specific wire because 10 years ago, our very first offerings were with pure silver solid core wires, so it was fitting to revisit this material and incorporate our most advanced wire design yet."
So this is a high purity, 24AWG silver wire. Lately, the cable companies are pushing with different materials and combinations of gold, copper and silver. But PlusSound decided to pay homage to its roots with this cable, choosing a pure UP-OCC silver. It's a 4 core cable but remember, the gauge is 24 instead of 26 which usually means better resistance. PlusSound also uses what they call a "2-in-1 shield coax type litz", This new design adds a secondary layer of insulation for isolating the core of the cable.
The one we review today is the Exo version of the Silver+ which is going for 1499 USD directly from PlusSound or any of their global retailers.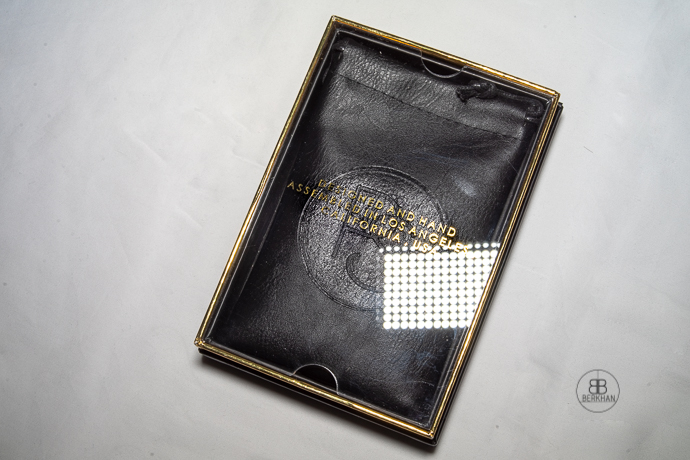 Package and the New Leather Case
From the get-go, PlusSound surprised me with great packaging. This is one of the nicest packages you can open from any cable manufacturer. The Silver+ arrives in a black and gold box with "10 years" stickers on. Inside, you'll see a plexiglass window that informs you that the cable was designed and hand made in LA, California.
Under the cover, you'll find the cable in a leather pouch. This is a very nice touch in my opinion. Some additional accessories are in the package as well. There is a cleaning cloth, a leather strap and a warranty card in there. Everything apart from the leather cable binder is coming with PlusSound's logo on it. I think it's a great unboxing experience.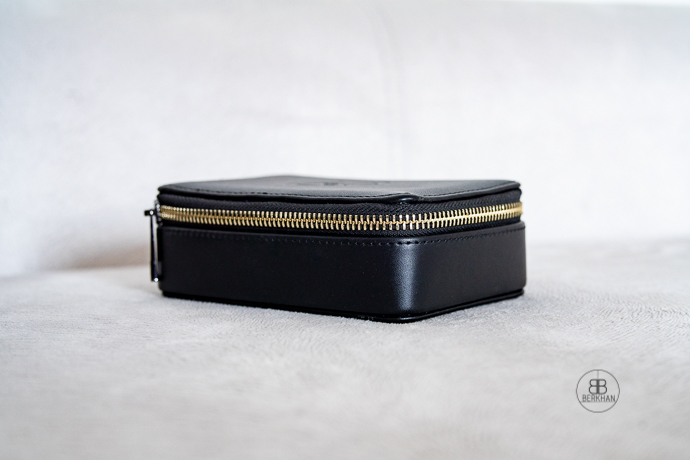 PlusSound also sent us to try their new leather carrying case above which is fantastic. This is genuine leather with a smooth surface and a great touching experience and great zipper quality. Inside is from soft material and you also have a wheel to wrap around your IEMs (removable). You have a polyester pocket to store SD cards, etc.
For me it's a pleasure to use this case and I personally carrying my A&K DAP with it. It's a very elegant and premium solution, perfectly fitting to any audiophile's need. The case is selling for 99.99$ and you can get it from here with 3 colour options.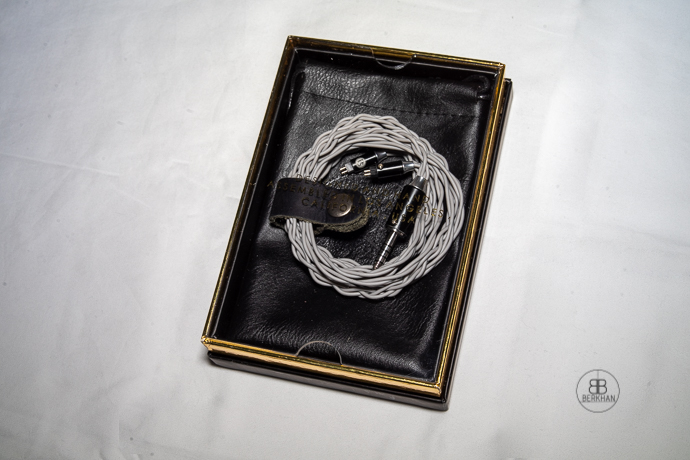 Build Quality and Ergonomics
PlusSound has come a long way in terms of build quality. and they now use custom hardware for connectors and plugs, and in this case, the cable has fantastic quality.
The cable itself is nicely braided with good consistency. The hardware, on the other hand, is incredibly good. My set came with all silver accents with 2-pin connectors and a 4.4 mm termination. The 2-pin connectors have to go with logos facing inwards, as the screws have to go out, contrary to many other manufacturers.
The 4.4m plug is the highlight of the cable to me, as it fits any 4.4 output snugly. The quality and the finish are excellent. Also, there's no visible heat shrink from plastic or any other flexible material. Instead, the 2pin connectors and the plug are finished with aluminium rings, so the cable looks very sharp and clean. The Y-split and chin slider on my cable is also from silver-colour and and the material is aluminium. Overall the cable is fantastic in terms of build and design. The grey colour may not be your cup of tea though.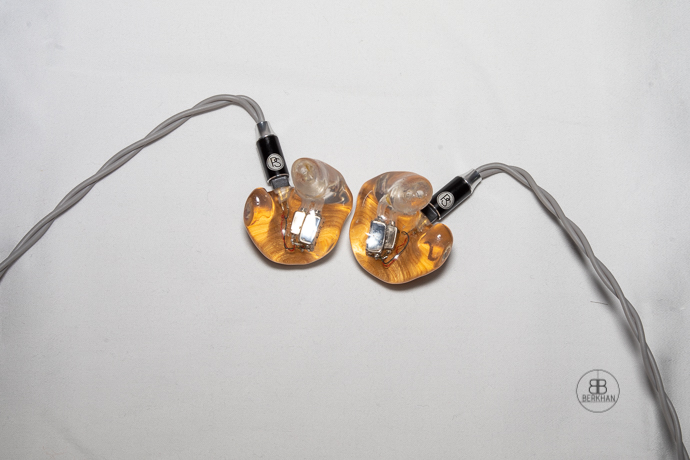 The Silver+, thanks to the 24AWG and the new shielding/insulation design, is quite thick for a 4-wire cable, and it's not as flexible as other manufacturers' products. It's the only downside I can think of about this cable. And of course, it's not the most comfortable cable either. The stiff nature of the wires can bother you from time to time, so I wouldn't recommend it for outside use, although it's certainly doable.
Microphonics is very low, and it's reasonably comfortable around the ears. But there are many cables are on the market with more flexibility and comfort for sure.