Disclaimer: The Audeze Sine was sent to us by the Audeze press Agency and has to be returned. Audeze isn't a site advertizer.
The Sine
I am not one to real get too hung up on the way a headphone looks, but hot damn are these some sharp looking cans.  For $449, Audeze has produced a set of headphones that blows away, in appearance, their LCD-3 that costs over 5 times as much.  The headband is real leather and pretty well padded.  Then there is the solid, aluminum construction.  The classy, all black color scheme that just sort of sits there shimmering in the light… ummm, oh, uhhh, yeah… huh?  Oh, sorry, I will wait till I am alone.
Anyway, this is the SINE, the latest planar magnetic offering from Audeze.  This model is unique in that it is the first planar ON-ear model.  Up to this point, they have all been over-ear headphones.  I also want to take a second here, and mention that I am happy to see what I hope continues to be the trend with headphone manufactures like Audeze and Hifiman.  Although they continue to make cans that are getting more and more expensive (the $4000 LCD-4 and the $3000 HE-1000 respectively), they are also making headphones that stretch into a more "budget" direction.  The SINE is a great example of this, being a headphone that looks and feels incredible solid, all the while being considerably less expensive than anything else in their lineup.
Features
Planar magnetic drivers for better dynamics and frequency response
Premium leather for style and durability
Sleek contemporary design by DesignWorksUSA a BMW group company
Light weight and folds flat for ultimate portability
Audeze Technology
Fazor elements
Fluxor magnetic arrays
Uniforce diaphragms
Specifications
| | |
| --- | --- |
| Style | On-ear, closed-back |
| Transducer type | Planar magnetic |
| Magnetic arrays | Single-sided Fluxor |
| Magnet type | Neodymium |
| Diaphragm type | Uniforce |
| Transducer size | 80 x 70mm |
| Max power handling | 6W |
| Sound pressure level | >120dB |
| Frequency response | 10Hz – 50kHz |
| THD | <1% full spectrum @ 100dB |
| Impedance | 20 ohms |
| Optimal power requirement | 500mW – 1W |
| Weight | 230g |
I'm not going to talk about the technology behind the SINE, because most of that stuff goes over my head, and I don't see the purpose in me regurgitating information that I only half understand.  For those interested, this link should give you a start.
Now, I already mentioned that the build quality was first rate, but it actually goes beyond just a solid build.  The cable connectors on the SINE are, by far, my favorite on any headphone I have yet seen.  The EL-8 models small chip connectors got some criticism for being too frail and too easy to accidentally pull out of the earpiece.  This will never be a problem with the SINE.  It uses a 3.5 inch connector to plug into the ear cup.  The connector is at a 30 degree angle, and when plugged into the headphone, the part of the connector that sticks out runs flush along the ear cup, making it virtually impossible to pull out accidentally.  When plugged in, at a quick glance, it looks like the cable is hardwired to the headphone.  This is a great design and I applaud Audeze for it.  I hope to see other headphone manufacturers follow suit.  The cable itself is flat, but flexible, and it terminates into 1/8 plug (of course a ¼ inch adapter is included).  As a quick side note, again comparing the SINE to the EL-8, the flat cable on the SINE feels slightly thicker and more durable than the cable on the EL-8.  Another win for the SINE.
As far as accessories go, there isn't much to talk about.  The ¼ inch adapter, a cloth carrying bag, and that's it.  A small, hard-shelled case would have been welcome here, but maybe they just didn't think it fit at this price point.  It's a nitpick, but I would like to have seen it.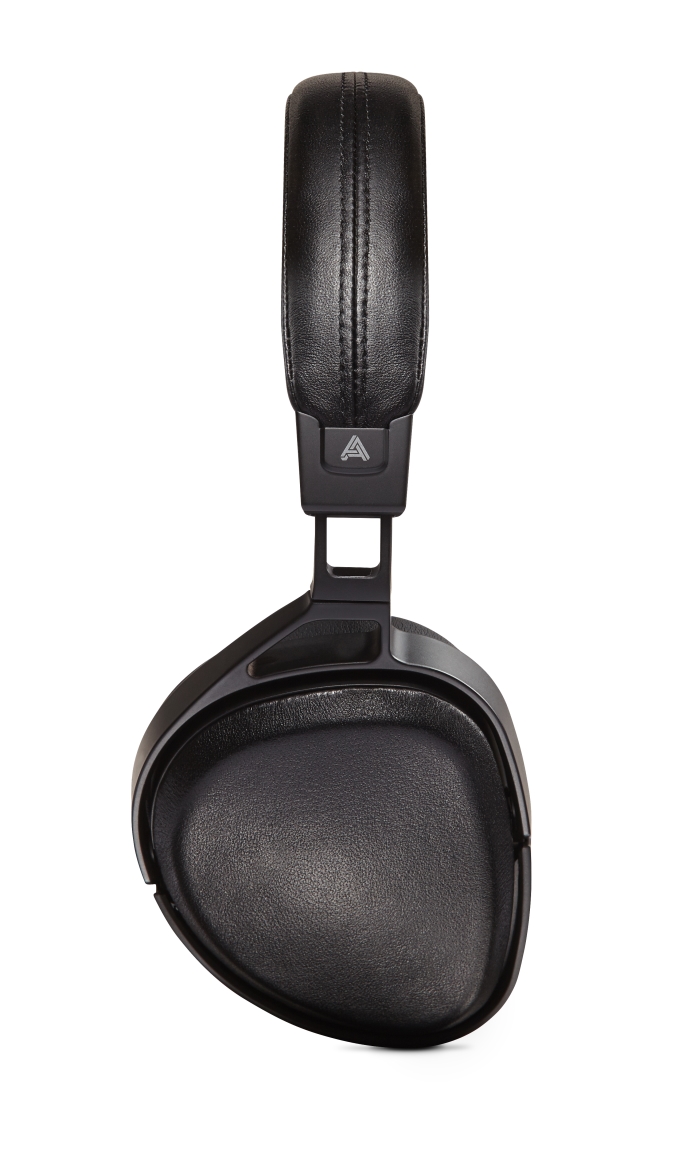 Comfort on the SINE is pretty good.  It isn't too heavy (230g) and the headband is decently padded.  The only downside is that it does have a bit of a death grip.  It clamps pretty hard, and depending on the size of your head, you will want to stretch it out a little bit, lest it crush your skull.  The upside is that it most certainly will not fall off your head!
And it sounds pretty damn good!  There are certainly issues, but, although they don't necessary read that way, they are very minor in terms of overall enjoyment.  First, you have the bass.  It is clean, tight, good impact.  I am kind of on the fence about the body.  I would say it has just enough, but I could see how someone might find it a little on the lite side.  This isn't for the basshead, or those looking for a bottom up sound.  If you insist on a little extra bass, it responds well to a bit of EQ.
It continues on Page 2, right after THE CLICK