Disclaimer: All the Fiio amp modules, the remote control and the desktop docking station where sent to us free of charge. Fiio is also a site advertiser but we've always been very critical of their gear, and that's exactly what Fiio wants too.
Fiio X7
We have already reviewed the Fiio X7 DAP on Headfonia a couple of months ago. This article describes and compares the different AM modules, the RM1 remote control and the DK1 universal docking station. The full X7 DAP review including the description of the FirmWare / User Interface, build quality and whole lot more can be found here.
I advise to read up on the Fiio X7 before you read about the different amplification modules, RM1 and DK1 here. It's always fun going back to the X7 after being occupied testing other DAPs, at least the X7 remembers the last played song in shuffle mode. A feature I value a lot.
The RM1
The RM1 is Fiio's remote control for the X7 DAP, it easily connects via BlueTooth and it simply works. The only downside is the batteries (CR2016 Lithium Battery) aren't rechargeable so count on replacing the battery on regular occasions. The RM1 comes supplied with one extra battery. For me this personally is a downside as I do not like normal non-rechargeable batteries as they aren't the best for the environment. But yes, they're pretty cheap. The battery actually should last pretty long as it doesn't use a lot of power but if you , like me, always forget to power it down, the battery will die on you pretty quickly (even if it does shut down automatically after a while).
Connecting the RM1 to your X7 is very easy and it actually also connects perfectly with all the Astell&Kern players as well. I haven't managed to get it working on the latest Cayin i5 DAP though. Once connected you can turn the volume up and down, switch tracks back and forward and fast-forward songs. You can either use the circle shaped RM1 as is or you can plug it into the supplied remote control holder or the steering wheel adapter. I myself have always used it in the remote control holder but I think it is a great idea they supplied the car mount thing. In my car the X7 is directly connected by Bluetooth and I can control the DAP via the controls on my steering wheel, but for cars without Bluetooth connection and just an AUX input, clicking the remote in your steering wheel isn't only cooler looking, it's a lot safer as well. Finally you can hook it up to a lanyard and put it in your pocket if you're planning on using the RM1 on the go. I found myself using the RM1 a lot in the train on my way home, the X7 staying safely stored inside my jacket.
Fiio's extremely light RM1 is available on Amazon for $17.99 but when looking on Amazon or Google for Fiio's remote you will discover the RM1 wasn't specifically built for Fiio. It actually is a generic Bluetooth remote that Fiio bought for their X7. It's not really important as the RM1 works great and is cheap. (Compared to the Astell&Kern BT module in example).
Technical Specifications:
Dimentions: 35mm diameter X 7.8 mm
Battery life: About one month depending on use
Weight 109 (incl. Battery)
Effective distance: 10 meters ( no obstructions )
Power: CR2016 button-type Lithium battery ( 3V )
Battery dimensions: 20mm diameter x 1. 6mm
Sleep timer : After 11min. of inactivity
Battery capacity: 75mAh
Operating Frequency: 2. 4GHz
Supported Bluetooth devices: BT3.0 and above
Fiio DK1 Docking station
The Fiio DK1 is a multi-functional docking station with a clean and stylish design. It has a 25 degree tilting 11-pin USB connector that allows an easy and safe docking of your Fiio DAP. The DK1 will of course also charge your connected DAP and it also allows hooking up the DAP to your PC for asynchronous transmission. That means the DK1 will allow the DAC functionality of your DAP and it does this for the E17K, X1, X3II, X5II and X7 models.
The DK1 also has an output so you can connect your DAP to a headphone amplifier or active speakers. I found the DK1 easy to use and it does look a whole lot sexier on your desk when your DAP is standing up. People at the office have asked me about the X7 when it was docked as it just looked nice and professional, but no one ever bothered asking me anything when it was just laying on my desk with the cable connected to my laptop's USB. That being said, it doesn't really offer any extra functionality, it just looks better and it's far easier to use.
The Fiio logo is laser etched into the aluminum frame, and the build quality is actually pretty good using aluminum and plastic in the typical Fiio colors. The only downside is that without DAP in place the DK1 easily moves around your desk as it is light and the DK1 with its 11cm base does take up some space if you want it all to look nice.
The DK1 is available for about $19,99 on Amazon.com. It's pretty cheap, does what is has been designed for but it doesn't offer a whole lot of extra functionality, it's mostly for looks and comfort.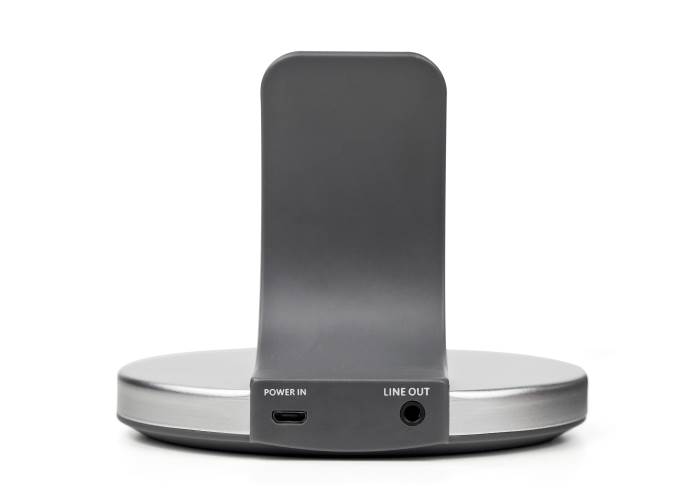 ALL OF THE AM MODULES ARE REVIEWED ON THE NEXT PAGE, AFTER THE CLICK HERE OR BELOW