Disclaimer: Flare Audio sent the Flares Pro for the purposes of this review. I paid nothing for them. They go for about 450$ USD. You can find out all about them here: Flare Audio Flares Pro. Note: I'm in a rush to leave, and apparently formatted the card with photos I took for this review. I will attach new photos later. Apologies.
Specs:
Dual Jet sound balancing technology
> Anti-Resonance technology
> Acoustic Lens technology
> Bluetooth® v4.1 with APT-X connectivity
> Balanced Class A-B outputs
> Balanced MMCX connections
> Grade 5 Titanium ear pieces
> Uniquely switchable between wireless and a 3.5mm jack cable, all included
> 12 hours playback
> 48/96kHz 16-bit
> MMCX
> 2 hours charge time
> 15m range
> 150 hrs standby time
> Balanced class A-B outputs
Not sound
It's hard as hell to find niggles in these buggers. A lot of readers dislike the fact that they are hard-wired to their stock cables, detaching only at the y-split. I get that. I really do. However, Flares Pro's cable is well implemented. Adding MMCX ports to its body would do little but biggun' up the body, and possibly make the earphone less comfortable in the ear. As it is, after about two hours, the grommet can rub my ears the wrong way. At the end of a two hour workout, I'm ready to pull the earphones out from under my head towel whereas I could keep the Grado GR8e or Apple AirPods in ear for a lot longer.
Back to the cable. Unlike HiFiman's otherwise-excellent RE800, Flares Pro's cables brake against sturdy body-side rubber grommets. Could Flare Audio have installed rubber turtlenecks to further shore up the cable against harsh bending angles? Yes, but they didn't; and it is my opinion that they didn't have to. The current design works well. Flares Pro flex well, and their cable, while thin and a total barber pole rip, strong. I don't expect anything to go wrong, but things can, and will, Murphy. Begging Murphy to do his/her worst, though, isn't Flares Pro's modus operandi. I bunch them up, grind them and the Bluetooth receiver in their tiny zippered case. The cables bend nastily. And yet my music goes on. You will have to really treat these phones wrong to break them.
The wired y-split is a bit unwieldy, and the wired cable's straight-plug isn't exactly pocket friendly. But, to be honest, I've been red-pilled: from here on out, it's wireless or bust, baby. That is, if the wireless option is low-noise. And, Flares Pro is that and more. It is about as painless as you'll find. Most long-charge bluetooth modules tether to shoulder-mounted horseshoes that bounce and dismount whilst running. They crunch under free-weight squats and look dorky. One such is Sony's MUC-M2BT1, which ticks the following boxes: battery life, power, and sound quality; but is ugly, and a real bugger to exercise with. It also wrecks havoc on any sort of collared shirt and is a no-no with a necktie. Flares Pro's cables reach long enough to comfortably clip to shirts, pack and helmet straps, and if you're brave, hair. Unfortunately, its clip is fixed at a parallel angle, making the cables jut up at your chin if you clip it to a tee-shirt's collar. I end up clipping it below that, onto bunched-up shirt fabric, which leaves a wadded up nipply jutting out just below my shirt collar.
Flares Pro fits solidly, and with the exception of its grommet position, comfortably. They squeeze into the ear, stay in place, and stay secure, a thing which Apple's AirPods do not. They are also solid, if not terribly attractive.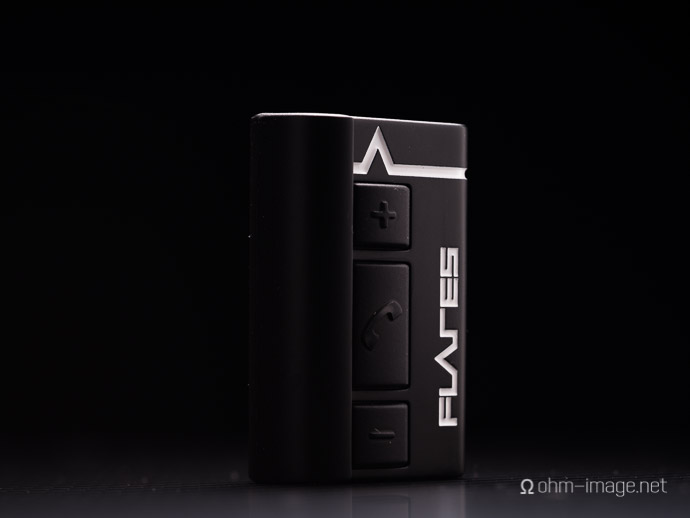 Of course, Flares Pro also blocks a hell of a lot of noise, which makes bicycling a bit dangerous, and a major reason I put out for Apple's AirPods. It also doesn't connect with quite as strong a signal as AirPods. I get more than 15 metres at best; suffice it to say that you'll get strong enough signal to ride a busy Tokyo train with no interference whatsoever.
Wired vs wireless
It's my strong opinion that if you want the best sound from Flares Pro, stick with wireless. Sure, if you plug into an awesome DAP or amp, and all your other ducks are in order, wired may edge out wireless. But the DAC and amp in the wireless module is phenomenal in controlling the earphones's tiny drivers. And, from my tests, it democratises the signal. iPhone, Onkyo, iMac: each sound, and perform roughly the same when spitting bluetooth to the Flares Pro. Plus you get at least 10 hours of playback. And balanced, which my meagre setup measures stereo separation and distortion that tracks well with what a good DAP does, wired.
Sound after the jump: