Sound
When I first received the EDC3, Christian told me this about the tuning, "We started tuning with the mids in place, then ensured "enough air" and "enough bass" to make an "audiophile all-rounder".  Looking at that statement, I think it only makes sense that we start with the midrange.
The midrange of the EDC3 is generally linear and flat, all the while, being very musically engaging.  There are no odd spikes or peaks (or valleys) anywhere in the mids.  They have a very natural flow to them with enough body to register, but not enough to feel warm either.  There might be a slight emphasis toward the upper mids, but nothing to interrupt the flow or stick out any an unpleasant way.  I really like the way the EDC3 does vocals.  They sound like they come naturally out of the sound without sticking out too far or getting buried in.  They are clear and bright, but with enough weight in the lower mids to make them feel substantial.  I had no issue with sibilance.
The bass has weight and impact.  This is a good thing.  On the not so great end, it doesn't dig as deep as it could, it is very midbass focused, and the detail and texture aren't up there with the best.  For $99, these things are not problems, as the bass certainly has more detail and clarity than the Final Audio e3000 that I reviewed some time ago.  It is nowhere close to being bad; it just isn't exceptional either.  Worry not, the bass puts a firm bottom on the sound, flows smoothly into the midrange, and never plays coitus interruptus with you music.
The treble is smooth, and it does roll off a bit at the top.  There is a bit of sparkle in the lower treble.  They seem, wisely I think, to have not tried to push the treble too hard.  What's there is enough to provide detail, and a little air, but not enough to get harsh in any way.  Being touted as an everyday IEM, you want to balance your… balance with ease of listening, and taming the upper treble a bit is a smart way to do that.  It isn't rolled off enough to lose its goal of audiophile tuning.
The EDC3 does not have a huge sound stage.  What is here is fairly centered.  It is an "in your head" sound.  Depending on your music, that isn't necessarily a bad thing.  It isn't claustrophobic by any means.  It just doesn't throw a lot of width around.  It is still good enough to be very enjoyable with large symphonies.  Things like transient response, micro detail and layering are very good for the price, but aren't going to destroy the price/performance ratio on those elements either.  This might just be me being extra picky, as Nathan said while discussing the original EDC, $99 now buys you better than what would have been considered TOTL just 15 years ago.
The EDC3 is a jack of all trades IEM.  It will play well with whatever you throw its way.  Jean Sibelius sounds great with the EDC3, as does Led Zeppelin, Jenny Lewis, Prodigy, Dr. Dre, and whomever or whatever else your ears fancy hearing.  Audiophile all-arounder, indeed!
Comparisons
Although both the Final Audio e2000 and 3000 throw a bigger soundstages than the EDC3, that is their only advantage.  On balance, detail, and (especially) build quality, I favor the EDC3.
The Focal Sphear S makes a much more interesting comparison.  Switching from one to another is fun.  Going from the EDC3 to the Sphear S, the Sphear can feel top heavy, and a bit artificial in the treble.  Switching back to the EDC3, the EDC3 now feels a bit muffled and congested.  Spend a minute with either, and your ear adjusts to the sound.  The Sphear S takes a lot of the technical categories.  It has more width and depth to the sound stage, and it feels a lot more open, with more air.  Detail and texture, especially in the bass, are better, and the bass digs deeper.  So, when I am at home, and classical is the order of the day, which it usually is, I reach for the Sphear.  However, if I want to rock out, with its more balanced midrange, more centered sound and slightly tighter bass, I think I would grab the EDC3.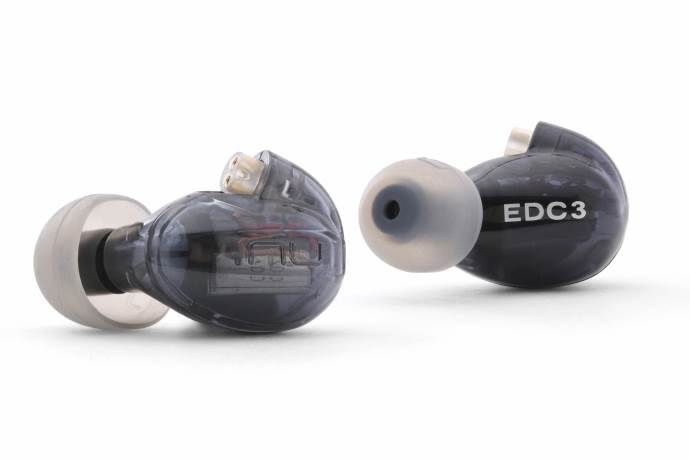 BUT, don't forget, this is called the Every Day Carry 3.  It isn't just made for home listening.  It is made for when you are out in the world, living your life, being adventurous.  It is made to be the IEM you carry every day as you live your life.  No matter where you go, and to what you listen, the EDC3 will satisfy.  For me, the key component here is the replaceable cable.  You might remember about a year ago, I reviewed the Brainwavz M100 IEM.  The sound was a bit muddy, but I loved the rugged build, and I thought it would be a great monitor for out-and-about listening, where absolute sound quality was not a deciding factor.  However, despite the cable feeling pretty tough, it was wired directly to the monitor.  And wouldn't you know it, a few months ago, it didn't notice that part of the cable had gotten caught in the footrest of my recliner, and in putting the footrest down, I sliced the cable open.  Now, the earphone is useless.
Conclusion
For just $10 more than the m100, the EDC3 has a replaceable cable, actually comes with two cables, and much better sound quality.  Throw it in your backpack.  Stuff it in your pocket.  Put it where ever you want, except that one place.  Don't put it there!  An Every Day Carry is exactly what this is.  I plan to keep this pair on me at all times!  The drop goes like 2/15/18 at 6am PST.  Don't miss it!
https://www.massdrop.com/r/XJU6UM
https://www.massdrop.com/buy/massdrop-x-nuforce-edc3-in-ear-monitors