Disclaimer: We were sent the Sennheiser HD630VB on loan for the purpose of this review. It has to be returned to them as soon as we're done with it. We're all pretty much fans of Sennheiser here at HFN, our expectations for the Sennheiser HD630VB were high.
The Sennheiser HD630VB
At long last, the Sennheiser HD6xx family gets a new member.  Oh happy day!  Of course, the HD600 and HD650 are two legends of the hobby, and need no introduction (they have no less than three reviews here on Headfonia alone (https://www.headfonia.com/?s=hd650), including the first review I wrote for the site).  To those who might not be familiar with Sennheiser's HD6xx line of headphones, I welcome you to the world of headphones and am honored that you chose my review to be the first one you read.  The HD6xx are known for their pleasing warmth and body, their bass impact (especially the HD650), their preference for tube amps, and the ability to listen to them for hours without ever feeling fatigued by your music.  While other headphones have come and gone, the HD6xx's remain as beacons of musicality, and another addition to their lineup is truly cause for celebration!  Can you imagine how great it will be to have a closed back HD600?
Well, keep imagining, because the first thing you need to do when listening to the HD630VB is to pretend that the HD600 and HD650 don't exist, because the HD630VB shares nothing in common with the older models, in either sound or fashion.  Why did I begin the review raving about the older HD6xx models if I they shouldn't be compared, you ask?  Simple.  I couldn't resist the bait-and-switch.  Moving on.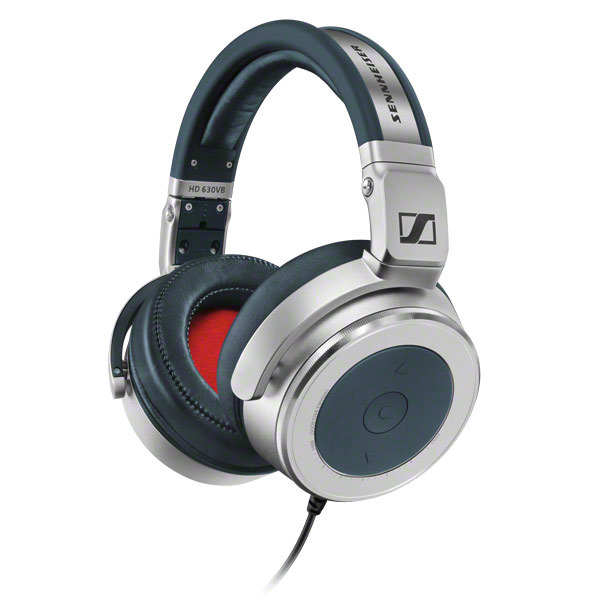 Sennheiser, as most of you are assuredly aware of, is a privately held German company that makes headphones.  All kinds of headphones, as a matter of fact: budget, DJ, gaming, wireless, monitoring, audiophile, assistive listening, god (New Orpheus).  No less then Tyll Hertsens called Sennheiser the best headphone maker in the world, and it is easy to see why.  Their hits to misses ratio, is pretty darn good.  And while there are a couple of issues I have with the new Sennheiser HD630VB, I can happily say that it is a more than worthy entry into Sennheiser's stable.  The HD630VB is a full sized, closed back headphone with a rotary dial on the right ear cup that lets you add or subtract the bass to your liking.  Sound interesting, doesn't it?   So, without further ado, let's play a quick round of "the good, the bad, and the… what, really".
The Good
Well, it should come as no surprise that this is a very well built headphone because, well, that is what Sennheiser does.  Ohhh, it's shiny!   That's solid aluminum right there.  The user replaceable ear pads are a plus.  Not sure what I would call the styling… maybe Sci-fi with a hint of industrial?  The ear cups swivel and tilt, but, despite only having one connecting arm attaching the ear cup to the headband, it feels rock solid.  The twisty bass dial is well marked, and has enough resistance to it that you are unlikely to spin it by accident and turn your bass drum into cannon fire, but easy enough to turn that you won't pull a muscle, either.  This definitely has a sturdier feel to it than the HD6xx models of old.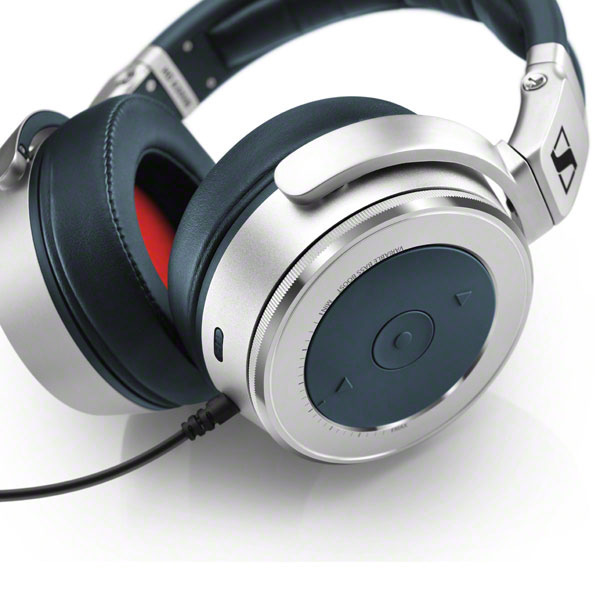 Another advantage this has over the older headphones is its drivability.  While the HD650 need an amp that can swing lots of voltage to really come alive, the HD630VB can be driven by anything, and I do mean that literally.  With the sensitivity at 120db and an impedance of 20, if it has a headphone out (ipad, DAP of any flavor, 3DS), it will be driven with no problem.  Of course it goes without saying that it will benefit from a better source, but enough of these shenanigans…
Click HERE or below to go to the rest of the article on Page Two