SOUND SETTINGS
The Sony WM1A has more professional looking EQ and sound settings in the software, compared to the 5 band EQ and Clear Bass feature of the previous flagship ZX2. What you have now is a 10 band EQ with which you can adjust each frequency by 0.5db margins. DSEE HX is again included, but you can choose between Standard, Female – Male Vocal, Percussion and Strings. This is for CD quality or Lossy file types to increase their range and make them close to Hi-Res files. In practice, I didn't really hear a difference to be honest.
There's also a DC Phase Linearizer, which aims to give you an analog amplifier type of bass. There are 6 settings to choose from, each affecting the character of the lows. There's Type A and Type B, and both have 3 settings each; low, standard and high. Low setting gives more subbass emphasis, standard gives a little more kick to both mid and subbass, and high gives more midbass emphasis. The difference between Type A and B is that; Type B bass is a little further back and gives more focus to mids, while Type A bass is more intimate.
Dynamic normalizer is the last feature of the sound settings. This levels the volume between all songs you play.
Ultimately, if you don't want any of these features and just want to listen to the player's pure sound, use the Direct Source feature. This disables all DSP settings with one touch. It's a nice and quick way to compare your DSP settings with the original sound of the DAP, and it also adds a professional touch to the Sony WM1A. Personally, I almost all the time listened to it with Direct Source on.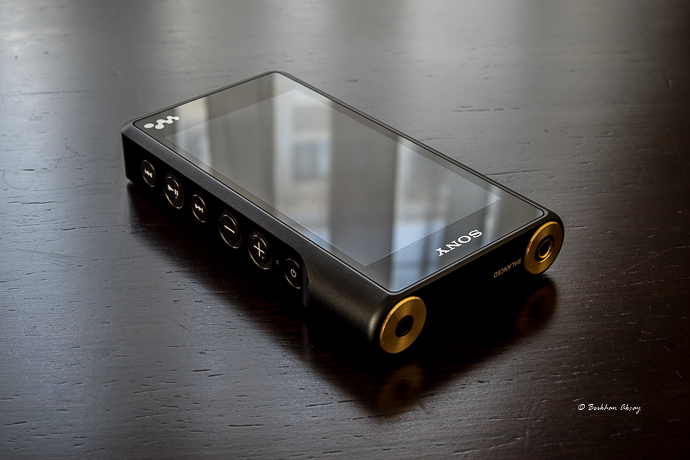 SOUND
Like I mentioned in the review of the WM1Z; while advancing in the project, engineers decided to produce 2 devices for 2 different sound signatures. Thus, although sharing identical parts (mostly), the 1A has an obvious difference in sound character to the 1Z.
The Sony WM1A has an open, relaxed, non fatiguing smooth sound with a very good sound stage performance and dynamics. It doesn't have the same amount of warmness, richness and bass presence like the flagship model. But at the same time if you compare it with the old flagship, it doesn't have those slightly laid back mids and a little colored trebles. Those were the criticized points of ZX2. Instead it has a brighter and flatter character, better controlled bass with a better accentuated mid performance. Nicely extending detailed highs are another plus. So I can easily say WM1A is an obvious step up from ZX2. That's what led me to get it after all.
Be aware, the Sony WM1A is not a typical Walkman. This is the first time I hear a Sony DAP that chooses to go with a flatter signature. Their previous offerings and recent flagship 1Z is the total opposite (1Z is also superb in technicalities and that makes it really special). But don't think that WM1A is boring, too bright or too thin sounding. This is the area that Sony shines in. Yes it's not warm and bold like the 1Z, but it still has that touch of warmth in it, which makes the sound very enjoyable and smooth. And also, with its great control and big sound stage, you always feel comfortable with the sound as it never goes over the limit to sound harsh and in your face. Unless the recording is bad of course.
Although not being at the same level as SP1000 or WM1Z, this is definitely one of the best DAPs you can get.
BASS
When I first listened to the Sony WM1A at the shop, the thing I noticed immediately was the bass quality. I love the lows of the ZX2 which are quite delicious, but in terms of resolution, tightness and control the WM1A simply tops it with its performance. The bass of the 1A also has better texture and speed overall. This is a good accomplishment from the Walkman team and I think this comes from the new S-Master amplification.
On the other hand in terms of amount you'll get less bass with the 1A compared to 1Z and the good old ZX2. This gets better with burn-in, as I found the bass a little thin and laid back when I first listened to it right out of the box. But even if you burn the output to the recommended 200 hours, you still won't get the bass kick like with the 1Z. As mentioned by Sony Engineers themselves, the 1A aims to have a good speed and attack with the sound. We know that bass presentation can play a big part on a player's overall signature, therefore the Sony WM1A doesn't have huge bass like 1Z.
Since they aimed for different signatures with both of these DAPs, it would be unfair to compare it with the 1Z's bass performance. It's not meant to be that way in the first place. There's also a whopping $2000 USD price difference between them. But if you want the best low frequency performance in a DAP, the WM1Z is the obvious choice to me.
Overall, the Sony WM1A gives a beautiful bass presentation which is very very controlled. The midbass region is gorgeously separated from vocals and instruments. And it has a truer midbass than the ZX2 with a more realistic and tighter bass tuning. The ZX2 is just a little boomy and looser when you compare them side by side, and it lacks the midbass presence.
If you expect the traditional bass from Sony be aware that this is not the DAP for that (in terms of quantity). You can get more kick with DC Phase Linearizer which I referred at the start of this page, which works very nice and sweet. But it's a software enhancement after all. In short, it's quality over quantity for 1A. 1Z is both quality and quantity at the same time which is astounding to hear, but 1A's bass response can play well for those who are looking for a more open and flat signature.