Disclaimer: Usually, review requests come from the company making the product. This time, several good-natured head-fi members approached me with the request. My 'yes' was forwarded to Ultimate Ears and a review unit was prepared. I got fitted up at e-Earphone in Tokyo and Ultimate Ears turned the entire project around (shipping included) in less than a month. I paid nothing for the earphones. The Ultimate Ears Pro Reference Remastered goes 999$. You can find out all about it here: Ultimate Ears's Pro Reference Remastered. Many thanks to my brothers at Head-Fi, and to Ultimate Ears for setting this up. 
Press samples like this come with a few provisos. One: I was told to stick with the default Capital Records and Ultimate Ears logo. It's a lot of white and a clear advertisement. The combination of my skin and the white earphones isn't good, but that is my problem. Or perhaps it is my mum's. She's nearly translucent. A bit of red from my dad did me in. Pinkdown man.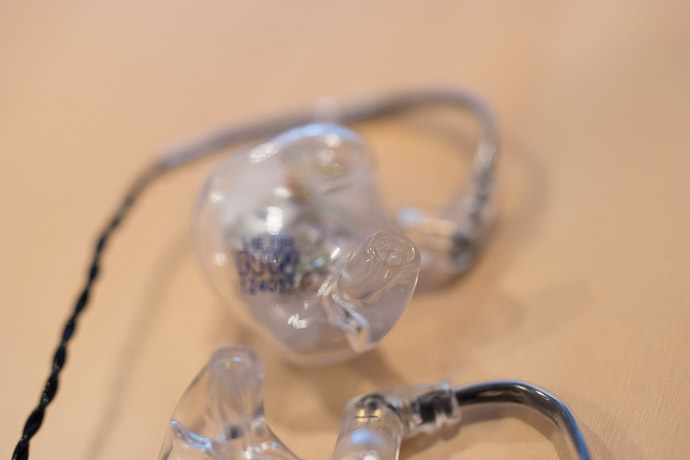 The Ultimate Ears Pro Reference Remastered (UERR) has been on my radar since I first saw beautiful photos of it in Tomas Tsai's Head-fi thread. But what really interested me was its marketing, which is succinctly summed up in its own eponym.
While I no longer refer to myself as a reference head, I appreciate concerted, efforts to define and to market corporate ideals of reference sound. I don't think that any earphone, or any speaker can truly be reference. Reference is a silly play word, that cleaves to myriad opinions on what reference sound should, or could, be. But, as a marketing term, it is useful in gauging a company's ideals.
And, back to back to my other favourite customs, the UERR plays very closely to its marketing.
Not sound
Before we get into sound, I'd like to address a few haptic hits and misses. First, the UERR is extremely light. You can put it in your pocket, or in a tote, and it practically disappears. It is lighter by far than the FitEar MH335DW, and lighter even than the Noble K10C. Its new silicon plug sheath is tough as nails. It is also narrow enough to slide into phone cases, lickety split. Ultimate Ears have adopted the narrow, heat-shrinked y-split, which is pliable and strong enough for active use. The twisted cable is pretty strong, stretching only minimally under the moderate to strong tugs that ripped the Nuforce HEM6's twisted cable in twain and in twain again.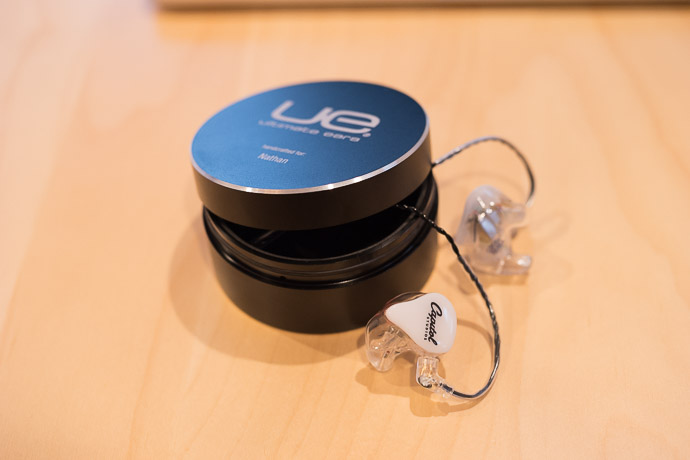 The UERR's sound tube terminates in three bores, the largest of which I assume is for bass. Each tucks into a prefab block that sits about 2-3 millimetres behind the UERR's tube arm. This helps keep the ingress of wax and oil to a minimum. That said, if you get anything in there, you'll have a devil of a time. Smaller tubes are buggers to clear, even with thin-nosed wax loops and brushes. Cleaning the FitEar's and the Vision Ears VE6's large-bore tubes, which sit much further into the earphone body, is a breeze. Note: the Noble Audio K10's tubes project farther forward, but are larger, and in my opinion, easier to clean than those on the UERR.
The UERR's memory wire is pliable, and its guides pop high enough over the ear that they only minimally impact glasses wearers. Still, memory wire is a bugger. And, the UERR's connecting port isn't amenable to non-sheathed plugs. The cable's sheath also prevents it from plugging into many other two-pin earphones. Mixed bag, I'd say, but one that generally is well thought out.
The UERR's large box is satin-lined thing that gives off a Leica (X not M) limited edition vibe. Its metal carrying case is tough as nails, and sealed with a sturdy o-ring which should keep out dust and splashes. It might even float for a while. But it's not as full proof as a latched Pelican case, which can stay shut after getting chucked into a brick wall.
Also in the box are a 3,5mm to 6,3mm step-up stereo adapter, a high-impedance adapter (UE Buffer Jack), and a wax loop. A high-impedance adapter you say? Yes, I say it.
Sound and more after the jump: