Specifications
For the nit-pickers and nerdy ones here, I'm giving the specs and technical sheets. For all the others, you can just go to the next page to see how the H7 performs.
AKM AK4191EQ + AK4499EX
All hail AKM! For the Shanling H7, the brand just packed the best Asahi Kasei chips available at the moment, a set of AK4191EQ + AK4499EX in this case, paired with some powerful Texas-Instruments TPA6120A2 op-amps – that should offer up to 1300mW of power, at 32 ohms.
It's an amazing chip, found in ultra high-end devices like the almighty Astell&Kern SP3000, comprised of two modules:
the AK4191EQ doing the delta-sigma modulation
and the AK4499EX doing the actual digital to analog conversion and an additional DWA process beforehand
It offers the usual high-end feature you'd expect, namely:
full high-resolution PCM decoding, up to 64bit/1536kHz(!) (32bit / 768kHz in the HD)
native DSD support up to DSD1024 and MQA 8x unfold
extended DSP options (roll-off, soft mute,…)
excellent Signal-to-noise Ratio, up to 135dB theoretically (121dB in the H7)
full I2S/DoP/DSD/SPDIF input
And, as usual, you can top that with the Velvet Sound architecture, and a 256x over-sampling digital filter for those who seek the highest performance. Needless to say that you should be able to decode any type of file with this setup.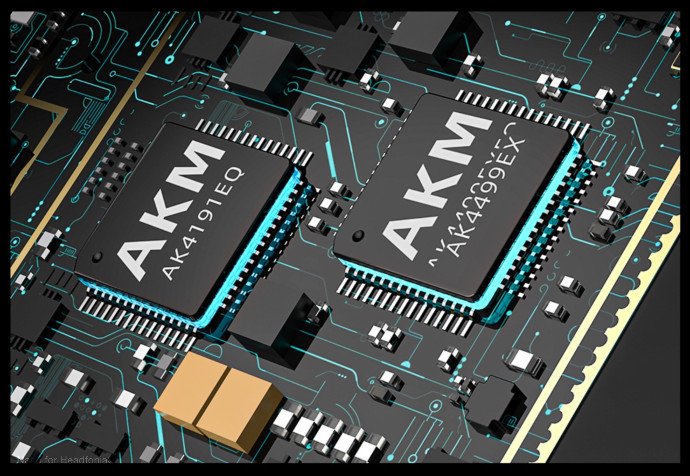 XMOS XU316 + In-House developed I/V Stage
To ensure the best performances, Shanling developed a fourth-generation FPGA chip with "more two low-phase noise 45MHz / 49MHz active oscillators", combined with an XMOS XU316 chip. Unlike Chord which uses an FPGA chip as a DAC, here it's used as a middle-man between the 16-core audio processor from Xmos and the AKM DAC – working in I2S/DSD.
Add a set of highly optimized ADI ADA4896-2 chips, two low-pass filters (OPA2211) provided by Texas Instruments "picked for its low noise and high bandwidth performance", offering ultra-low noise Low-dropout regulator, for "the cleanest signal output"
All that little world working hard to ensure everything is phase-locked / 100% bit-perfect, with full DSD512 / PCM 32bit/768kHz support. A great layout in and out!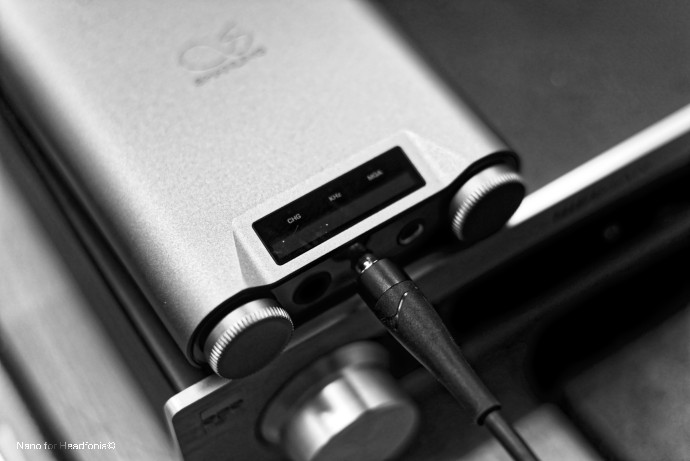 Bluetooth 5.0 + Embedded player (Eddict player)
To my surprise, the Shanling H7 only supports SBC, AAC, and LDAC. No Apt-X nor Apt-X HD/Adaptive, which came as a bit of a surprise. However, the Hi-Res Audio Wireless Certified logo is well-endowed on top of the player, with the Hi-Res Audio logo and MQA blazon.
But, the biggest surprise, by far, is the inclusion of a fully-fledged music player, that allows stand-alone use of the H7. In fact, the DAC is one of the few, maybe the only one, that can be used as a sole device, free of any source, all thanks to the Ingenic X2000 platform.
All you have to do is plug a micro-SD card into the dedicated port, switch to "player" mode, and then you'll be able to play your music like every standard DAP. And, if you're not satisfied by the small embedded screen, you can even connect the Shanling H7 via Bluetooth to your smartphone, and use the Eddict Player app, to access your full music library.
It's a lot like HiBy Music Player, but for Shanling players, and it works quite well with the H7. A killer feature in my opinion!
Do you still want the full specs? Ok, here they are for you.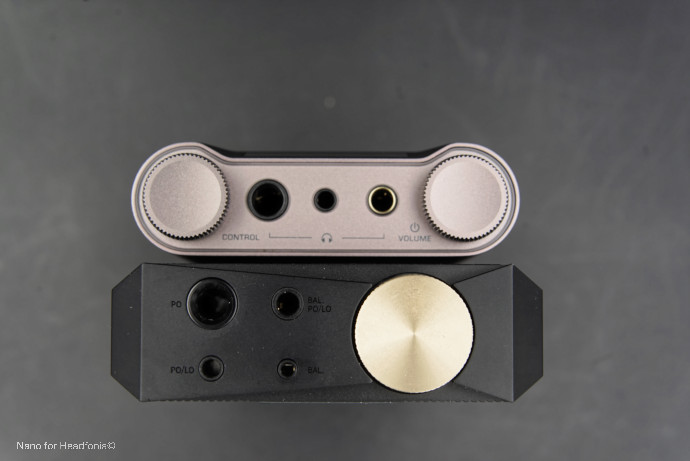 Full specs
Model: Shanling H7
Type: Digital Audio Converter + headphone amplifier
DAC: AKM AK4491EQ + AK4499EX
Sample rate : PCM : 8Hz – 768Hz (8/16/24/32bits) native – DSD64/128/256/512 – MQA 8X unfold
System clock: Full synchronization technology with FPGA processor crystal clock
Outputs: 3.5mm TRS // 4.4mm Pentaconn // 6.35mm TRS // RCA Line Out
Input: USB-C // Coaxial // Optical // Bluetooth // micro-SD
Screen: 1.44″ IPS Screen OLED
Bluetooth support: SBC, AAC, LDAC, HWA,
Battery: 3.8V 6800mAh Li-Polymer
Quick Charge: yes, QC3.0
Battery life: 11h with wired headphones (3.5mm), 8h with a Balanced headphone
Charging time: around 2.5h
Size : 142mm x 85mm x 25mm
Weight: 352,5g
Price : $849
Line Out
Frequency Response : 20Hz – 40kHz (-0,2dB)
THD: 0.0006%
SNR: >121dB
Dynamic range: 121dB
Line Level: 2.4Vrms
3.5 mm Headphone out
Output power : 28mW (low), 112mW (mid), 450mW (high)
Frequency Response : 20Hz – 40kHz (-0,2dB)
THD : > 0.0009%
SNR : > 121 dB
Dynamic range: 121dB
Crosstalk : > 75 dB
Output impedance : < 1 ohm
4.4mm Pentaconn Headphone out
Output power : 87mW (low), 348mW (mid), 1300mW (high)
Frequency Response : 20Hz – 40kHz (-0,2dB)
THD : > 0.0007%
SNR : > 123 dB
Dynamic range: 123dB
Crosstalk : > 115 dB
Output impedance : < 1 ohm
Time to plug the DAC now!
The article continues on Page four, with the part on sound, after the click here
Page 1: about Shanling, casing, construction
Page 2: UI & Usage, Bundle
Page 3: Specifications
Page 4: sound & conclusion