Features
Audio-wise, Shanling used the ESS's ES9219C DACs in dual mode, which can offer high efficiency and x16 MQA support. Shanling also used large-capacity AVX tantalum capacitors to further enhance the low-frequency performance of the M3X. Additionally, they integrated two Japanese KDS crystal-oscillators and combined them with their custom FPGA algorithm to improve the performance and decoding capabilities of the M3X.
The usage of the ES9219Cs resulted in superior battery life compared to the market's other offerings, thus, the M3X can provide up to 23 hours of continuous music playback in single-DAC mode. Dual DAC unbalanced mode offers up to 20h of playback. Going balanced reduces an hour and 19 hours of continuous playback in balanced mode is quite good for a compact DAP. The M3X has a 3200mAh battery inside it. I managed to get 15 hours out of it, browsing the Tidal, streaming different genres and I think that's brilliant. Using the local files and no Wi-Fi lets you reach the claimed numbers easily. The M3X also supports QC 3.0 fast-charge and can be charged quickly via a QC-certified adapter.
The Shanling M3X has a Line-Out mode as well, in this mode, the device forces the volume at max and doesn't let you control it. It can be accessed from the scroll-down menu and on that menu, you can see a couple of audio-related options such as gain, DAC mode, and Android mode. You can also access the audio settings menu from here. In that menu, you can change lowpass filter mode, output type between LO and PO, gain, DAC mode, and channel balance. You can also set a max volume to protect your ears and set a certain value as the boot volume.
OTA Firmware Updates
The Shanling M3X comes with a pre-installed application called Support. In this software, you can update the M3X's software wirelessly. Shanling has been releasing firmware after firmware and my device's version is v1.4. The regular updates ensure the device works as intended and Shanling's engineering team pushes bug-fix updates quite regularly. During my time with the device, I have never encountered a bug or glitch in the software and that's great. You can also download the firmware from Shanling's website and send the file to M3X via USB-C cable and do a local update instead. This is especially good when something goes wrong wirelessly. However, everything worked great for me and it was quite easy to upgrade the device over-the-air.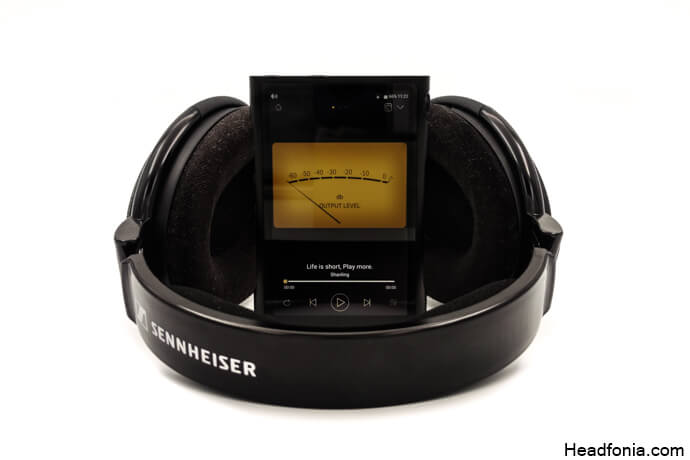 MQA
Master Quality Authenticated (MQA) is an audio codec that lets you stream songs in Master/HiFi quality. After capturing and recording the performance, MQA folds the file to make it small enough to stream or download. They call this "Music Origami". DACs with a full MQA decoder, like the M3X, unfold the file to deliver the highest possible rate for the user. Popular streaming service Tidal supports MQA and since the M3X has native MQA decoding capability, you should give it a chance. 
LDAC 
Shanling M3X utilizes Bluetooth 4.2. It supports high-end codecs like LDAC and LHDC along with AptX HD, AptX, and SBC. The device can both transmit and receive signals. LDAC is supported in both oıf the modes. The signal is stable, even when the LDAC is set to quality-first. The range is around 4-5m, which is pretty standard for the LDAC codec. 
USB DAC
The M3X can also be used as a USB-DAC. If you are a MAC or Linux user, the process works without any drivers. If you are a Windows user like me, you will need to download Shanling's USB drivers from here to use M3X as a USB-DAC. It is a nice-to-have option and I am glad Shanling implemented it. https://en.shanling.com/download/69
Storage
The M3X offers 32 gigabytes of storage. The system and cache take around 6-7 gigabytes and the rest is available for your apps, FLACs, and DSDs. Of course, the M3X supports SD cards up to 2TB. It also supports external storage devices via the USB OTG feature. It is nice to have the option to use Tidal offline and load everything on to the SD-card.
Power
The M3X has plenty of power for your IEMs but won't drive your power-hungry cans. There are two gain modes, low and high. Those can be quickly switched between from the scroll-down menu. Its 3.5mm output offers 80 mW into a 32-ohm load in single DAC mode and 101 mW into a 32-ohm load in dual DAC mode. Going 4.4mm balanced doubles the power output and it can deliver 240 mW into a 32-ohm load. Shanling opted in for power-efficient DACs to increase battery life and since many audiophiles prefer DAPs for their portability, the trade-off is quite logical if you ask me. 
The review continues on Page Three, after the click HERE or by using the jump below.
Page 1: Shanling, M3X Player, Packaging & Accessories, Design & Build Quality, Interface & Stability
Page 3: Sound Signature, Balanced vs. Unbalanced, Low, Mid, High, Technical Performance, Pairings, Last Words