Step 5: Bias Setting
Now is the time to set up the pro-bias module.
• Prepare a multimeter, set into DC volts.
• Turn VR1 on the pro-bias module counter clockwise till you reach a stop.
• Place the red probe of the multimeter at the test point, and the black probe at the ground/chassis.
• Turn on the amplifier
• Turn VR1 clockwise until the multimeter shows 580V (for Stax Pro bias)
• Wait until the amplifier has reached operating temperature, then re-check the voltage at the test point, and re-adjust VR1 if necessary.
• For Koss ESP950 you can set the voltage to 620V.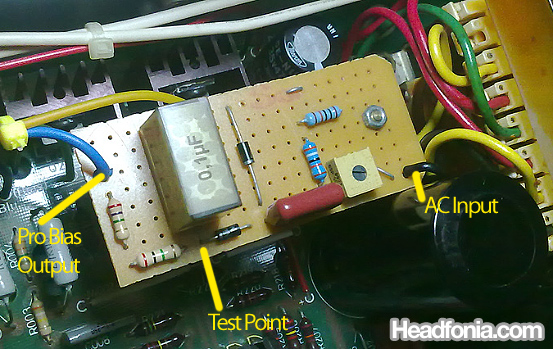 Step 6: Testing
If the bias has been properly set, then you can test using the headphone connected.
The modded SRM-1/Mk2 now has a normal bias and a pro bias socket.
Enjoy, and click on that Facebook-Like icon if you enjoy the article!
Thanks to Psychaudio for sharing this modification technique.