Features
Topping aimed to offer a full package in terms of features with the M50. The device comes with Bluetooth 5 and LDAC support. It can also both act as a Bluetooth receiver and Bluetooth transmitter. It comes with USB-OTG support, which, I think, is one of the best features of this device. This feature allows you to directly connect your SSD or HDD that you use as a music library to the M50 and use this library through the player. It supports hard disks and solid-state drives up to 4 terabytes and that is quite good.
What is not good is the TF / micro SD slot. It only accepts cards up to 256G and I think that is a bit low. Many low-end players on the market easily accept micro SD cards up to 2 TBs and I think Topping should've implemented it. It also accepts flash drives up to 256 gigs. The player can work with FAT32, FAT, or NTFS file types, which means that it is not picky. It can successfully transmit and receive BT signal via LDAC codec and I have not found any issues or instabilities during my tests. The range of it is quite good too, at around 12 meters. The unit features a mode called "DAC mode". In this mode, the M50 acts as a USB bridge. You can connect it to your computer and use it to stream wireless content into your headphones or other gear.
The device supports Airplay and DLNA too and Topping recommends using Hiby Link via Hiby Music App. It is both available on Google Play and Apple AppStore. 
The M50's USB controller type and model are undisclosed we know that it is capable of decoding up to 24-bit 384kHz PCM and DSD up to DSD256. That is of course via USB and IIS only. The optical and coaxial inputs support DSD64 (DoP) and PCM up to 24-192. As for file types, you don't have to worry about them at all. The M50 supports wav, flac, dsf, dff file formats, and many more straight out of the box. Note that the device is firmware upgradeable and Topping could release hotfixes or improvements in the future. Note that the device's DSD output mode is set to D2P instead of Native, so make sure you change this setting before starting the playback to get the best out of the device.
Unfortunately though, when you active NATIVE DSD mode, the device pops quite loudly while switching between tracks. That is not OK in my book and Topping should release a new firmware to fix this issue as soon as possible. Note that I am on firmware version 1.0 and I am using the device through USB-OTG connected to Topping's brilliant DAC & AMP, the DX5.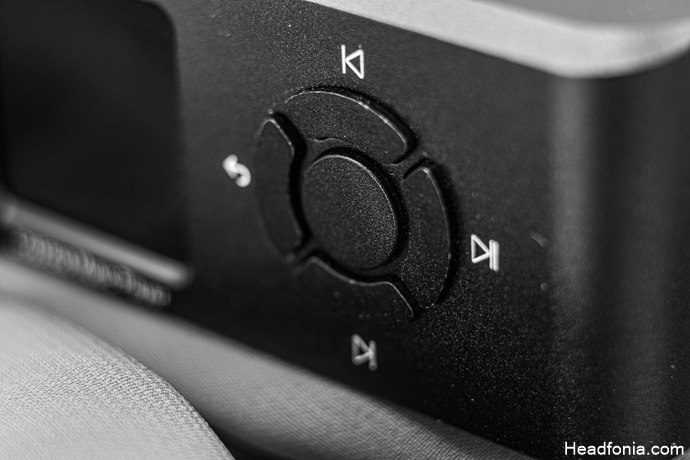 The M50 features 10-band EQ but it only works with local files. I did try it, however, I am not very big on the traditional EQ. Unless there is a real breakthrough, like the technology on the new Mojo 2, I think that EQ will result in a loss of fidelity. Let's take a closer look at the operation system and UI.
Controls & UI
The M50 comes with its own, basic OS. The navigation button bindings are pretty weird. While the button in the middle is "enter", the button on the far right also performs the same function. The one on the left is coded as the "back" key. The usage is not very easy with the front panel buttons, however, the remote makes everything practical and simple. It is much easier to navigate through the menus using the remote and it is quite easy to learn how to use the device this way. 
The navigation is not the best, if you have been in this hobby for a long time, you will remember that we used to replace DAP's operation systems with Rockbox OS to get more features and a better UI experience. This is the first time after a really long time I felt like I needed the convenience and practicality of Rockbox again. Let me put aside my comments about the UI and tell you more about the menus.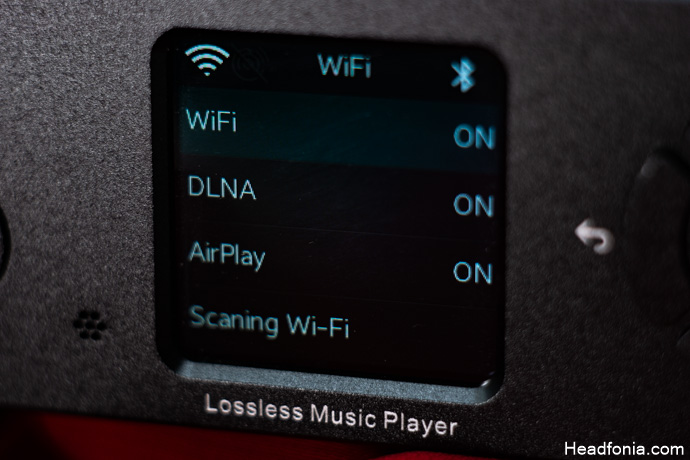 There is a menu that allows you to select and sort the tracks in your music library by album name, artist name, or genre. You can also mark your favorite tracks and they'll automatically appear in the favorites menu under the "Music List" menu. There is the "Music Browser" menu which offers a simple file browse function. You can browse whatever you connect to the M50 this way. Note that you can't delete tracks via player's OS, you'll need a computer to remove corrupted files from the SD/HDD. Under the "Network Settings" tab, there are 2 tabs containing Wifi and Bluetooth settings. In the Bluetooth settings, a few well-thought-out settings are present.
First of all, you can turn Bluetooth on and off from this menu. You can change the Bluetooth name of the device and you can turn the Hiby Link connection on or off. There is another sub-menu here that allows you to scan Bluetooth devices around you. Apart from these, there is a setting where you can change the LDAC behavior and force the device to transmit at full speed (990 kbps). If you don't set it to the max, the OS will adjust the signal according to signal strength and other variables (660~990 kbps).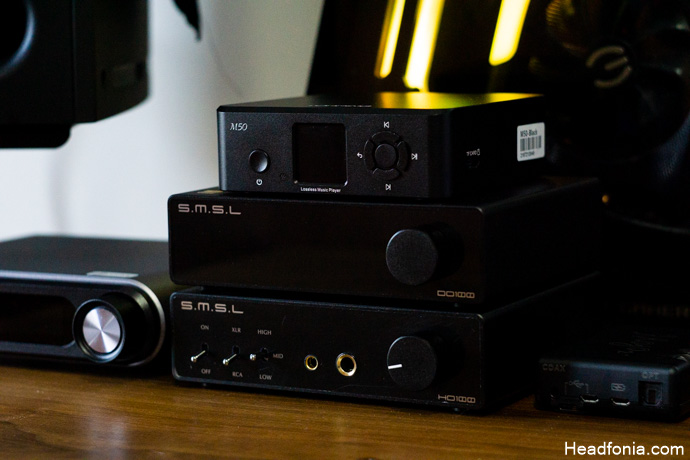 Moving on to the "WiFi" tab, there are options such as turning DLNA and Airplay on and off, and scanning for wifi networks. If you want to connect the M50 to a WiFi network, an incredibly small keyboard appears on the screen and you are asked to type the password. Speaking of the screen, I want to tell you more about the main display and the default interface during playback. First of all, I realize that the M50 is built in this form and factor to stack with the D50s and A50s, but isn't that a bit unfair to Topping's other products that are substantially better than the D50s and A50s? Anyway, the screen is a bit small and hard to read.
If you are planning to buy the device for your living room, I can't really recommend it. Let's talk about the default playback interface. The display shows album art, play/pause status, and remaining tracks on the queue. There is also a progress bar and on top of it, there is information about the active file sample rate and bitrate. Another thing I didn't like here is that the song title is present but the artist's name and album name are missing and I think Topping definitely needs to add them as they are crucial for many people including myself.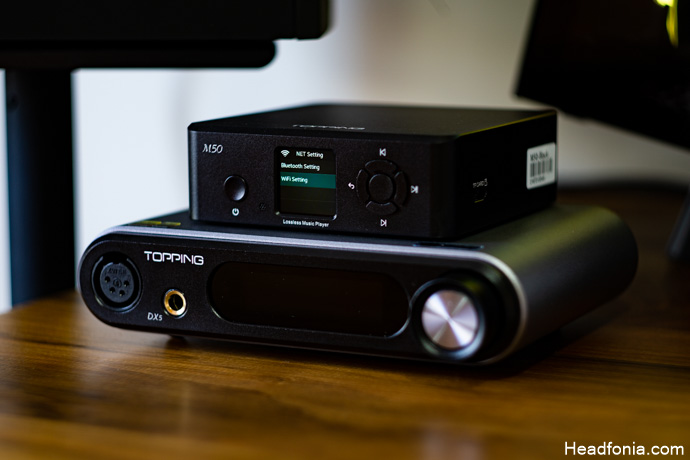 Last Words
We're all used to Topping making incredibly successful products, that's a fact. However, I cannot say that the M50 fully reflects the Topping quality we are used to, at least in its current state.
Topping could easily get the M50 up and running better than ever with a few quick updates to the UI and the OS. I have high hopes for this series and I have no doubt that Topping will impress us all in the near future.
Page 1: Topping, Topping M50, Packaging & Accessories, Design & Build
Page 2: Features, Controls & UI, Last Words