High end and portability doesn't usually go together, but Ultrasone has made it happen with the Edition 8.
I've always associated high end with big oversized set ups that include masive amplifiers with separate power supplies. Multiple box source set ups. Thick interconnect cables with power conditioning system, and so on. You get the picture. Thus I was really surprised when I found that Ultrasone's Edition 8 comes with a short 4′ long, 1/8″ terminated cable. Granted, it's a dual entry cable that retains separate lines all the way to the termination, but still, the cable strongly hints that the Edition 8 is to be directly plugged to an Ipod.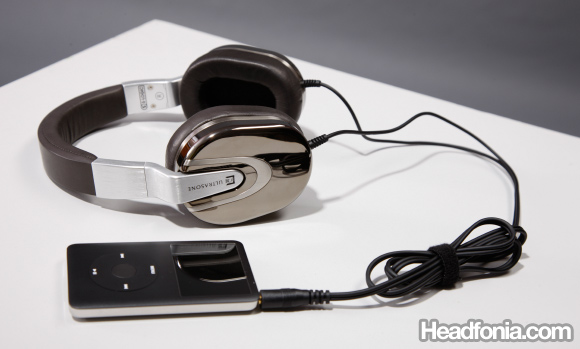 I've also convinced myself that a high end headphone has to have a massive housing. The Sennheiser HD800, Sony R10, AKG K1000, Audio-Technica L3000 and numerous other high end headphones come in big sizes. When I finally have the Edition 8 in my hand, I had doubts about its performance. Not only is the Edition 8 fairly small when compared to other high end headphones, it also employs a closed housing design. From experience, we know that open design and large housing and driver size have a natural advantage for better sound quality. While some high end headphones like the R10 and the L3000 are closed design, they still have the advantage of a very large housing size. Grado's HP1000 is another fine headphone, and though it's actually smaller than the Edition 8 in housing size, it has an open design. The Edition 8 seems to break all the rules of high end headphone.
Build quality on the Edition 8 is top notch, utilizing all the best materials. I specially love the leather pads that create a superb isolation from outside noise. Finally you can have a high end headphone listening experience inside an aeroplane, and without the aid of active noise cancellation. Though grip is a little on the strong side, I don't really find it objectionable, due to the superb leather pads. While the build and the accessories all strongly states "high end", the final verdict would be in the sound quality.