Jeroen, who also did the Teufel review for us,  was so kind to volunteer to guestreview the -at that time- full Vsonic lineup. We got these IEMs from Lendmeurears.com for free and for making this possible they deserve a very special "Thank you" and an extra mention in this article. Lieven

Intro
First of all, we at Headfonia would like to thank Lendmeurears; they've sent us some Vsonic models and asked us to do a review about them. This friendly company is based in Singapore and you can take a look at their store on www.lendmeurears.com if you want to know the latest news about Lendmeurears and the newest models of Vsonic!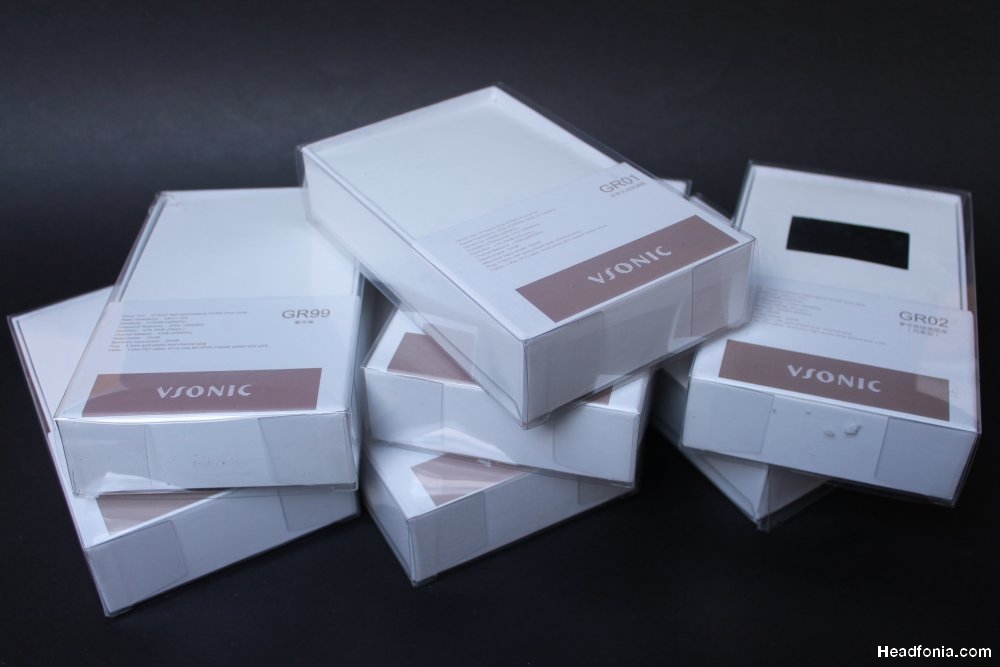 Now a brief introduction of our Chinese friends from Vsonic, who have built up an entire team of experts. They work with high quality equipment and endeavor to create designful and well-built products. Their aim is to produce a series of qualitative iems for a reasonable price, in which they've succeeded resplendently! Each model came in a plastic cover, which contains a half open box covered with a cover-up. Within this box the iem and accessories are being packed carefully, so you can be sure that your package will be delivered in one piece. Every iem will be delivered with more than enough accessories like a dozen of various ear tips (check the end of the review), pouches and ear guides. Having small ear canals, I know how difficult it is to find the right ear tips that fit well and offers you the maximum comfort. I can assure you that you will find one that fits you for sure.
Throughout the review there will be certain items that will inevitable return, which in a way is very logic. The signature sound of Vsonic with its warm and deep bass, the extensive accessories and the well build quality of the models. But let's get started with the review!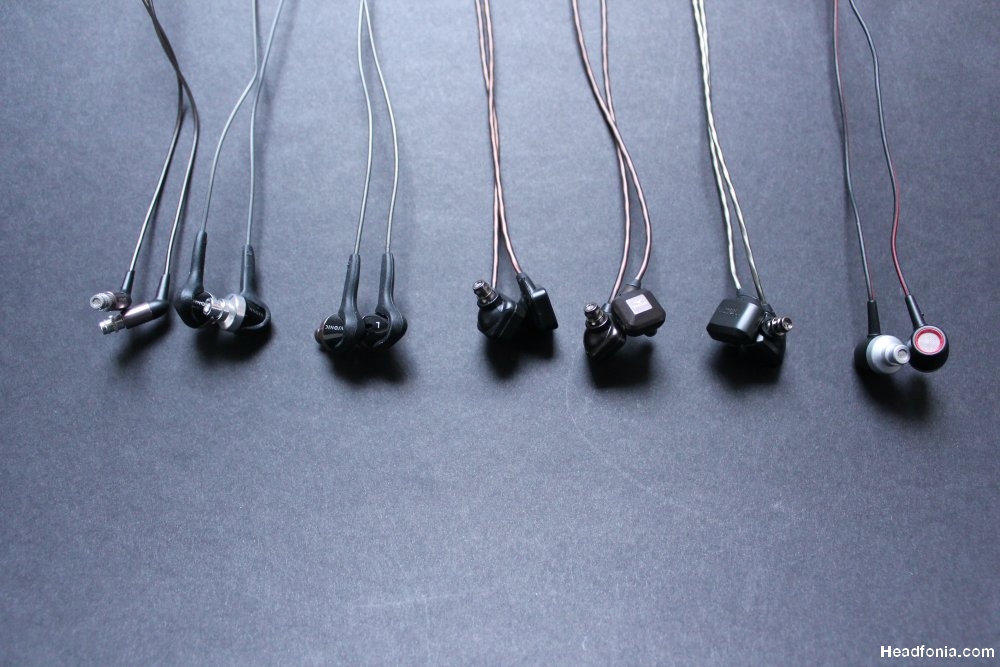 GR01
Vsonic released the GR01 in 2012 and it takes place in the upper price market right beside its illustrious GR07. But don't be fooled, it doesn't share the same sound of the GR07, because the GR01 is an armature based earphone that uses the TWFK transducer and Vsonic teamed up with Knowles' engineers, to create the best sounding armatured iems.
The GR01 came in a plastic box like the rest of the other Vsonic models. It doesn't bother me too much, however it would have been nice that this iem and the GR07 would have been delivered in a more suitable package, that stands up to the quality of these two fine models. On the other hand, the plastic box helps pulling down the price, so looking from that point of view I assume most of you can get a long on this.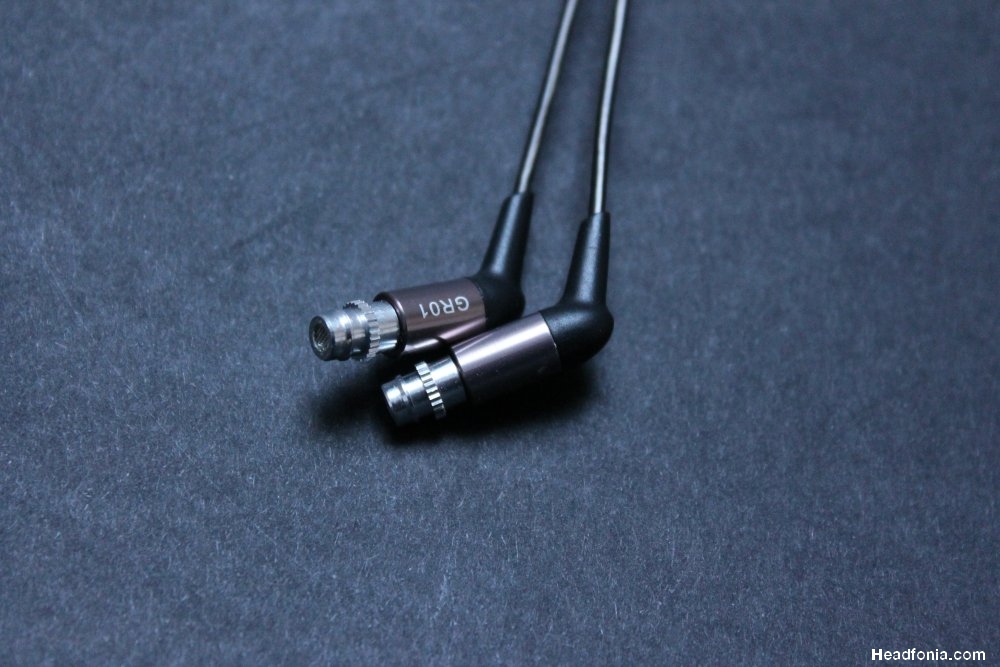 Vsonic does provide you with the well-known bulky set of accessories, 10 pairs of hybrids tips, 3 pairs of silicon tips, 1 pair of foam tips, a pleather pouch and 1 pair of ear guides. I used the bi flanged ear tip for the GR01, because you need to put the ear tips deep into your ears to have a good fit and seal, otherwise the ear tips tend to come loose. The design on the GR01 gives you a refined impression with its slim tube shape on the metal housing. The nozzles can be screwed off for cleaning, which comes in very handy, but pay attention when you're putting in the GR01 into your ears, you may happen to screw the nozzles loose.  No big issue, once you know it. To clear out which side is left and right, Vsonic has put a dot on the right iem. Distinguished and handy.
The cable is rather thin, which suits the looks of the GR01. I haven't had any entangling issues or cable noise with GR01, it just fits all nice within the picture of this iem. The design and looks embody the sound that GR01 produces: refinement, quality and an eye for detail.
As I mentioned earlier on in this review, the GR01 hasn't got the same signature sound as the GR07. First of all there is a major difference when it comes down to the lows, where the GR07 stands to be very warm and deep, the GR01 produces a more tighter bass, which stands in proportion with the mids. Quantity wise the GR01 isn't like its siblings, yet it contains depth and quality, but sometimes it inclines to roll off. As it doesn't sound too rich and full, I found that I it stands open for a more general public, where people who prefer more bass oriented quality iems can trust on the GR07.
I'm most impressed with the way that the GR01 reflects voices, it doesn't matter man, woman, genre, etc.. voicing is always upfront and sounding clear and reflecting the right timbre. It is simply spot on with GR01. Yet I can't get the same quality of the mids on the GR01. Don't get me wrong, it all sounds smooth, non-aggressive and bright. But somehow it lacks a little dash, I have the feeling it could have been just a notch better. If it would be more bright and transparent, it would be perfect. Obviously it is what it is, but if Vsonic can make the voice nearly perfect, they could have done the same with the mids. In comparison with the GR07 it sounds more neutral but less warm and forward. The cherry on the cake are the highs, they aren't outstanding, but they complete the sound of the GR01. Very neutral and they line up with the smoothness of the mids, and therefore it makes it all easy to listen to. After a lot of hours listening I encountered almost no high peaks or sibilant sounds and that also accords with the general sound of the GR01, you can say that Vsonic played it a little bit on the safe side, but I don't mind as it sounds fantastic. You can listen to the GR01 all day and night, sit down, relax and enjoy!
Sound stage is pretty good I must say, through the extension on the highs, it gives me a widely image which works very relaxing. Almost like sitting in a blue room…
Another strange thing I've noticed with this wonderful iem is that when I listen to a song I don't hear the signature sound of a song in which decade it was made. Normally when I'm listening to my music collection, I automatically always think: O yeah, this sax sounds so 80's or this synth was so late 90's. Somehow I guess it is the low/mid ratio that creates this feeling. As usually I listened to all kinds of music and it handles it without any problem, switching from rock to electronic to oldies and back to hip-hop, you don't need to adjust. That's a sign for me that the GR01 is on top of its game.
At the end of the line, all I can conclude is that the GR01 is just one fine quality iem. Putting looks and sound in balance, it is clear that Vsonic has thought this well over, they really worked hard to present a product for the general public. What I mean is that Vsonic will definitely compete with the established brands with this iem, they've shown that it's well built, sounds great and certainly has a fair price tag. For those who want a detailed sounding iem but no emphasis on bass and treble, I recommend to give the GR01 a try.
Next page: More Vsonic IEMs!