Ever since I wrote the New Year's post in December I have been wondering about the Soundmagic HP100 headphone Ed nominated for "product of the year". We're probably a little late reviewing this headphone as it was released quite a while back but if it got nominated for best product of the year, it has to be something special, right?
Soundmagic is a Chinese company mostly known for their IEMs and the HP100 was their first shot at a full sized headphone (In the mean time they have already released the HP200, a full sized open design headphone). Anyway, I got in touch with Soundmagic and luckily for me they immediately agreed to send out a review sample. DHL delivered the package shortly after and since then I've been using the HP100 pretty much everywhere: at home in the couch with the V200 and the Rein Audio X3, in my office with an Audio-GD Dac and a tube amp, on the train with the CLAS and C421 and even straight out of the iPad.
Sound
To be honest with you, when I unpacked the HP100 and started listening to it, I wasn't that impressed and I immediately emailed Ed to check that with him. I'm not really a big believer of burn in so I'm pretty sure the headphone was still half frozen (it's a miracle the DHL guy made it here in one piece with all that snow) but 15 minutes later I was beginning to see why he named this his discovery of 2012.
This closed headphone has 53mm drivers and if you look just at that some might say it has to be a bass headphone. That however isn't the case at all, this headphone has a very natural and linear sound, the frequency curve on the box shows that as well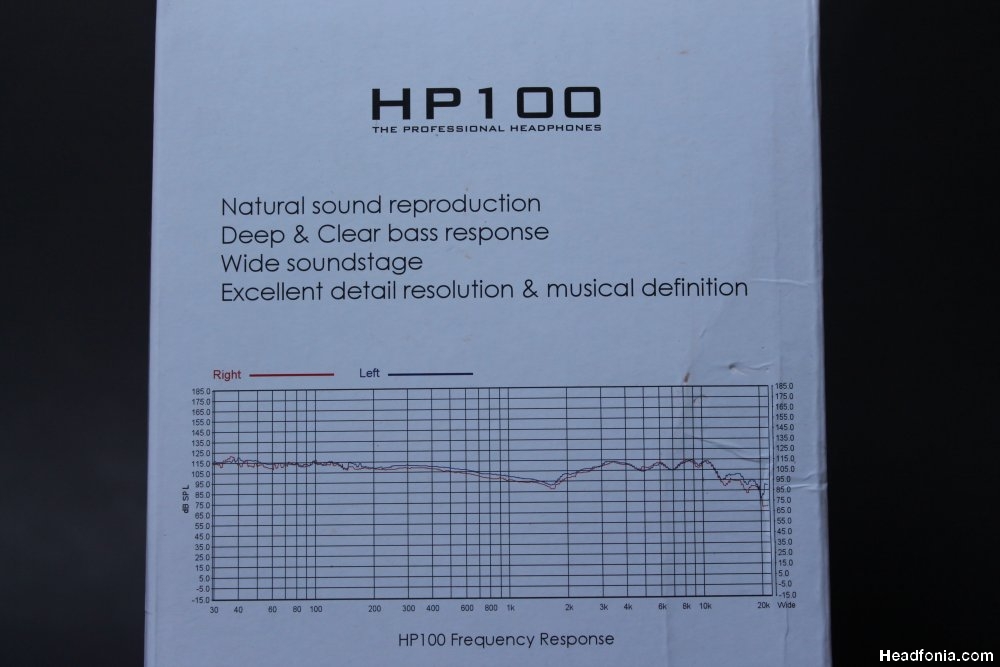 There isn't a single thing this headphone pushes forward. Bass, mids and treble are all equally focused on. The HP100 is very clear sounding headphone, it is analytical and pretty well detailed and very transparent.  If you want a closed headphone with a warm signature and plenty of bass (like the DT770 AE in example) this headphone isn't for you, here you get neutrality. And how!  The HP100 has nice treble extension and highs are clear and detailed sounding while never sounding harsh. Of course there are headphones with further treble extension as this one but there are a whole lot more headphones with smoothed treble on the market.
Like everything else in this headphone the mid section is very clear and neutral sounding. There is plenty of detail to enjoy. Unlike many of the headphones I recently tried the mid range fits right in with the rest of the sound. Nicely linear. Of course a look at the frequency curve already gave that away. One of the things I love most about this headphone is it's bass presentation. I already explained this isn't a bass head's headphone but that doesn't mean there isn't any bass at all. Believe me when I say the HP100's bass can reach really deep. It is a very tight bass with quite a good amount of layering and detail. This is not the kind of "big impact and body"-bass like you get from the Momentum in example but when needed the bass is there and with a lovely presentation.  The better the quality of the recording and your source file the more you will notice this. I was listening to a bad quality mp3 of a 90s house track (Electric Voodoo by Tyrome) and bass was only very little present. Switched to a flac version of The XX "Missing" after that and my jaw dropped.
The overall sound stage of this headphone is very good. Its width is pretty impressive for a $200 closed headphone and left-right separation and space between the instruments is good. 3-dimensional wise however it isn't the strongest of contenders. The HP100 isolates very well, and at this moment this is the best isolating closed headphone I listened to.
The unit itself
So sound wise this headphone impresses and I have to admit I like how it looks too. Of course there's a lot of plastic used to make this unit and it isn't at the level of Sennheiser or Beyerdynamic but it does look pretty damn good. I find it to have a modern look with the mirror-like cups (scratch alert!) yet it looks professional at the same time. I've been using it on the train and no one has looked at me weird yet (but maybe we have Beats to thank for that?). Build quality is pretty good and even though a lot of plastic is in it, the HP100 is a sturdy headphone. The headband has been strengthened with metal and you can adjust it without having to worry to damage the unit. The detachable 1.2m coiled cable they used is pretty thick and will probably last for a long time. At least I hope it will because the connecting mechanism used at the left cup doesn't allow you to easily install an aftermarket cable.
The cups bend in all possible ways pretty much like the Audio-Technica M50, only even more as you can move each ear cup also sideways. On the other hand, the M50 folds up smaller. Comfort wise the HP100 does pretty good and I'd give it a 6.5/10 (Sennheiser HD700 being the reference). I can listen to it almost all day without it bothering me too much. It only weighs 288gr and the pleather pads are comfortable even for the big eared listeners out there. There is no death grip at all and I don't have any problem with it, I think it's just a tad tighter as a Beyerdynamic DT770. To be complete I do have to mention the ear pads could have been slightly thicker as my ears are constantly touching the inner fabric protecting the driver.
Next page: Amplification & Conclusion