Today we're looking back at the Lynx Hilo. For previous Wayback Wednesday articles, click HERE. 
My tenure at Headfonia has cost me around 6.000$ USD. It's no one's fault but my own. I just had to buy the Ultrasone IQ. I just had to buy the Astell&Kern AK70. I just had to buy the Onkyo DP-S1. There were others. There will be more. The most precious – and by far most useful purchase – was, and still is, Lynx's do-all HILO DAC/ADC. I was warned. Lynx's Japanese distributor explained that I'd probably fall in love with it. Various website and magazine reviews did, and ended up purchasing. In fact, finding a publication not tractable to purchasing HILO post-hoc isn't easy.
I reviewed and purchased it in 2015. You might be asking: why in 2015 would anyone purchase a DAC from early 2012, and that when measured against contemporary audiophile advertising, is behind the times?
I assume you refer to its maximum bit and sampling rate of 24/192. Audiophile marketing has been and always will be about bigger, higher, and has always relied on consumer ignorance. Today, you can get a 129$ dongle that does 32/384 and DSD @11mHZ. Dual DACs are now pedestrian.
Without the right implementation, even the best spec and hardware are just ink.
Lynx has the best ADC I've ever used, an impossible array of inputs, and its converts analogue signals to digital and back again in a near impossible range: 115dB dynamic range, -115dB noise, and -116dB stereo crosstalk. There are few devices out there capable of such, fewer still that do all of that with THD at 0,0004% and IMD at 0,0007%.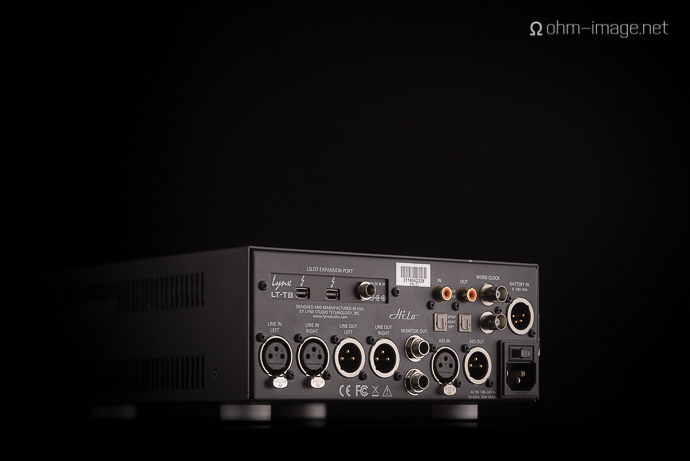 If you're not happy with its headphone amp, Lynx HILO connects to downstream amps with one of the best signals and leveling systems out there. Matching its outputs, inputs, and syncing them across multiple downstream devices requires a bit of legwork. But when you've sussed everything, there is nothing comparable – certainly at HILO's asking price,; and even at its price there are precious few devices that do in/out conversion even fractionally as well.
Then there's its modular, L-slot computer interface system. You can order it with USB, Thunderbolt, LT-HD and DANTE cards, each of which can be swapped if/when you change your computer system.
Do I still use it? You have to be kidding. It is the only audio product that I use almost every day, and for hours and hours at a time. It sounds great, measures great, has a decent, but not super-powered headphone amp. Topping it all off is the best array of inputs/outputs in a compact desktop interface I've seen. The only thing that entice me to use something else would be Lynx HILO II.