In this new article we review the Westone Audio Mach 70 In-Ear Monitors. They are selling for $1,399 USD.
Disclaimer: KS Distribution sent us the Westone Mach 70 IEM for this review, free of charge. As always, I am here to share my real experience with the product.
Westone
Unless you've been living under a rock for the last 15 years, there's no way you're an audiophile who hasn't heard of Westone. Westone Laboratories Inc. was founded in 1959 by Ron Morgan, Sr., in Colorado, USA. The company's earpieces are used for hearing healthcare, recreation, industrial and military applications. Its core business is specialty earpieces for hearing healthcare (i.e., used in combination with hearing aids), but it also serves the professional musician and audiophile market. You can reach Westone Audio's webpage via this link.
Shortly after I became interested in this hobby, I was introduced to Westone products. I had the opportunity to use IEMs like the UM30, W40, and W60, which were way ahead of their time. At that time, options were limited, the industry was not nearly as big as it is today, so there were not many options other than some monitors from big companies like Shure and Phonak.
We took a look at the Mach 80 a couple of weeks back. The Mach 70 is the next in line, a co-flagship with a completely different presentation and signature. Let's check it out, together.
Westone Mach 70
Westone Audio's product range consists of 2 series. The Pro X series and the Mach series. The Pro X series is marketed as artist-oriented stage monitors, while the Mach series was developed with sound engineers and audiophiles in mind. As you may have noticed, the older UM and W series had more or less the same distinction. Speaking of the series, let's share the meaning of the word "Mach."
A Mach number is the ratio of an object's speed in a given medium to the speed of sound in that medium. It is often used with a numeral (such as Mach 1, Mach 2, etc.) to indicate the speed of sound, twice the speed of sound, etc. Westone's Mach series includes eight different products in total, and the product names are in direct proportion to the number of drivers.
The Mach 70 features seven drivers on each side, housed in a very compact shell. 70's configuration is as follows; single low, dual mid, quad high, and a passive, 3-way crossover. The retail price of Mach 70 is 1599 USD/EUR/GBP. Below are the specs.
Configuration: 7 BA + 3-Way Passive Crossover
Impedance: 42Ω
Frequency Response: 5Hz-22kHz
Sensitivity: 110dB @ 1kHz
Cable: Linum 4-braid UltraBaX – T2 Connector – TRS L Plug
Packaging & Accessories
The Westone Mach 70 comes in a medium-sized, well-designed cardboard box. On the box, we see that the model name, Mach 70 is written in a stylish font and contrasting colors are chosen. The back of the packaging is quite informative. We see a list of included accessories and product specs, in detail.
The accessories are quite nice. Westone has been using the same set of tips for more than 10 years now. We get five pairs of foam tips and five pairs of silicone tips featuring similar shapes in various sizes. I love this set of tips as they work quite well. They are durable, comfy, and isolate very well. You know the drill, if something is already great, don't try to improve/change/fix it! I still have my W30's silicone tips and after 9 years, they're still in mint condition. Time-tested alright!
Apart from the tips, we get an impact-resistant Pelican case and the wonderful Linum UltraBaX upgrade cable with T2 connectors. Yes, it is the same one that comes included with the Mach 80.
Additionally, an elegant 2-color carrying pouch, a microfiber cleaning cloth, QR-card, a Westone branded cleaning tool and a cable tie is included within the packaging.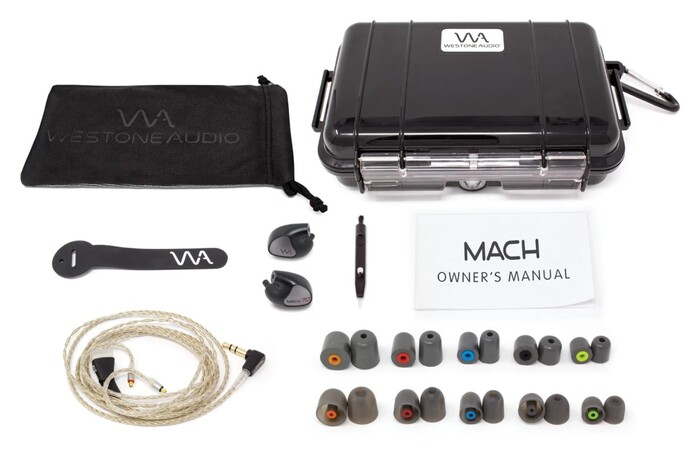 Let me include this paragraph from the 80's review since they feature the same cable:
First of all, if you are not familiar with Estron-Linum, let me bring you up to date. Linum is a sub-brand of Estron company. Estron Linum cables are built and designed based on Estron's more than 25 years of working with litz wires, connectors, and cable solutions for the Hearing Aid industry. The Linum brand has been designing cables for in-ear monitors since the year 2014. I first met Linum cables around 2015 and had the opportunity to try and experience Linum's first cables, such as Linum Music and Linum BaX. I vividly remember the first time I picked up a Linum cable. Litz cables were much less common than today, at least in the audiophile industry. The upgrade cables in those years consisted of thick, multi-braid wires. Linum's Music cable was one of the thinnest cables I've ever seen. I was fascinated by its form; it was more of a fishing string rather than an earphone cable. It was very thin, light, and elegant. Then, I immediately bought the BaX and SuperBaX cables and used them for many years. It is a pleasure to see their upgraded versions now available as default accessories.
Linum UltraBaX
Linum UltraBaX is the flagship of the series. It features a 4-braid litz-configuration. Each cable consists of 224 strands of silver-plated copper wire. As with all Linum cables, the tensile strength is just downright impressive. The UltraBax is strong enough to withstand pull forces up to 40 pounds, so there is no possible way you can damage this cable by pulling.
In addition, the cable is built to be extremely lightweight using specially selected materials. The total weight of the cable is around 9 grams, and it has a length of 127 cm. It features 90 degrees angled, gold-plated 3.5mm connector and gold-plated T2 connectors.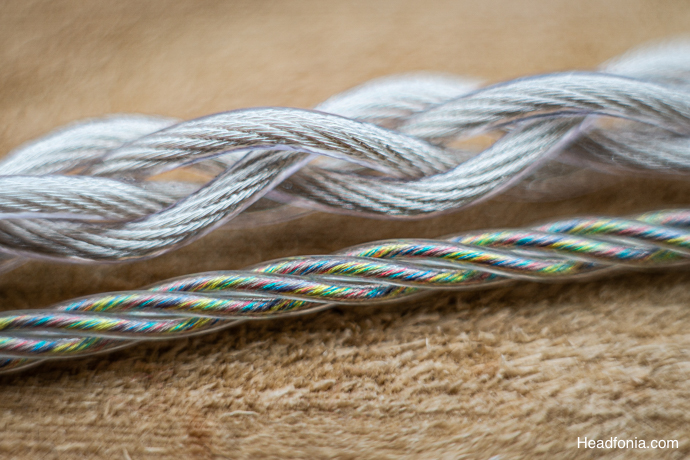 The T2 connector is a waterproof (IP-67) and durable alternative to MMCX and 2-Pin connectors that is now considered the industry standard for stage monitors. As someone who has been using IEMs with MMCX and 2-Pin connectors for over ten years, I can say that both connectors have significant problems, and the T2 is a promising solution. Time will tell!
In addition to its physical characteristics, UltraBax has an ultra-low impedance of just 0.6Ω and has no impact on the sound. This basically means that the cable directly reflects the sound quality and the signature of the paired IEMs.
Design & Build Quality
The Westone Mach 70 shares exactly the same build, color, and design as the Mach 80 we reviewed a few weeks ago.
From the E series that Westone developed and produced for Shure to the W and UM series, Westone has always come up with compact, comfortable and ergonomic monitors. The Mach series is no exception. After the lightweight, compact, and oval-shaped W series, Westone did not change the form of the monitors' inner side facing the ear, but it is clear that there is a slight design change on the outer side. The new Mach series adopts a dual-color design, and all models from 10 to 80 come in the same black-gray dual-color design. The outward-facing portion of the monitors has a triangular shape resembling a custom IEM's faceplate. Although this part is plastic, the color and finish make it look like an anodized coating on metal.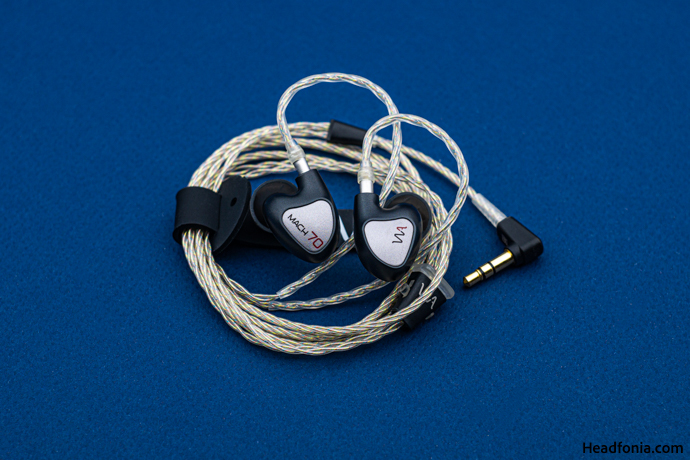 Compared to the W series, which is the old-generation equivalent of the Mach series, the design form factor seems to be the same, which is fantastic because Westone's monitors were always one of the most comfortable offerings on the market. W and UM series was extraordinarily light and had a durable case. The W series had a design that featured interchangeable faceplates, and I would've liked to see that with the Mach series too.
Despite housing seven drivers inside, the shell of the Mach 70 is very compact. I can easily say that the new chassis is a clear improvement over the previous gen. The old W series' case joints were much more visible, and the MMCX connectors were the most sensitive part of the earphones. Most of the issues originated from these connector parts. Apart from that, the MMCX sockets could oxidize, and sound interruptions could occur in case of prolonged use combined with insufficient care.
The new chassis looks much more monolithic than the old one, and the joint points are not visible at all. Furthermore, I believe the switch from MMCX to the T2 connector was an excellent decision. The T2 is a much better solution than the MMCX and 2-Pin in terms of robustness, ergonomics, and signal transmission. It is also sweat-proof and does not become loose after continuous use.
As for fit and ergonomics, I honestly forgot I had the earphones on many times during my time with the product. There are five sizes of ear tips and two different textures to select from, and my relatively big ear canals love the orange-colored silicone tips. They are extremely comfortable for me. Additionally, the microphonic effect of the Linum cable is close to zero, and when you combine that with a lightweight chassis, you get exceptional comfort.
The Mach 80 and 70 provide impressive passive isolation thanks to their shape and cone-shaped tips. Naturally, the included foam ear tips provide more isolation compared to the silicone tips, but I didn't feel the need for more isolation as it was already excellent. Foam tips may be more suitable for on-stage and outdoor use. To summarize this section in one sentence; the Mach 70 offers an improved design and an improved material quality compared to the previous generation, while not compromising on the comfort we all love and got used to.
The review continues on Page Two, after the click HERE or by using the jump below.
Page 1: Westone, Mach 70, Packaging & Accessories, Linum UltraBax, Design, Build & Fit
Page 2: Sound, Low, Mid, High, Technical Capability, Comparison, Last Words