Disclaimer: I was looking for a replacement pads for my HD800 and found that CustomCable had the cheapest price, so I bought the pads from them. 
Replacing the cushion pads on your headphones should be done regularly, like changing the oil in your car. Not only does changing the pads have hygienic merit, but it also helps to preserve the original sound intended by the designer. Even if the pads are clean, they become compressed as they age, and this alters the effective acoustic space a great deal. It's like having the same speaker set up but in a different room; you know the sound will be different. I've witnessed this sound-change phenomenon with numerous headphones: Sennheiser's HD580, 600, and 650 are notorious for this, and so are Beyer's DT770/880 and 990. I haven't come across a beat up AKG K701 or K702 so I can't really comment on those unfortunately!
When I replaced the pads on my Sennheiser HD800, it was not for hygienic reasons, as they were still relatively clean – it was that the pads have deformed so much that I couldn't bear listening to them, knowing that the sound (especially the instrument separation in this case) was far from what it used to be when new. Just yesterday I tested a 2nd hand HD650, comparing it to a set with newer pads, and I very much preferred the sound with newer pads. Washing the pads actually delivers a similar sound-changing effect too. After you wash them, they will soften and compress easier than brand new pads. Again, this results in a change of effective acoustic space. So therefore, it seems that the best way to rekindle the acoustic (and hygienic) properties of your headphones is to purchase new pads every once in a while.
From what I've observed, most headphones begin to sound more 'forward' as the pads wear. This may or may not be a good thing depending on the original character of the headphone. What I dislike the most however, is that instrument separation becomes quite messy, and bass articulation also suffers. This effect isn't related to burn in or driver variation – I've tried swapping drivers and pads to pinpoint the issue – this effect is related to the change in the acoustic space due to old deforming pads. I believe this matters much more than burn-in or driver variations.
For the past few months I've rarely listened to my HD800s because its qualities have been too unbearable for me. The lower treble was becoming very glary, the overall sound grainy, and the bass articulation muddy. Instrument separation however was still decent (this is the HD800 after all), but it was nowhere as good as I remembered it to be. I almost forgot how good the instrument separation on a set of brand new HD800s was, had it not been for the guys at the local Jaben offering me an audition on a brand new HD800 unit. Eventually I couldn't bear the sound of my old HD800 anymore, so I started looking around for replacement pads. The last time I looked, Sennheiser USA didn't have them in stock and neither did Sennheiser Singapore. So I continued my search and noticed that a few stores carried them, but I ended up going with CustomCable as they were offering the cheapest price by far.
After installing the new pads on my HD800s, the low treble returns to its proper place and the glare is mostly gone; the background is nice and black; bass articulation presents itself once again and instrument separation improves. Everything is just as impressive as when I auditioned the HD800s for the first time. This improvement however, is not strictly limited to the HD800s – I'm very familiar with Sennheiser's HD580, 600 and 650 line up, as well as the Grados and Alessandros, and the same thing happens on those headphones too!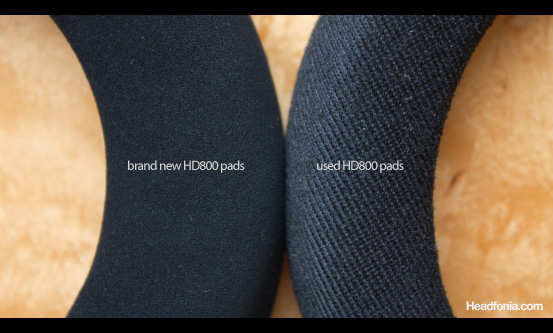 Some headphones, like Hifimans, have stiffer pleather pads and are more resistant to deformation with wear, so not all headphones will require as often a pad change. Of course, I cannot comment on every single headphone out there, but I thought I should share my experience in case anyone else is becoming disheartened with his or her beloved headphones – they probably just need new pads! Be sure to check out Custom-Cable if your cushions are in need of a refresh!