In this article we look at the €2.108,95 Euro ZMF Vérité Closed headphone.
Disclaimer: This is a review of my personal Vérité Closed unit; it was purchased with my own money in late July 2020. I've been happily enjoying the headphone since. ZMF is in no way related to Headfonia.com
Introduction
ZMF Headphones are a brand that's no stranger to the world of high-end audio, at least within the realm of the headphone audiophile. The company is helmed by the dynamic husband-and-wife duo, Zach and Bevin Mehrbach. Together, they are purveyors of a host of fantastic-sounding and awesome-looking products. Simply drop by their website, and take a gander at their growing stable of headphones, and you won't, or can't, tear your eyes away from them.
That is, unless of course, you're not particularly a fan of wood. If so, you might want to move along, since there's nothing much to see here, I reckon.
However, if you're an audiophile, your weapons-of-choice are distinctly headphones, and you're a connoisseur of wood (is there such a thing?), then, yes, by all means, continue reading, for I will be talking about the brand's top-of-the-line closed-back headphone, the eminent ZMF Vérité Closed.
From the brand's humble origins as an in-house modder of Fostex headphones, such as the T50RP, ZMF has grown to be a bona fide powerhouse in the industry. They come highly recommended, and it's easy to see why, thanks to a handful of solid products in the Atticus, the Eikon, and the Aeolus, et al. Nevertheless, with the introduction of the acclaimed Vérité Closed, the company is emboldened in its quest to claim the crown of the best-sounding headphone. Featuring a plethora of wood choices, most of them limited options, too, and coupled with a well-tuned signature, this product is an easy crowd-pleaser, in terms of the overall musical experience, and on account of its top-class aesthetics.
The Vérité Closed has a sibling in the Vérité Open, an open-back (of course) variant. Nevertheless, today's review talks about the closed-back model. Spoiler: It's one of the best closed-back headphones on the market today.
So without further ado, let's dive in! Oh yes, before we go any further, let's table the nitty gritty of the ZMF Vérité Closed. We are talking about the headphone's specifications, of course.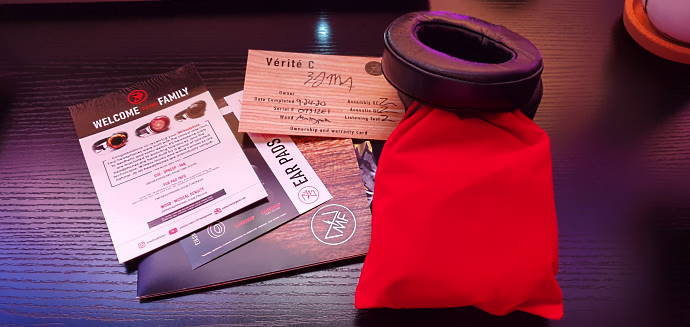 Specifications
Driver Type: Vapor Deposed Beryllium
Sensitivity: ~99dB/mW
Impedance: 300 Ohms
Weight: 490g (±20g)
Price: $2,499.99
Unboxing
The ZMF Vérité Closed comes in a hard, Seahorse case. This is a Pelican-styled, heavy-duty, no-nonsense, use-this-during-a-zombie-apocalypse box that can easily double as a seat (or a shield). Yep, I've tried it, it works well in that regard.
For storing the headphones, sure, this case is fully equipped to do so, offering a level or protection and certainty that few other cases can even dream of approaching. Of course, on the flip side, you'd have to consider its bulk, mass, and size – if you don't have the space in your room for it, you might bemoan the sheer magnitude of its case. However, if you're bringing the headphones out and about (but why?), rest assured, you won't worry for its safety – it's nestled within, snug, cool, and well-protected. It can be easily carried from location to location, thanks to a sturdy handle, and a surprisingly light mass.
Together with the headphones, the case includes 2 cables, the ZMF stock-braided and OFC cables. You also receive a spare set of pads – the Auteur pads came attached with the Vérité Closed, but you also get an extra pair of Universe pads. Pretty neat for the price, to be honest. Most headphone manufacturers don't even offer a spare set of the same pads, but here, ZMF provides 2 different types of pads for the price of 1. 1 headphone, I mean. Still.
On top of all of that, you get some marketing literature and a nice owner's card. Feel free to proudly display your ZMF Owner's Card.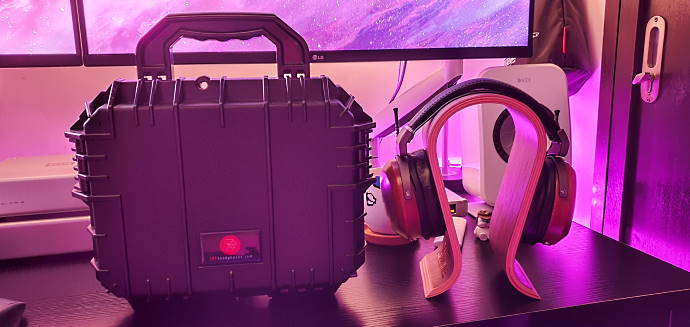 Wood Finishes
The ZMF Vérité Closed, and most of its sister headphones in ZMF's stable, come furnished in a variety of wood choices. There is a plethora of options, and if you're lucky, you can snag a special version during a limited run.
My own Vérité Closed came clad in the standard Monkeypod. It's a classic design, and whilst it's not as fancy or as shiny as some of its contemporaries, it still retains a level of quiet charm and understated beauty. Of course, if I had known, I would have opted for one of the Camphor Burl units that was introduced a month or so after my purchase. Oh, well. It's still a great-sounding headphone, after all, and I'm mighty satisfied with my own unit, but please don't flex your Camphor Burl units, okay? Spare me the heartbreak.
And now, we're off to the sound. Finally!
Sound
Bass
Starting from the lowest frequencies, the ZMF Vérité Closed makes a very good account of themselves in this department. The bass is slightly thick and dense, but comes replete with a great blend of texture, impact, and authority. It is a very good middle ground for listeners who prefer a more austere bass presentation, and those of the basshead persuasion. It can, and will, conjure a fantastic, potent bass response when your song or track requires one. Otherwise, it's happy to sit in a corner on the stage, producing great lows but never making it a standout feature. In that sense, you're getting a presentation that is polite, yet powerful when it needs to be. There's very good control in the low-end here.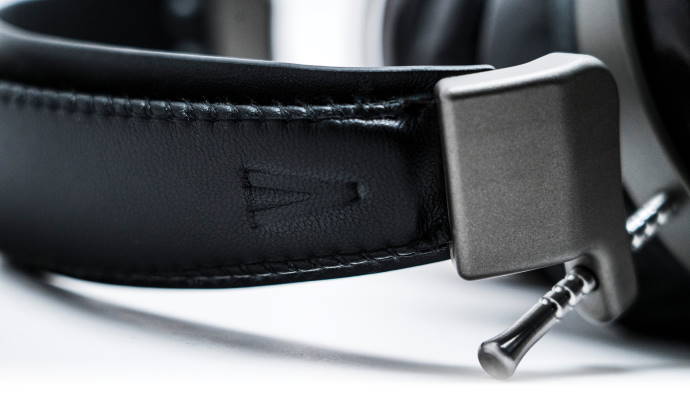 When the bass kicks in, you'll be treated to a punchy, head-bopping experience. There is a slight perception of lag, but it is only ostensible enough as to grant a nice, almost-fleeting decay that adds a touch of weight to the bass notes. On the other hand, it's certainly fast enough that EDM (and its many genres) will not suffer from any excessive bloat or reverb.
The sub-bass on the Vérité Closed is equally impressive. Thanks to its well-tuned dynamic driver, you get a deep extension into the lower regions, resulting in adequate rumble that brings a lot of life to your music. It's certainly not off-putting or excessive, though, and you'll certainly be thankful for that much-needed growl that well-tuned subwoofers produce.
All in all, the flagship in the ZMF line up produces excellent bass that walks the thin, fine line between fully-fleshed, potent bass, and tight, impactful beats. It's a presentation that is at once captivating and alluring.
As an EDM head, I like to share my joy of this genre to my readers. If you're dipping your toes into the world of dance music, and you're rocking a Vérité Closed at the moment, try Joop's Act of God (Hard Trance Edit). When the rumble kicks in during the mid-track climax, the bass is provided a grand stage to display its many fortes, as least in the bass department – strong rumble, tight but well-defined beats, and a texture to die for. Dial the volume to 11 on this one.
The part on sound continues on the second page. Click here or click on the jumps below.