After longer exposure of the SR60, and after testing other cans, people started to point out the weaknesses in the SR60. For example, the superbly detailed treble can sound too sharp and harsh. For short term excitement it's very good, but in the long term, people gets tired from hearing the overly sharp treble. The problem becomes worse in some recordings where the treble is boosted on the mixing desk. Another problem with the SR60 is what many complain as a thin sound and a lack of Bass. True, the SR60 has bass and it can make quite an impactful bass, if present in the recording. However, overall the sound does seem thin and lacking body, because the SR60′s frequency response is heavily tilted to the high frequencies. And finally, people always complain about the congested soundstage of the SR60.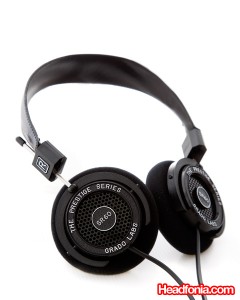 So, though the SR60 gives you a lot of musical enjoyment, it does have its flaws, and people are always asking more.
The first moment that I put on the SR60i, I notice that the sound is still very much the signature SR60 sound with its forward mids. However, I also realize that it has grown quite a significant amount of bass. This is a good thing. The once thin SR60 now is a lot more neutral and doesn't sound thin anymore. The improvement in the low frequencies also gives the SR60i a more full-bodied sound than the predecessor. While the SR60 was great for Rock tracks with vocals mostly in the high frequencies, it didn't do well in playing heavier vocals in Jazz and Audiophile recordings. The new SR60i, however, does much better for playing Jazz and Audiophile vocals, and stuff like Pavarotti now has more weight and a more authoritative voice through the SR60i. Very nice.
The bass, although less precise than the original SR60, makes the SR60i a lot more musical. And I would trade off the precision in the Bass anytime of the week, compared to the thinner but more precise SR60 bass. I don't consider myself a basshead, but the original SR60 does need a little boost, and the SR60i is just a more balanced and more satisfying headphone overall.

It seems that Grado has really listened to their consumer, and improved on everything that needs to be improved on the SR60. If people used to complain about the harsh treble on the SR60, on the SR60i the treble is more refined and less harsh to the ears, while still offering the same detailed sound. Very nice, Grado!

The bass is improved, the treble is improved, and lastly the soundstage is improved as well. The improvement is quite small, however, and overall the SR60i's soundstage is still small compared to other full-size cans. The soundstage improvement should be taken as a bonus in addition to the other improvements, and not a factor for deciding a purchase.

Overall the SR60i is a much better phone, and though I still prefer the original SR60′s styling, sound-wise the SR60i is definitely superior. The biggest decision making factor for me is the boost in the low frequencies. You have a better balanced, more full bodied sound SR60 in the "i" version. Although the original SR60′s bass is more precise, the overall sound is much more better in the "i" version.

So, does this improvements open other genres to be played on the SR60? Sadly, no. Its main strength is still in Rock and Pop music. It is quite decent for Jazz, and some R&B, though there are other options. For serious instrumental and classical music, however, the SR60i still lacks the technical capability. But again, most Grados, even the RS1, is not designed for those.


GOOD: Overall, the SR60i is much better than the SR60. Fuller body, more present bass, more balanced sound. Smoother and less piercing highs while offering the same detail. Slightly improved soundstage.

NO GOOD: Compared to the SR60? Almost none. But its bass does seem to be slightly less controlled.

System for auditioning:
Headphones: Grado SR60, SR60i
Source: Ipod Touch 2nd Gen, Ipod Nano 2nd Gen.

Thanks to Dayak and Annoep for making this review possible.

share us on your favourite network