In this review, we'll be taking a look at the Astell&Kern SE200 – the all-new $1,799 USD DAP  from their A&futura line.
Disclaimer: this Astell&Kern SE200 was loaned to Headfonia directly from  AK for the purposes of this review. Our thanks go out to them for their support. 
Un-asked-for innovation
I'm sure you know that famous quote by motoring pioneer Henry Ford: "If I had asked people what they wanted, they would have said faster horses". Well, we all know how that one ended up, don't we – the Ford automobile ended-up changing the nature of transport forever. Fast-forward to April 2010, and it would have been safe to say that mobile phone owners weren't exactly sitting around waiting for a bigger iPhone with a screen the size of a hardcover book to land in their laps. And yet when Steve Jobs dropped the iPad on an unsuspecting public that month, the personal computing landscape changed forever and the 'tablet' category was thus born. 
Whilst carefully conducting market research and listening to your customers seems like a sensible way to innovate your product line-up, sometimes a company just needs to take a leap and tell consumers what the-next-big-thing-they-never-knew-they-wanted is. Sometimes, like in the case of Apple, it might go and set the world on fire. And sometimes, like in the case of Quibi, it may simply turn out to be a case of answering a question that no-one ever needed answering.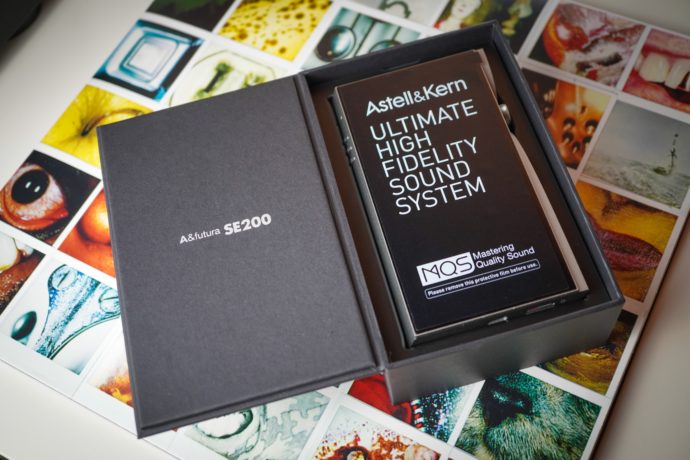 A one-of-a-kind 'twofer'
South Korean manufacturer Astell&Kern is no stranger to innovation, with their range of personal audiophile gear forging a bold path thanks to some rather quirky design language and a feature-laden, ever-expanding product line-up. So when they announced last year that they were releasing the world's first 'Multi-DAC' featuring DAC chips from not one, but two separate manufacturers, the collective industry reaction was a resounding "huh?". 
Enter their all-new SE200 from their mid-tier A&futura line, selling for a decidedly not entry-level price of $1,799 USD (or a buck's change from three thousand Australian dollarydoos). Astell&Kern has taken an interesting punt with the pitch on this device: it allows you to tailor the sound to your liking thanks to the inclusion of the range-topping AK4499EQ chip from AKM (yes, the same chip used in the flagship $3,499 USD SP2000), as well as a pair of ES9068AS DAC chips from rival digital manufacturer ESS. 
As well as offering the listener the option to choose between two different flavours of DAC, you can then choose from a range of digital filters to further 'tweak' your sound of each onboard DAC. The AK4499EQ allows you to choose from six options: Super Slow Roll-Off, Short Delay Roll-Off, Slow Roll-Off, Low Dispersion Short Delay, Short Delay Sharp Roll-Off, and Sharp Roll-Off; whereas the digital ESS Sabre offers three digital tuning options: Linear Phase Fast Roll-Off, Minimum Phase Slow Roll-Off, and Hybrid Fast Roll-Off (yes, those last two sentences were exhausting to write). 
My experiences with DAC filters are generally mixed. On one hand, I appreciate the fact that the engineers have gone to considerable lengths to provide such options in a device. On the other hand, however, I'm usually left scratching my head trying to work out if they actually sound even remotely different when I should be just trying to enjoy my music. I'm probably not going to be changing those settings beyond the default. Don't get me wrong, I'm down with parametric EQ and deliberately tweaking the frequency response graph to deal with room, personal preference, and equipment needs, but filters are just too subtle to make any appreciable difference to my ears. Be warned: the filters affect PCM files only, and then only if they're less than 24 bit/192KHz (in other words, 99% of all the digital music ever made). 
And therein lies the pitch for the SE200: it's built for digital tweakers. Nerds. Those who appreciate a good graph and can tell you all about the dreaded Sabre 'hump' in one breath, before waxing lyrical about the benefits of a Field-programmable Gate Array in the next. Generally, if you're dropping an SE200-level of money on a piece of audio gear, decisions and sacrifices need to be made. What manufacturer are you going into bed with? Which DAC chip are you going to choose? In some regards, the SE200 lessens the notion of buyer's remorse by not only packing two different DAC options inside to let you mix and match to your heart's content, but by also making it a very, very well equipped digital audio player indeed – it's ready for just about anything.  
Analogue grunt
The dual-sided nature of the Astell&Kern SE200 isn't only limited to the digital domain – Astell&Kern specially developed discrete analogue amplification stages for both DACs to perfectly complement the sonic temperament of each, and to provide the listener with the best possible sound quality – no matter which option you choose. And because Astell&Kern has provided both single-ended and balanced circuity for both AKM and ESS DAC sections, the SE200 packs a pair of 3.5mm and 2.5mm connections on its roof for a total of no less than four headphone jacks on its shiny roof (note: the blue/red 'AKM'/'ESS' labels in the picture above is a peel-off sticker). I'm not sure if this is actually a record for a DAP, but I'm calling it one. The AKM side of the SE200 (the left side, to be precise) is capable of eking-out an impressive 6.0Vrms from its balanced 2.5mm output and a healthy 3.0Vrms from its single-ended 3.5mm jack. The ESS side of the equation manages a respectable 4.0Vrms and 2.0Vrms respectively.  
Under the hood
The SE200 packs an Octa-core processor that runs the device on an Astell&Kern skinned version of Android which will be immediately familiar to anyone whose used on of AK's recent devices. The SE200 has 256GB of room for on-board storage and can be expanded with a micro-SD card to allow you to squeeze well over a terabyte of your own files in any hi-res flavour you like, with the SE200 offering PCM playback up to 32 bit/384KHz and native DSD256.
A device sitting in the 'A&futura' line couldn't be a simple offline player, and thanks to both 2.4GHz wifi and compatibility with the higher-res aptX HD Bluetooth codec, the SE200 is ready to play with a range of online services and then stream it to you as well. Out of the box the SE200 offers Deezer and Tidal native apps (plus Youtube as well!), but a range of other apps can be installed using Astell&Kern's 'Open APP' service including Spotify, Qobuz, Apple Music, and more. Tidal is this reviewer's go-to streaming service of choice, but I was originally frustrated out of the box by the limited UX of the native Tidal app which doesn't allow you to download music. An install of the Tidal APK via Open APP installed a much more manageable Tidal interface nigh identical to the experience on my Android phone. Being a digital wunderkind the SE200 naturally is able to do a full unfolding of the MQA format, allowing the listener to dabble in the 'Masters' category of Tidal (meaning you can work out for yourself if you think it actually sounds any different). 
So then, what do we make of the SE200 as a choice for your next premium digital audio player? Confusing? Perhaps. Complicated? Potentially. Digitally revolutionary? Maybe. Let's find out. 
Click over to page 2 for more on the SE200's design, build, and user experience..