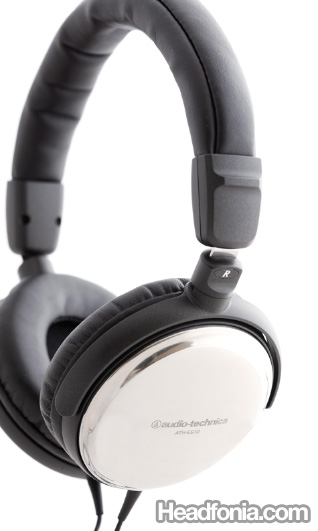 Audio Technica rewrote the rules of portable with the ATH-ES10. When it was announced last year, I noticed that the ES10 is not just another new portable. It uses a 53mm driver, the same size driver as the one used in the bigger W-series headphones such as the W5000 and the new W1000X. Big sized drivers, most of the time, have an advantage over smaller ones, especially when it comes to bass. What's amazing is that Audio Technica still manages to fit the 53mm driver into a housing not much bigger than the Sennheiser HD25-1. With a housing that size and a foldable headband, I'd consider grouping the ES10 as a portable. Of course they're not ultra portable like the Sennheiser PX100, but if have ever use your SR-60 Grado outdoor, then you know what I'm talking about.
The Titanium housing is finished with a hairline finishing. What does a hairline finishing look like? If you use an Ipod without any form of protec
tion, you know that the glossy back side very quickly collects scratches, and so you have no choice but to spend $30 for some plastic or rubber silicone protection. The hairline finishing is sort of like that, except that they are done professionally and the scratches are all aligned to one direction. It comes out as a nice and classy finishing. The finishing not only gives you a unique, non bling-bling look, but I figure it may help to hide any scratches the housing may pick up on the way. Not that titanium is very easy to scratch, but I don't dare to test it out on this ES10.