Disclaimer: The AudioQuest DragonFly Cobalt was sent to us free of charge in exchange for a preview article at the launch and this full review. Part of this article was already featured in our Picture Sunday series which has recently been renamed to First Look Sunday. If you have read that already you can skip to the part on (pre-)sound.
Intro
AudioQuest launched the very first DragonFly back in 2012 and has been improving it ever since. A few years ago the Black and Red came in to play and now in 2019, AudioQuest is back with a new and improved version of the Red: The Cobalt!
AudioQuest
AudioQuest is a US based company and the EU headquarters is located in the Netherlands. AudioQuest since the 1980's is mostly known for their cables but they became even more popular among "head-fiers" when they released a very popular mini USB DAC/AMP called the DragonFly.
The AudioQuest DragonFly isn't the first AudioQuest product to be featured on Headfonia, the NightHawk and NightOwl headphones, the DragonFlies and the JitterBug reviews were done a long time ago already. You can find all our AudioQuest reviews here: https://www.headfonia.com/?s=audioquest
DragonFly History
AudioQuest launched the very first DragonFly back in 2012 and back then it could only be used in combination with a PC because of the power supply. Later on AQ added mobile support and that made them even more successful
The units were and are extremely popular and loved by audiophiles all over the world. The reasons are simple:
it's small and pocketable,
it can take a beating,
it's beautiful
it can be used in combination with laptops and phones
it's a DAC, headphone amp preamp all in one
it does MQA (Cobalt is a MQA-enabled-renderer product, so it 'reveals' the full MQA when paired with an MQA core decoder, like the Tidal app)
it offers extremely good value for money
the FW can be updated
it sounds awesome
Taking that into account, it's no surprise that AudioQuest has already released several versions of the DragonFly, and the versions available up to the launch of the Cobalt were the Black and  the Red. These were launched back in 2016 and the Red version is on our list of Best AMP/DAC combos (Best buys) as well: https://www.headfonia.com/best-dac-amp-combos/ . Will the new Cobalt replace the Red? Keep reading!
In case you're not really familiar yet with the DragonFly units, I suggest to read up on the previous models first, and especially the one on the Red.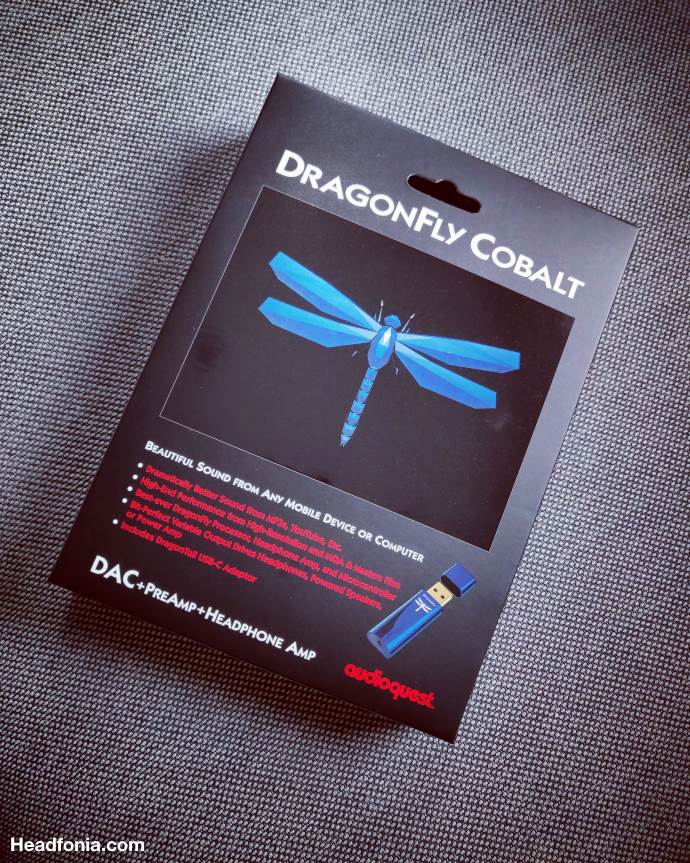 DragonFly Reviews
DragonFly 1.2:
https://www.headfonia.com/review-audioquest-DragonFly-v1-2/
DragonFly Black and Red:
https://www.headfonia.com/review-audioquest-DragonFly-Red-Black/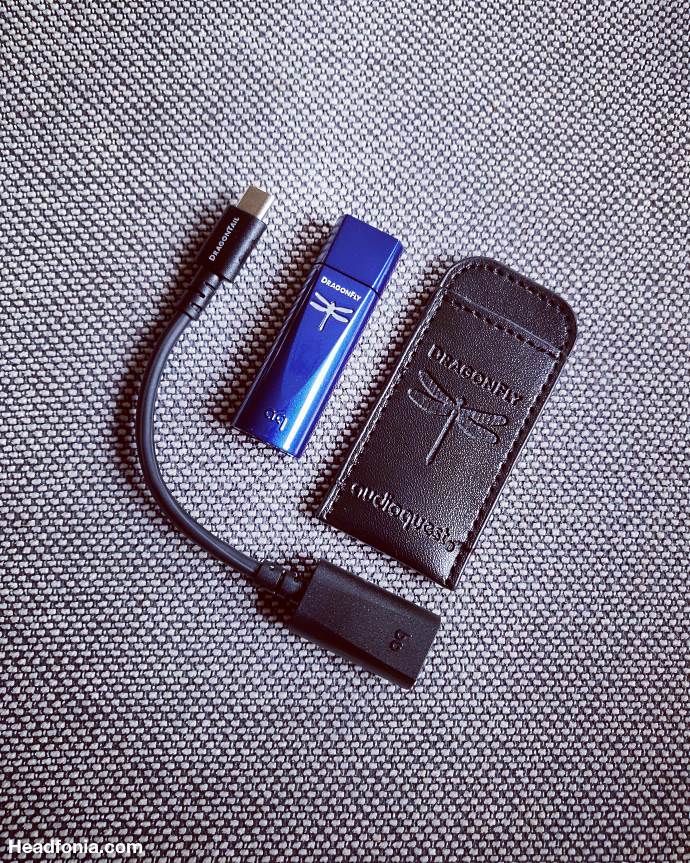 DragonFly MQA + Video
AudioQuest likes MQA and they were fast to jump on the MQA wagon and make the DragonFly an MQA renderer. In this article and video we explain and show how to set up your DragonFly for MQA streaming in Tidal.
https://www.headfonia.com/audioquest-DragonFly-mqa/
DragonFly In Use
The DragonFly units can be used as DAC, pre-amp or as headphone amp. As an amplifier it is very powerful and it can drive all your IEMs and normal headphones without any issue, just looking at volume levels. That being said, I would still recommend using a dedicated desktop sized amplifier for all your high-end full sized headphone needs. There's only so much a unit of this size can do. But you can use the Cobalt as a USB-DAC or even as a pre-amp. So there's nothing to lose. In all ways, the Cobalt will sound a lot better than your standard on-board sound device.
So the beauty of the DragonFly is that you can take it anywhere with you and use it on the go with your laptop or your phone and have a high quality sound. Forget about the bad on-board source of your laptop and phone. Also, if you're in to MQA, the DragonFly is a very affordable MQA streaming partner.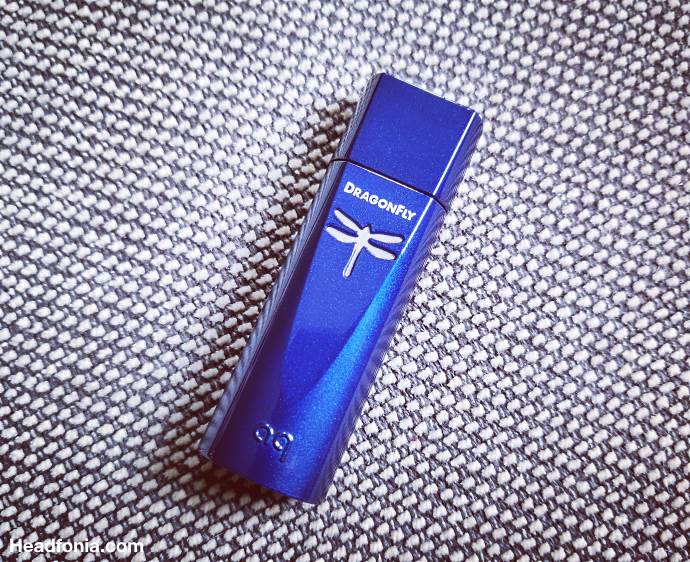 DragonFly Cobalt
Cobalt is the new Red! Yes, the new color is cobalt blue, and the unit has an automotive finish with silver lettering. Like before the DragonFly has a protective endcap, a contoured enclosure and it also comes in a leatherette travel pouch. It's a nice package, and it gets even better as you now also get a DragonTail USB-C adaptor! All DragonTails use AQ's Carbon-level USB cable.
Design wise the new Cobalt doesn't look like the Red and Black anymore and with it's smoother lines it looks smaller and more sexy.
The DragonFly Cobalt's native resolution still goes up to to 24-bit / 96kHz and it has the same 2.1V  output like the Red. It's a direct-coupled, high output which supplies enough power to easily drive the widest range of headphones. When used as a line-level device (volume set to 100%), DF Cobalt's 2.1 volts provide enough power to drive all pre-amplifiers, integrated amplifiers, or receiver inputs.
The headphone amp used is the same one as the one in the Red version, the ESS Sabre 9601. The microchip now is the PIC32MX274 and it has the same features as Red and Black, but reduces current draw and increases processing speed by 33%. Impressive!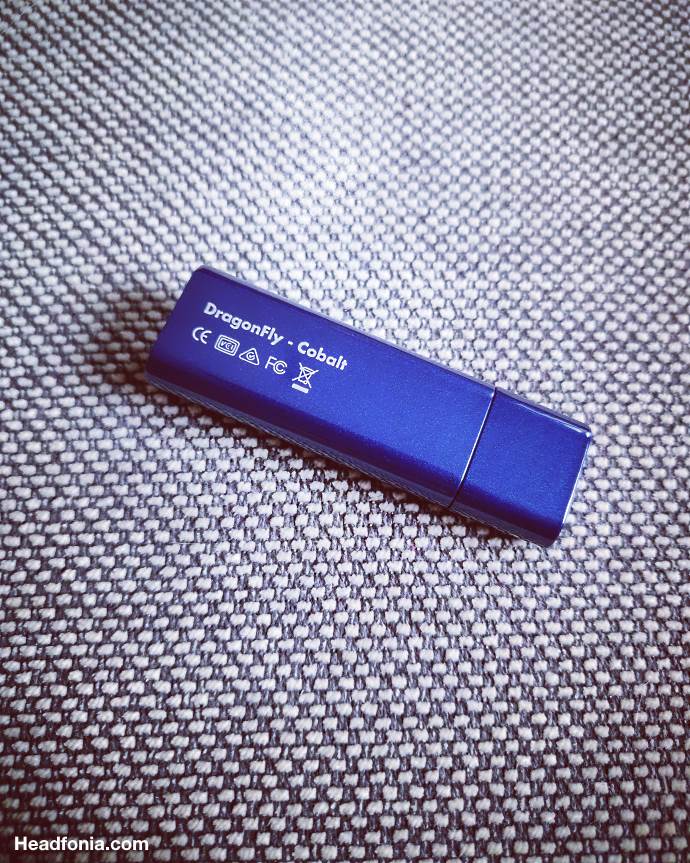 The DAC Chip in the Cobalt is the ESS ES9038Q2M, with minimum-phase slow roll-off filter for more natural sound. The Red uses the ESS ES9016 and the Black the ESS ES9010. It's evolution!
The Cobalt comes with an improved power-supply filtering, specially designed to reduce WiFi, Bluetooth, and cellular noise. Of course you can still use the Cobalt with your desktop pc, portable PC and your mobile and it still offers MQA rendering! (see video above)
Size-wize, the Cobalt is a tiny bit smaller and it measures 12mm (h) x 19mm (w) x 57mm (l). The Red and Black measure 12mm (h) x 19mm (w) x 62mm (l). Build-wise my sample is absolutely perfect and the connectors are sturdy. I have read some cases where the 3.5mm port was a bit "loose" but AudioQuest replaced those units immediately.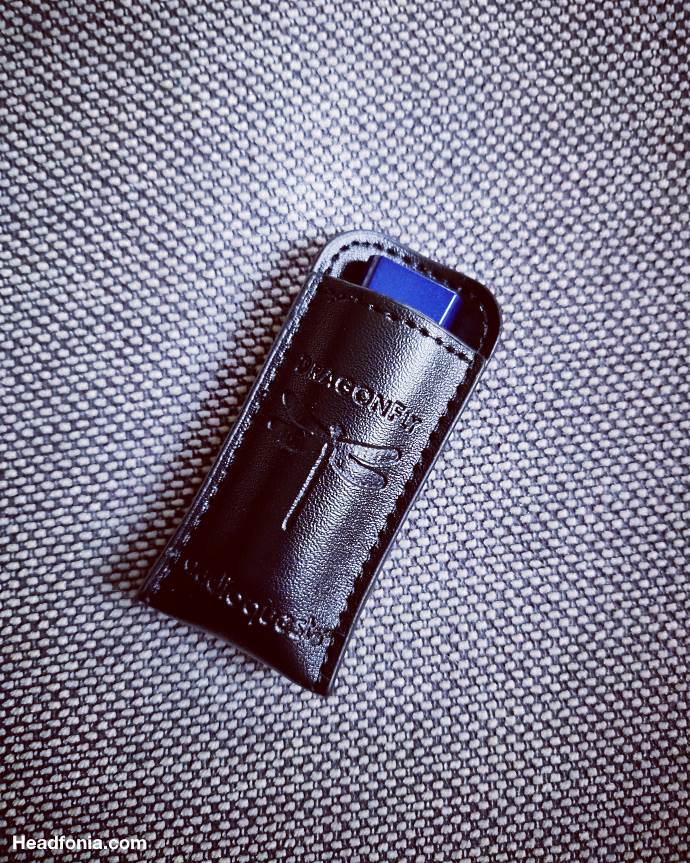 The Cobalt's price has been set at €/$299 or £269. It's more but it's newer, better and you get a DragonTail USBC to USB adapter on top of it.
The article on the DragonFly Cobalt continues on the next page here.