Today we're taking a look at the latest evolution of Beyerdynamic's flagship open-back audiophile headphone, the T1 Gen 3 which is available for $999 USD. 
A review sample of the T1.3 was loaned to Headfonia by Syntec, the local Australian distributor for Beyerdynamic. Beyerdynamic is not affiliated with Headfonia, and we'll be sending the T1 back their way after the review.
Beyerdynamic – a long lineage
It only just dawned on me as I sat down to start typing up this article that in my 2+ years reviewing audio gear here at Headfonia that I haven't reviewed a single Beyerdynamic product during my time here. This actually surprised me, seeing as the Heilbronn-based company is a veritable giant among the audiophile headphone scene having been around since 1924; and also because I've owned many of their products over the years, including the venerable closed-back monitoring DT770; the portable DT-1350 (beloved by more than a few DJs); the professional-oriented open back DT1990 and closed-back DT1770 twins; the T70p (which I've modded into a pair of gaming cans with an external boom mic), and their OG audiophile flagship: the legendary 600-ohm first generation T1. 
"Um, why so many Beyers mate?" would be a more than fair question. Well, I've always appreciated Beyerdynamic's utilitarian approach to design, offering professional-oriented practicality and comfort, paired with (for the most part) a house sound that leans towards a revealing, 'truthful' voicing that happens to be right up this reviewer's straße when it comes to tuning preferences. The rest of the Headfonia team has reviewed more than a few Beyerdynamic products over the years, which you can take a peek at over here. 
The T1 (which denotes 1 x Tesla of magnetic force in the voice coil magnet) and its mildly tweaked successor, the T1 Gen 2 (identifiable by its detachable cables) have rightly created a name for themselves in the headphone scene not only due to their renowned sound quality, but also for their uncompromising and somewhat intimidating approach to making that sound 'go'. With an extremely high impedance of 600-ohms, the T1 has never exactly been a headphone for a casual listener to pick and run with. They've always demanded careful amplification pairing, and as many an owner will attest, they happen to play very nicely when buddied up with an OTL tube amp, being a terrific match when it came to providing adequate damping factor for those famously-angled drivers.
And of course, the T1 has never exactly been a cheap entry to the headphone world – they are the top dog in the Beyerdynamic kennel, after all. Going back a few years, the T1 comfortably sat in the 'flagship' tier of headphones, famously going head-to-head with that 'other' German dynamic flagship: the Sennheiser HD800s. The T1 has always stood somewhat in the shade of the famous Sennheiser flagship, being a slightly less famous and technically-lauded piece of engineering. A bit like the Audi RS4 to BMW's M3, if you will. Flagship headphone asking prices have since far eclipsed the circa $1k price tag of the original T1, and while the T1 may not be considered summit-fi, the release of a new flagship headphone from a manufacturer as renowned as Beyerdynamic certainly gets our attention, and as a fan of the previous T1 models, I was very keen to see what the deal-i-o is with the new one once I finally got the chance to spend some proper time with it.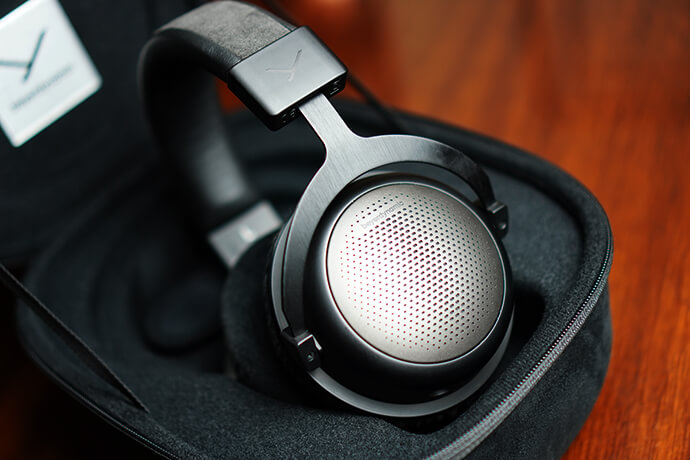 Generation 3: a "Volks-Beyer" flagship? 
Consider the headphone world more than a little surprised when Beyerdynamic unveiled the latest generation of the T1 back in 2020 (let's refer to it from here as the "T1.3"). It certainly wasn't due to the design, being a mild yet immediately noticeable aesthetic tweak on previous T1s. While the T1.3 now sports a fancy-looking perforated grille, it still very much shares an entirely familiar chassis design with every other Beyerdynamic 'DT' full-sized headphone. Instead, it was the specification sheet that caused a mixture of consternation and interest – namely the fact that the T1.3 now features an extremely low 32-ohm impedance, along with a 100dB/mW sensitivity rating. No longer does the 'T1' moniker denote a boutique flagship that will only appeal to dyed-in-the-wool audiophiles, and only shine when hooked up to quality upstream source gear. Rather, Beyerdynamic made a deliberate switcheroo to make their flagship open-back headphone more approachable by the masses, who simply want to plug things into their existing equipment – namely phones and laptops – to make music "go". Beyerdynamic insists that the T1.3 is still very much oriented at the audiophile listener, but this time around they simply decided to make the best 32-ohm headphone possible, thereby giving owners more flexibility when it comes to source pairing, and presumably – more ability to enjoy their high-end headphones without the need to be attached to a high-power amplifier on their desktop. 
Making your product more accessible and easier to be used by more people sounds like a pretty smart marketing move on paper, but that depends entirely on whether the notion of easily-driven high-end sound has sufficient mass appeal. And then there are those legions of hard-won T1 fans who've become accustomed to the T1's pristine, airy tuning and detail-oriented sound signature. Will a move to a lower impedance, and potentially different sound disenfranchise that hardcore audience that has helped to define the T1's reputation? I certainly get the argument that the philosophy behind this latest T1 seems to have changed completely. But, like everything in audio, the proof is in the pudding. And by 'pudding', of course we're talking about sound quality. So, let's see what we have on our hands with Beyerdynamic's latest headphone to wear the 'T1' badge.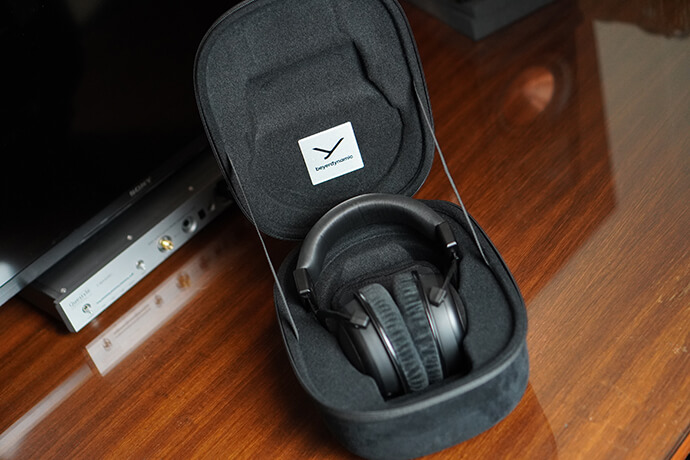 Some key specifications for the Beyerdynamic T1 Gen 3:
Transducer: . . . . . . . . . . . . . . . . . . .Dynamic
Operating principle: . . . . . . . . . . . . . . . . . . . .Open-back
Frequency response: . . . . . . . . . . . . . . . . . . . .5 – 50,000 Hz
Impedance: . . . . . . . . . . . . . . . . . . . . .32 ohm
Nominal sound pressure level: . . . . . . . . . . . . . . . . . . . .100 dB (1 mW)
T.H.D.: . . . . . . . . . . . . . . . . . . . . .<0.05% (800 Hz / 1 mW)
Power handling capacity: . . . . . . . . . . . . . . . . . . . . .300 mW
Max. sound pressure level: . . . . . . . . . . . . . . . . . . . . . .124 dB (300 mW)
Sound coupling to the ear: . . . . . . . . . . . . . . . . . . . . . .Over-ear
Headband pressure: . . . . . . . . . . . . . . . . . . . . .Approx. 4 N
Cable: . . . . . . . . . . . . . . . . . . . .3 m, double-sided
Connector: . . . .Gold-plated, three-pole stereo jack plug, 3.5 mm,
and screwed adaptor, 6.35 mm
Weight without cable: . . . . . . . . . . . . . . . . . . . . . . .360 g
Design and form-factor
Starting with the packaging, the T1.3 arrives safely stored inside the same excellent velour-coated clamshell case as its predecessor. It's a first-rate storage solution for an expensive pair of headphones, but it's a far cry from the more luxurious offerings of manufacturers like Focal, for example. In fact, it's a whole lot less 'luxurious' looking than the fancy aluminium display box that came with the first generation T1, but I'll take portability and convenience over 'bling' any day of the week. Eagle-eyed headphone fans will notice that Beyerdynamic has had a bit of a brand overhaul since the last T1 came out – "out" is the 'Beyerdynamic' word-mark/three-wave logo, and "on" is a new 'Y'-shaped logo emblazoned on the packaging and the headphones themselves. I'm not really sure what the new logo is meant to represent (a bird? the third letter in their name?), but it's a bit confusing as to why they'd do this – it's going to take a while for it to gain any toe-hold of brand equity and recognition. I digress.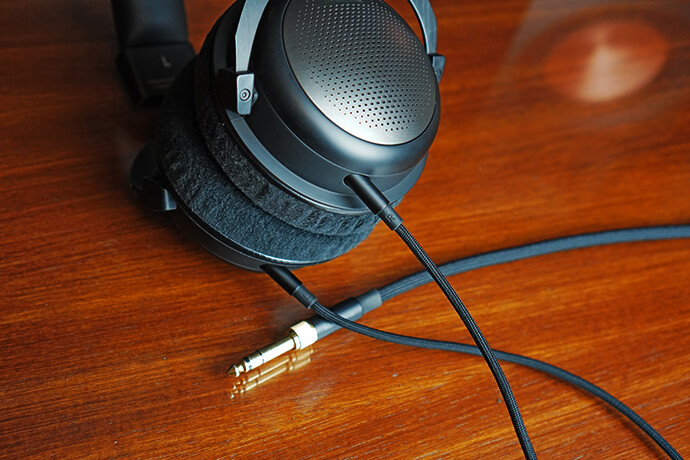 The sole accessory that Beyerdynamic has bundled with the T1.3 is a 3-metre detachable cable, terminated in a 3.5mm single-ended jack with Beyerdynamic's standard 6.3mm screw-on adapter included. The cable is covered with a woven synthetic cloth finish that makes it more than a little microphonic when rubbed on shirt collars. Like the T1.2, it attaches to both cups with forward-angled 3.5mm mono connections, which makes finding after-market cables a pretty easy prospect. And you're probably going to want to find one – firstly because it's fairly microphonic, and also because it's fairly light-weight and prone to twisting/tangling. I know what you're about to ask: "Why no balanced cable?". Good question – with many other manufacturers offering a range of cable options with the flagship headphones to pair with a range of amplifier outputs, Beyerdynamic has offered just one single-ended variety with the T1.3. On one hand, the T1.3 is pretty sensitive and doesn't need much by way of power to perform well. On the other hand, Beyerdynamic also manufactures their own headphone amplifiers, none of which are balanced designs nor offer balanced outputs. I did muse that it might be a house engineering philosophy thing, but then again, Beyerdynamic does offer a balanced XKR cable as an aftermarket option for a not-inconsiderable $145 USD.
The 3-metre length of the cable is a signal that Beyerdynamic still very much intends the T1.3 to be listened to at home, in a quiet room plugged into a stationary amplifier. And yet, being so sensitive, the T1.3 will happily travel with you and work with any number of portable/low-powered sources…except that 3-metre cable will very much become a tangled liability if you plan on doing so. I did my initial testing and listening with the stock cable, but soon swapped it out for a balanced cable from Meze audio which provided a much-welcome quality-of-life upgrade. I'm not really a believer in the sonic merits of cable design (nor am I really interested in A/B testing the nuances between them), so I have nothing to add here on that front.
As for the design of the T1.3 itself, it's classic Beyerdynamic through-and-through. Some readers might find the derivative design of Beyerdynamic's main audiophile/professional line of headphones a little 'boring', but there's a reason they've stuck to the same basic architecture for decades: it just works. The T1.3 has the same basic round cups, velour pads, metal yokes, and headband adjustment system as their DT770/880/990 line of headphones (and their derivatives), but there's a few splashes of material and design here and there that makes it a little more 'special' to the eye, and in the hand. As previously noted, Beyerdynamic has switched out the aluminium mesh grille for a single thin metal plate with a series of different-sized holes laser-cut into the surface to allow sound to go both in, and out. As well as being functional, I think it looks kinda cool – it's still fairly understated, but it does lend the T1.3 a bit more of a modern vibe.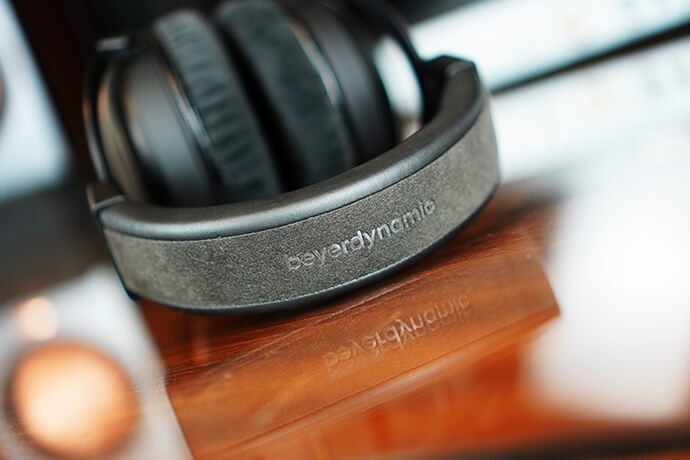 The T1.3's headband is a lot nicer than the entry-level Beyers being a lot more plushly padded, with a leather-like material on the underside and alcantara on the top featuring the maker's mark. I've always found Beyerdynamic headphones to be good, if not excellent in comfort, depending on the model in question, and the 360 gram T1.3 certainly gets a 'good' in my books. The large, round earcups have more than enough room for my ears, and the large, plush velour pads form a decent seal on my head and lower jaw. Clamping-force on the T1.3 is pretty much in the 'Goldilocks' zone – enough to keep them securely placed on your head, but not so much as to squeeze too hard for long listening sessions (which I found could be the case with the DT1990). I did find that I would get a slight pressure point right at the top of the headband, which seems to bear more of the gravity-defeating duties than the earpads do – it wasn't unbearable, but it was noticeable – your mileage may vary.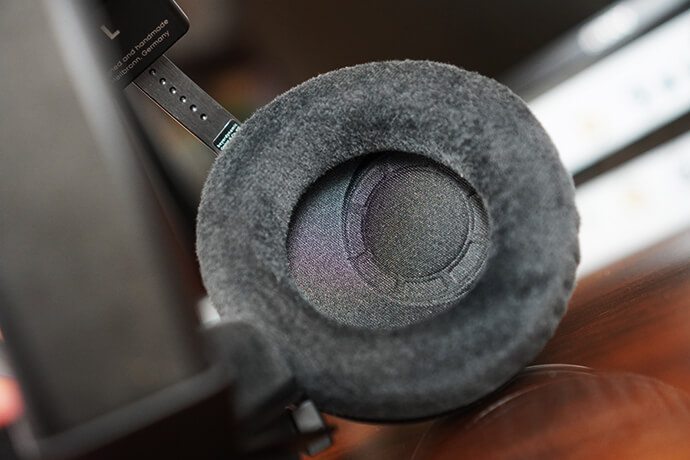 Previous versions of the T1 were renowned for their wide sense of soundstage, courtesy of having drivers mounted further forward in the earcups which are angled back towards the listener's ears. This is still very much the case with the latest T1, except this time around Beyerdynamic has added what appears to be a black dampening material over the inside surface of the earcups covering the drivers, whereas previously this uncovered. Any physical material between the driver and your ear will create mechanical impedance, and thereby change the sound – aside from the new lower-impedance drivers, this seems to be the most significant physical change and it will be interesting to see what impact this has on the T1.3's voicing.
Click over to page 2 to continue the review.
Page 1: Beyerdynamic, T1 3rd Generation, Specs, Design
Page 2: Power, Sound, Comparisons, Amplification, Conclusion