In this article we review the $249.99 USD Cayin RU6 R2R DAC/AMP dongle.
Disclaimer: The Cayin RU6 was sent to us free of charge by Cayin directly in exchange for this review. Cayin is in no way related to Headfonia.
Intro
Dongles are getting more and more popular and there must be dozens of brands right now with a USB Dongle in their product line-up. It's almost impossible to follow up on all of them, but in all honesty, I don't think that's needed either. There are some really good and affordable USB dongles out there from the bigger brands and looking at those probably gives you a 90% on the market and possibilities. Think AudioQuest, Fiio, Cayin, EarMen, xDuoo, etc. Dongle wars, it's (not?) for everyone.
We're a bit late with this Cayin RU6 review however, mea culpa for that but even if it isn't the newest, it still is a great and popular device deserving a closer look. So on to the review!
Cayin
Cayin was founded in 1993 and it is a premium Chinese high end audio brand. Their focus has mostly been on dedicated HiFi equipment, covering every chain in the music reproduction path, from CD players to speakers, but the essence is no doubt their tube amplifiers. Their equipment ranges from around US$100 to just below US$10,000 per item, covering the needs of different requirements and budgets. Cayin has developed over 500 products to date and they have received over 70 awards.
"We deliver music diligently, and we are prepared to go a long way for that."
Lately Cayin has strongly been focusing on the portable market as well with successful units such as the N5ii, the N3, the N6II, the C9 and the reference N8. If you're still interested in finding out more about the Chinese company, then you can do so here.
The last Cayin units we reviewed was the C9 transportable amp and the R01 motherboard for the N6II. The R01 is an R2R board and that's also the technology inside the unit we're looking at today, the Cayin RU6. Let's dive in!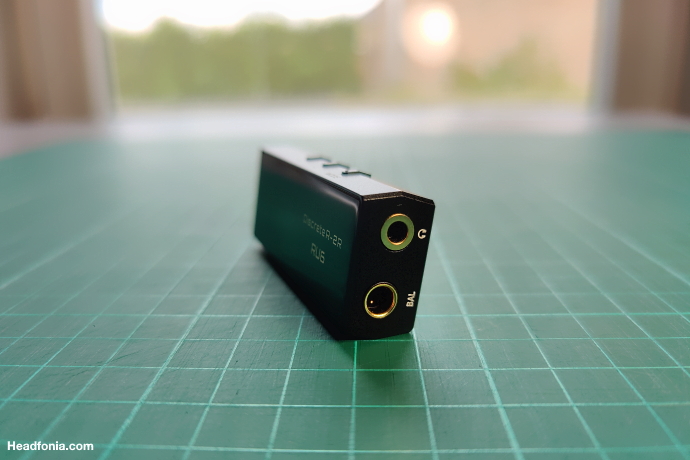 RU6 Intro
The Cayin RU6 is a small DAC/AMP dongle featuring R2R technology, which is super popular nowadays. You can find the dedicated web page for the RU6 here. The Cayin RU6 is selling for $249,99USD and it is the first ever dongle to feature Discrete 24 bit R2R tech.
The RU6 is the first portable USB DAC/Amp from Cayin. The reason why they got into the dongle market – according to Cayin – is because they were not satisfied with the highly integrated off-the-shelf solutions available out there. By the time Cayin completed the R01 Audio Motherboard for the N6ii DAP, they noticed that the R-2R resistor ladder network could be implemented as a low power consumption DAC circuit that offers outstanding audio performance.
The RU6's DAC features an in-house developed 24bit Discrete R-2R resistor ladder circuit that can decode up to 384kHz (PCM: supports up to 384kHz & DSD: supports DSD64/128/256). The hardware volume control buttons are backed by a sophisticated resistor ladder volume circuit, and users can select between Non-Oversampling or Oversampling mode through a simple menu setting. More on this later. The Cayin RU6 has two headphone outputs, 3.5mm single ended and 4.4mm balanced. Well look into the full feature list and specs later in this article.
For Windows operating systems, you will need to download this USB audio driver.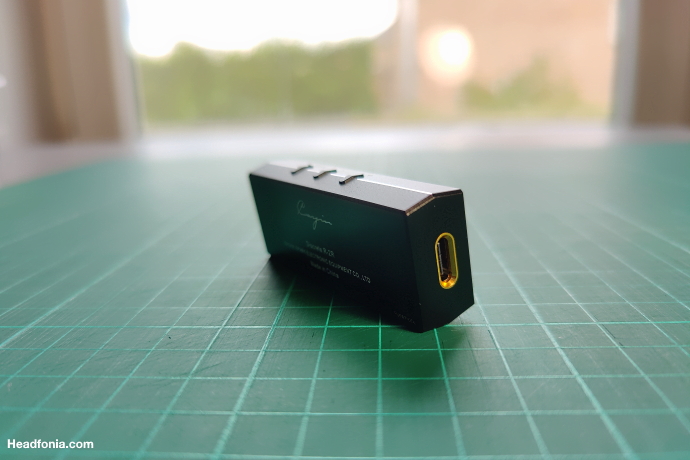 RU6 Features list – Short Version
1. 24-Bit Discrete R-2R Resistor Ladder DAC
– 1/1000 ultra-high precision TCR25 low temperature coefficient thin film resistors support up to PCM 384kHz and DSD 64/128/256
– Low power consumption
2. User selectable NOS/OS DA Mode
– NOS mode: digital filter-less, low phase distortion, low jitter, no ringing artifact
– OS mode: increased sampling rate, enhance resolution, reduce noise, improve anti-aliasing
3. Multi-segments High Precision Resistor Array Volume Control
4. Hardware Volume +/- button
5. TWO 6-layers PCB, digital and analog circuit on separate boards
6. 3.5mm single-ended phone output delivers 138mW per channel at 32Ω loading
7. 4.4mm balanced phone output delivers 213mW per channel at 32Ω loading
8. Compatible with Android, iOS, iPadOS, macOS, Windows 7/8/8,1/10 and DAP with USB Audio output
9. Type-C USB Audio, Shield USB-C to USB-C cable bundled.
10. High/Low gain control
11. Compact and seamless CNC aluminum chassis with 1" OLED screen at 28g.
12. Optional Leather cases: orange or blue
13. Optional USB-C to lightning cable
RU6 Features list – Long version
24Bit Discrete R-2R Resistor Ladder DAC
The basic idea of R-2R ladder is a matched pair of two resistors, the first is "R" and the other is "2R" which has twice the value of R. To achieve 24bit decoding, we need 48 pieces of resistors (23 x R and 25 x 2R), and that's good for one channel. So for a stereo 24Bit R-2R decoder, we need exactly 96 pieces of resistors. The digital audio section of the Motherboard DAC circuitry can be divided into four subsystems:
USB Audio Bridge: receive different audio format from USB, go through high precision signal enhancement, output I2S bit-stream for subsequent processing.
Digital Audio Bridge: convert DSD to PCM: convert all audio signals to left and right channel of 24 Bit/384kHz serial audio data signal.
Serial to Parallel Shift Register: convert serial data signal to parallel data signal and transmit to DAC circuit
24-Bit Discrete R-2R Precision DAC: convert digital audio signal to analog audio signal through a high precision R-2R Resistive Ladder Network.
The details design is incurred from the R01 Audio Motherboard including the R and 2R value (5.1kΩ and 10.2kΩrespectively).  Unfortunately, Cayin can't afford to use the same high precision resistors, so they went down one step and adopted high precision low TCR Thin Film Resistors rated at ±0.1% (or ±0.001 or ±1/1,000).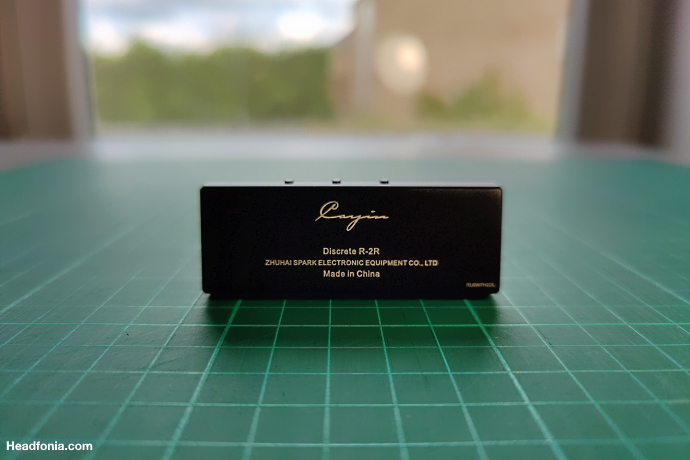 Non-Oversampling/Oversampling DA mode
Cayin offers both Oversampling and Non-oversampling DA modes in RU6. For Oversampling mode, the Digital Audio Bridge will upsample the digital audio data to 384kHz through digital filters. This – according to Cayin – will enhance the resolution, reduce noise and improve anti-aliasing of the digital signal.  The Oversampling DA mode – again according to Cayin – will offer noticeable improvement on details and frequency extension. The playback is clean and sharp with darker background.
On the other hand, NOS DA mode maintains the sampling rate of the original bit-stream. This will get rid of the digital filters in OS mode and maintain the signal in perfect time sequence. The phase distortion and jitter will remain at very low level without ringing artifact. Cayin states the playback will become very musical with a natural, organic and coherent presentation.
High Precision Resistor Array Volume Control
Most USB dongle DACs will rely on the volume control of your mobile phone to control the volume of the headphone output but this is not a viable solution for the Cayin RU6.  The R-2R DAC circuit is very demanding on incoming data integrity and the digital volume of mobile phones will damage the sound quality badly. The more effective solution with R-2R design is to keep the incoming bit-stream at full volume and then implement a high-quality analog volume control after the R-2R DAC circuit. For these reasons, a music player application supporting bit perfect via USB is recommended.
Cayin tested numerous off-the-shelf volume options but unfortunately, they could not meet the high precision, low noise, and low power consumption requirements in their dongle DAC application.  Eventually Cayin developed a high precision resistor array volume control circuit that provides 99 steps volume control through 9 segments of resistors and switching relays. This is very high-quality volume control design that was frequently used in high-end preamps and integrated amplifiers. The Resistor Array volume control involves switching relays and Cayin needs to mute the output for a short moment when a relay kicks in, otherwise you would hear a pop noise from the relay.  This introduces a small delay in volume adjustment, but it is a small price to pay in order to implement an R-2R resistor ladder network in a dongle DAC.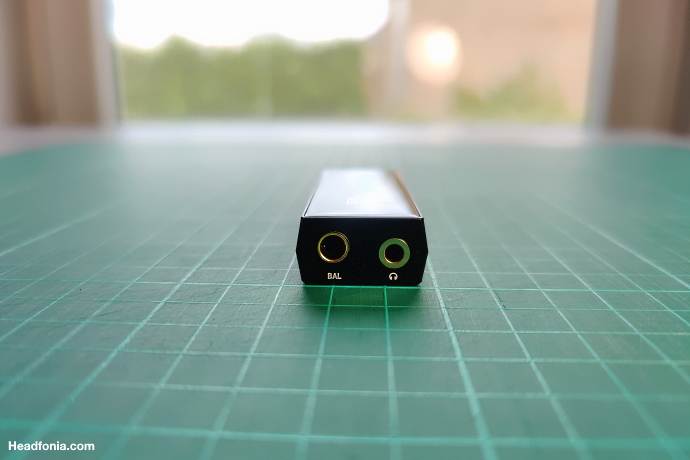 Ultimate Dual Main Boards Layout
To minimize interference, the RU6 circuitry is split into two 6-layer PCBs, with digital and analog circuit installed on separate boards. Safeguard signal integrity makes sure the noise from the reference clock and DSP will not bleed intro amplification circuit.
The article continues on the second page, click HERE or use the jumps below.
Page 1: Intro, Cayin, RU6
Page 2: Packaging & Accessories, Design & Build Quality, Lay-out & Usability, Specifications, Diagram, Versatility, Sound Pt. 1
Page 3: Sound Pt. 2, Comparisons, conclusions