In this article, we review the iBasso DC06, the latest dual-chip DAC/AMP dongle from the brand, available for just €/$119 Euro/USD.
Disclaimer: the iBasso DC06 was sent to us, free of charge, by the brand in exchange for our honest opinion. 
About iBasso
Founded in Shenzhen, China, more than ten years ago, iBasso has been producing DAPs, DACs and IEMs for audiophiles. And over time, they've become one of the most acclaimed brands for those seeking budget-friendly, but high-performance gear.
And If the DX300 stole the show, with stellar sound performances and snappy UI, all for a (relatively) low price, they've also released great IEMs like the iBasso IT04, and an excellent set of usb-key-sized DAC with the DC01, DC02, and more importantly, the DC05.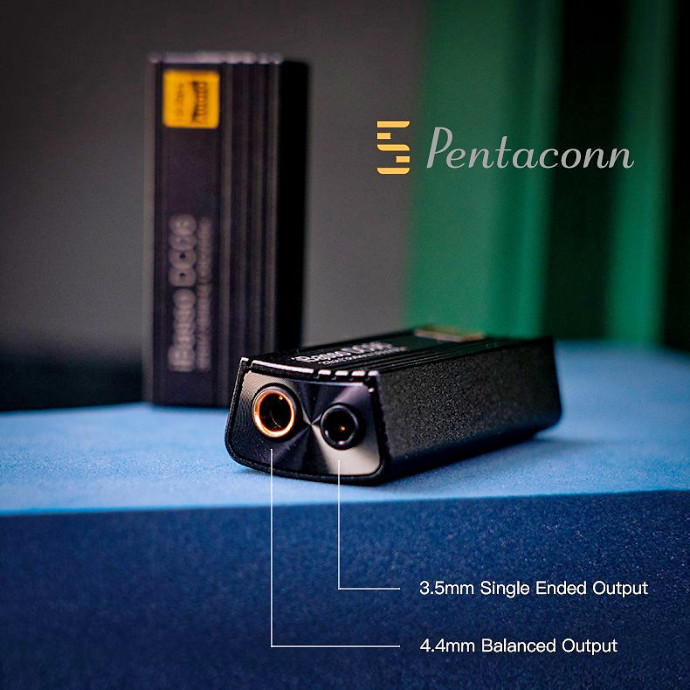 The latter is, and remains, one of my favorite portable DAC/AMP thanks to its small size, nice design, and excellent performance-to-price ratio. But, a year later, the market has become a lot fiercer, with competitors from established brands like FiiO or Hidizs, and newcomers like ddHiFi.
So, iBasso has to catch up, and comes with a new model: the DC06, new DAC/AMP, bigger, bulkier, stronger, packing a set of dual ES9219C chips, for "pocket power". And good news, today, we are reviewing this new iBasso DC06 model. We recommend reading up on the DC05 first, you can do so here:
Design & Build Quality
Casing
While the iBasso DC05 appeared to be the epitome of portable DAC/AMP, the new iBasso DC06 is now twice as big. Rest assured, the new unit remains supremely portable and still looks like a rugged thumb drive from Corsair's travel collection. 
End to end, the DC06 is just 50 mm long, 25 mm wide, and 10mm thick. To those measurements, you can add the USB-C cable, or USB-C to 8-Pin if you're using an iPhone like me. Thanks to that, the DAC can easily be carried in a jean's pocket, a jacket, or simply stick to your phone if you're ok with QI-wireless charging.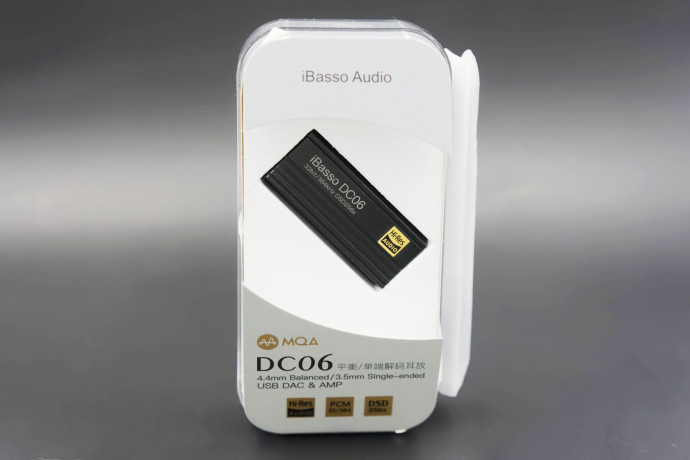 Entirely made of aluminum, the iBasso DC06 is, by far, the sturdiest looking DAC I encountered recently. It looks a lot like the FiiO KA3, with a stripped upper plate mimicking the cooling radiators found in your desktop computer, with a curved shell. Again, from afar, you could easily mistake the DAC for a rugged USB-Key, or a hardware crypto-wallet, like the new Ledger.
Also, like most USB-DAC, it is made of two parts: the body itself, working as a protective case and thermal radiator, covered on each side by iridescent plates.
Build Quality
To be completely honest, I prefer the DC05 unibody construction to the new iBasso DC06 design – like going from a Tesla Model S to the Cybertruck. That said, the new unit is absolutely flawless in terms of build quality, and once you grab it, the DC06 screams "POWER" from every fiber of its (metallic) body.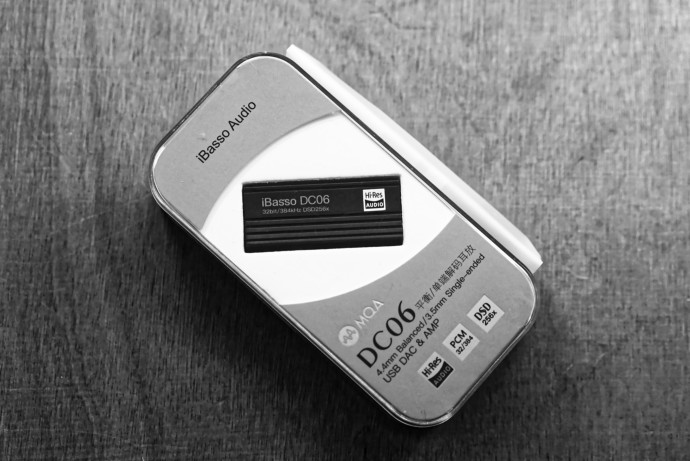 Black anodized, CNC-milled aluminum body, topped by superb front and backplate. Screw-less design with THICK panels, displaying a dual socket on one side – 3.5mm TRS and 4.4mm Pentaconn –  with a USB-C on the other end. Everything looks and feels nice to touch and hold, reminding me of the KA3, another great pocket DAC.
It feels almost as premium as Maktar's X2 Lightning Dongle, which remains my top choice for whoever wants a flawless device, with its matte-black tubular frame, but the iBasso DC06 aims at a different public, craving for power – and the DC06 costs half as much.
Finally, this is one of the sturdiest devices I reviewed recently. I've never stepped on this one as I did with the KA3, but build quality is on-par,  so I'm sure the iBasso DX06 can overcome any hardship.
All in all, it's a very solid piece of work, and it really gives an outstanding impression.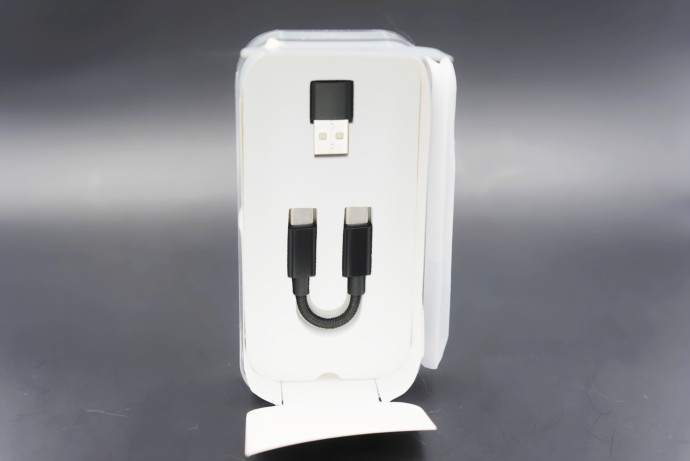 Bundle
Quick work on the bundle: it's dire, but not more than other models. In fact, I'd say that iBasso did a nice move including both USB-C and Lightning cables, plus a USB-C to USB-A adapter.
What's a bit strange is how iBasso strapped the 8-Pin to USB-C cable on the outer side of the box, instead of packing it inside. But, I prefer to have it outside, than getting none at all!
Comfort and Specifications
Daily use
The iBasso DC06 is extremely simple to use.
You plug it into your phone, insert your headphone jack, and you're good to go. There were no issues with my iPhone 13 Pro Max + TC28i + DC06, or with my MacBook: each time, the iBasso was immediately recognized by the source, and music came out almost instantly.  On Windows, I had to wait a minute, until the OS got the right driver but after that, it worked flawlessly.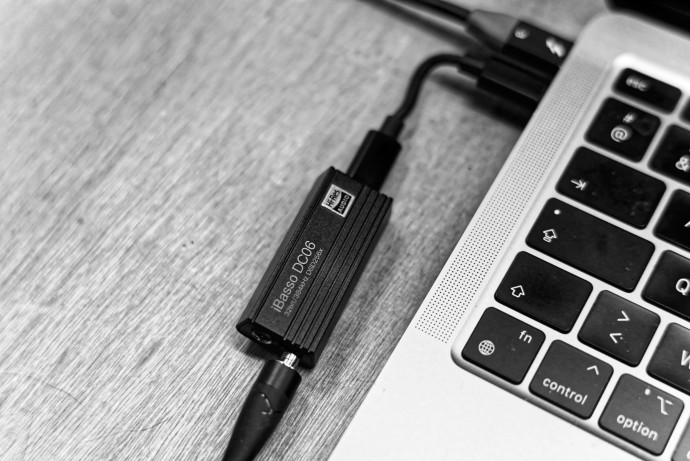 In parallel, a third-party software seems available for Windows and Android users, named UAC iBasso. Made for the DC0X series, this software enables UAC 2.0 controls, to unlock 64 steps hardware volumes, but in all honesty, I didn't have the chance/will to try it
Also, unlike NuPrime's Hi-mDAC – but like every other USB-DAC – there are no volume controls on the DC06: everything has to be done from your source directly, but that's pretty common. Last but not least, you can spot a LED ring on the USB-C side, indicating the current sampling rates:
red for standby, when no music is playing
green for PCM files
blue for DSD files
and finally magenta for MQA files, (brace Tidal users!)
Let's take a quick look at the specs now.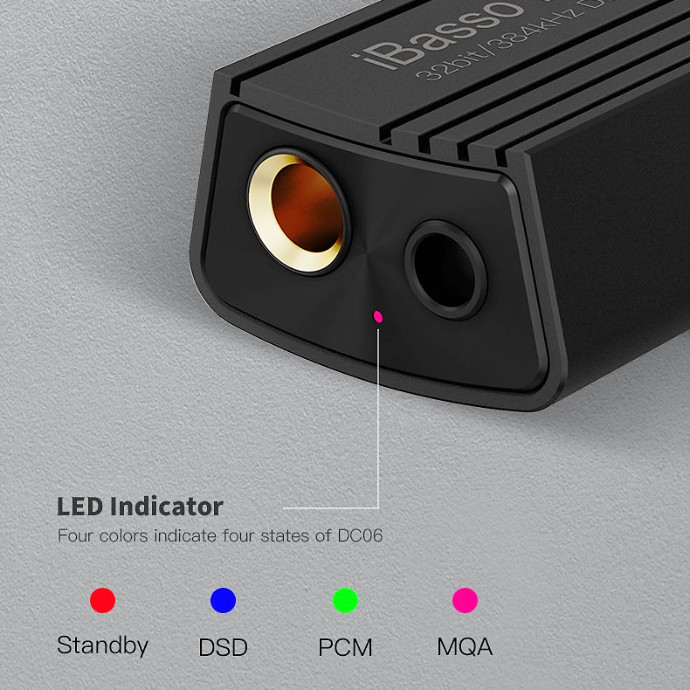 Specifications
Like the Hidizs AP80 Pro-X we reviewed recently or the previous DC05, at the heart of the iBasso DC06, you'll find a set of two ES9219C DACs, provided by ESS. A great chip, packing a 32-bit stereo Low Power DAC, a headphone amplifier, analog volume control, and the output switch – in short, the ideal audiophile SOC.
In essence, this chip is designed for audiophile-grade portable power sources, like a DAP, or a DAC, so it's no surprise that you'll find every latest technology the brand has to offer :
32-bit HyperStream III DAC/HPA, for high dynamic range and ultra-low distortion
Quad DAC+ technology, that allow manufacturers to create balanced circuitry with a single chip (the DC06 has two chips, so that's twice more power!)
Time-domain Jitter Eliminator, everything is the name: no input clock jitter
up to 32bit / 384kHz PCM and DSD256 support
ultra-low standby power, extremely useful for a USB-powered DAC like the DC06
64-bit accumulator and 32-bit processor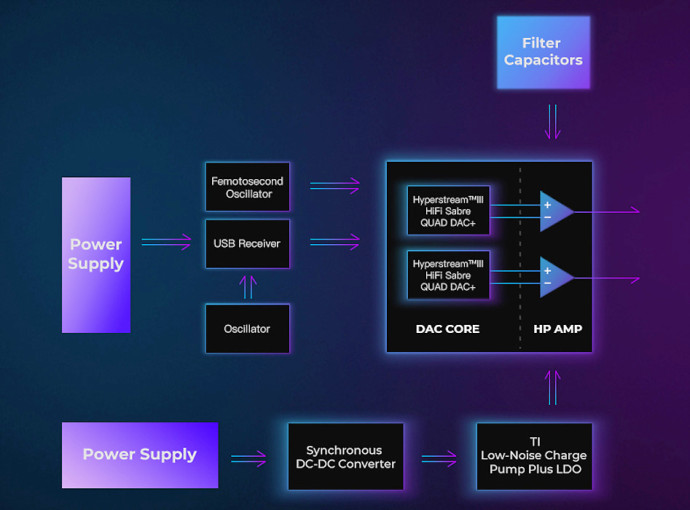 To that, iBasso added its own "sauce", to enable the full potential of the DAC, and furthermore, output more power with a lower floor noise. So, upstream of the dual ES9219C chips, the brand added its own USB-receiver chip, combined with an NDK femtosecond oscillator, something we've already seen in previous models, like the DC05. 
On top of that, the power supply gets a completely redesigned synchronous DC-DC converter, feeding a Texas Instruments Low-Noise Charge Pump Plus LDO. Long story short, with just 5V, the iBasso DC06 is capable of outputting 320mW @ 32ohm. Enough for most portable headsets or IEMs.
Finally, for the nerds out there – like me- here are the full specs.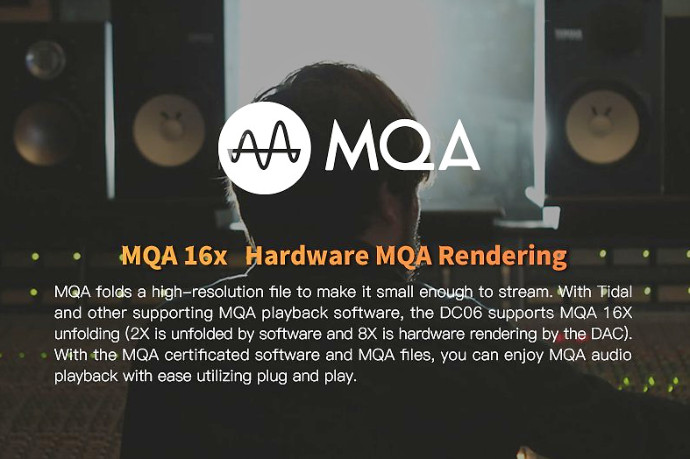 Technical specs
Type: USB DAC
Model: iBasso DC06
Chipset: 2x ESS Sabre ES9219AC
Frequency range: 20 – 20 000Hz
Compatibility: PCM up to 32bit/384kHz – DSD up to DSD256 – MQA 16x
SNR: 123dB (4.4mm) / 120dB (3.5mm)
THD (4.4mm): 0.00035% (600 ohm load) / 0.0005% (32 ohm load)
THD (3.5mm): 0.00056% (600 ohm load) / 0.0007% (32 ohm load)
Output voltage (4.4mm): 3.2Vrms (32 ohm) / 4Vrms (300 ohm)
Output voltage (3.5mm): 2Vrms 
Size: 50 mm x 25 mm x 10 mm
Weight: 23g
Socket: USB-C 
Price: $119 / €119
The article continues on Page Two, after the click here