In this article we review the Chord Electronics ANNI headphone amplifier, selling for $1,795 USD.
Disclaimer: The Chord Electronics Anni was loaned to me by Chord Electronics. 
Chord Electronics
If you've been in to Hi-Fi or personal audio for the last decade, you surely must have heard of Chord Electronics:
"Chord Electronics Ltd is a world-leading manufacturer of high-end audio products. Since 1989, under the leadership of proprietor John Franks, Chord Electronics has been pushing the boundaries of innovation, creating some of the planets finest hi-fi, home cinema and professional audio equipment. A technology-driven leader, Chord Electronics philosophy of ongoing evolution and refinement continues to deliver landmark audio products with extraordinary performance and unrivalled design features." 
We've seen many very successful products from Chord such as the Qutest DAC, the Hugo 1 and 2, the Mojo, the Mojo 2, the Hugo TT2 and of course the TOTL reference DAVE. Now Chord Electronics is back with a new desktop sized headphone amplifier, the Anni.
Anni
The product page of the Chord Anni can be found here. Anni basically is a small desktop sized integrated amplifier that introduces Chord Electronic's next-generation ULTIMA technology to both headphones and compact loudspeakers. In this review we will only be looking at the headphone part.
You can find a nice introduction video to Anni right here:
AS you can see in the pictures and the video, the Chord Anni matches to the Qutest which we reviewed here and it seamlessly complements the multi-award-winning Qutest standalone DAC and Huei phono stage.The Chord Anni comes with an impressive 3 year warranty and it is made in Britain.
Anni offers the recently announced dual-feed-forward error-correction circuit topology whether using headphones or compact loudspeakers. Anni's advanced technology allows it to drive any headphone load, error-monitored and compensated amplification at all times. (see below)
The Anni has both a 3.5mm and 6.35mm single ended headphone output on the front, and both outputs can be used simultaneously. Anni delivers 10 watts of quality ULTIMA amplification and a two-stage gain control for loudspeakers which provides additional flexibility with a wide range of desktop monitors.
The Key features of the Chord Anni are the following:
10W into 8Ohm
Class AB Sliding Bias
HF Switch Mode PSU
Ultima Technology
Unbalanced RCA (inverted) inputs
Double Ear/headphone outputs (3.5mm and 6.35mm)
4mm Banana loudspeaker outputs
Solid aluminium chassis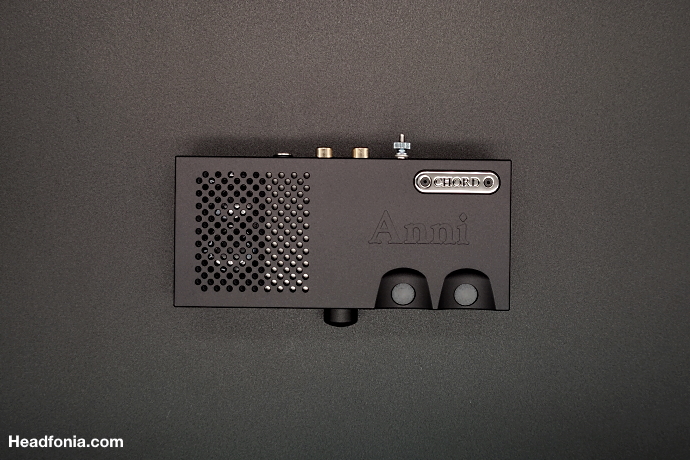 The Anni is Using a version of Chord's Ultima amp topology, found in its power amps. Ultima basically is a dual feed-forward error-correction design, built to ensure clean drive of a wide range of speakers or headphones through constant monitoring and compensation of its output.
Anni is also distortion free and Chord explains it as following:
Accurately controlled across the entire audio bandwidth with extraordinary low frequency capability, Anni's protection circuitry allows for the delivery of enormous peak current outputs for its size whilst avoiding overdrive; it does this differently to other amplifiers on a half-cycle by half-cycle basis. If the output of the amp is being over-driven, Anni will detect it and collapse the waveform on each over-driven, half-cycle. So not clipping like other amplifiers but instead going from a completely undistorted waveform to one that is missing half-cycles i.e. it becomes heavily distorted suddenly until the level is slightly reduced. Then the music signal will totally recover without any harm occurring to the amplifier or speaker, with the music being once again undistorted
Packaging & Accessories
The Chord Anni comes in a high quality and sturdy box with design style that we have seen before with the Mojo and Qutest units. The whole packaging and unboxing experience are of a high level.
With the Anni you get the following accessories:
Anni
Anni Manual
Safety instructions
Soft pouch to store the unit int
A 1.5 m 15 V 6 A switch-mode power supply
All-in-all you get a very complete package with a nice presentation. It's what we're used to from Chord Electronics, but it's also what we expect at this price level.
Design & Build Quality
The Chord Anni obviously shows the typical house-style. A quick look at the Chord Qutest or even the Mojo (2) will clearly show the resemblances. The Chord Anni sports a solid aluminium chassis. The Anni weighs 625g and measures 160 mm (W) x 42.50 (H) mm x 96.60 (D) mm.
Design-wise I adore the Anni. I'm quite the sucker for the Chord Electronics design style though, so that shouldn't come as a surprise. The Anni looks fancy and as it's rather small in size compared to other desktop size amps, it easily disappears on your desk or in your system.
Build quality-wise the Anni delivers as well, and for the price it's going for, it also should. There however are 3 small things I want to focus on. First, in a very silent room, the Anni in stand-by mode is audible and you will hear a soft buzz. This is caused by the ventilation system which is constantly powered-on, even when in stand-by mode. It's not audible enough to bother you, unless as I said, it's very quiet. Second, the unit is rather light (625g) and as such a full-sized headphone with a chunkier headphone cable will move the Anni around on your desk. It's almost impossible to unplug the headphone without holding the Anni, so I can't move. It's not the most important or annoying thing to do, but as it's a desktop unit, I personally do expect it to sit tight on my desk. Of course there is an option from Chord where you can get the Qutest stand system (check here), and that will fix this minor issue.
And last, the volume dial. It to me just doesn't feel good enough somehow. It's rather difficult to use the volume dial in a very precise way and there is a quite a bit of "play" on it before it does anything. Perhaps that is because the button also serves as input selector, but it could – imho – be better. Depending on the headphone used, there do is some channel imbalance at very low volumes. So do take that into account.
The article continues on page 2. Click here or use the jumps below.
Page 1: Chord Electronics, Anni, Packaging & Accessories, Design & Build Quality
Page 2: Lay-Out & Usability, Technical Specifications & Price, Sound Intro, Sound General, Sound Classics
Page 3: Headphone Synergy, IEM Synergy, Comparisons, Conclusion