In this review we give the mighty Chord Electronics Hugo TT2 a spin. A DAC/amp retailing for $5,495 USD.
Disclaimer: I bought the Chord Electronics Hugo TT2. Chord Electronics is not affiliated with Headfonia. Chord is not a site advertiser.
About Chord Electronics
Chord Electronics is an English manufacturer of amplifiers, digital to analogue converters, upscalers and streamers. They have been active for many years already and are best known in our space of audio for their ground-breaking Hugo FPGA loaded DAC and of course for their massively popular Mojo. A cigarette pack sized DAC/Amp that surpasses every competitor with its incredible performance. Chord Electronics is seated in Kent and has a team of 27 persons in total.
The Chief Designer and Managing Director John Franks has started out in aviation electronics before he later on founded Chord Electronics. According to the interview we did with him a couple of years ago, he was greatly influenced by that time, because no mistake was allowed without a perfect fix, no workarounds are accepted. This also is the philosophy of Chord Electronics. Don't accept anything but the very best possible. That is why their designs are considered as segment leaders. Up to today, Chord Electronics has brought us a lot of gear which was loved all around the globe. Their Mojo has to be one of the most sold items ever.
A few years into the history of Chord Electronics, John Franks got in touch with Rob Watts, a DAC designer who made far superior products. Rob Watts is responsible for all FPGA DAC/Amps Chord Electronics has brought out in the past years. That includes their ultimate DAC – the DAVE, as well as the super popular Hugo range.
The product in review today is not a new introduction to the market. The Hugo TT2 has been out for over a year already, but due to extremely high demand, it was difficult to get one.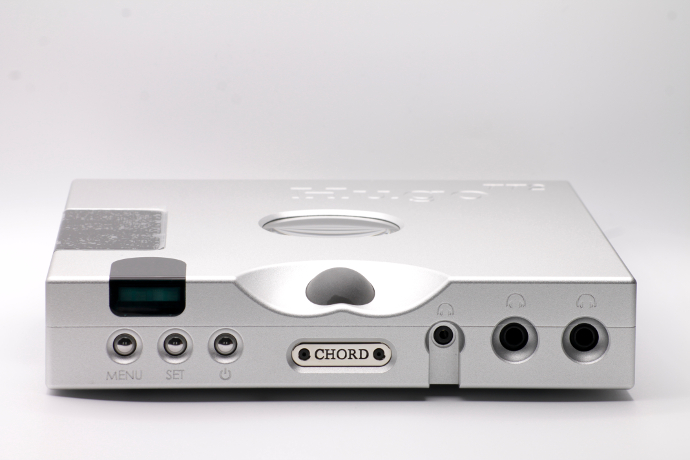 About Hugo TT2
The Hugo TT2 is the direct successor to the Hugo TT. It is Chord Electronics' desktop version of the Hugo2. The TT2 uses bigger and better components compared to the portable Hugo2. Let's take a closer look at its technical specifications.
Of course the Hugo TT2 features a custom coded Xilinx FPGA DAC section. It has a tap length of 98,304 taps, which is double of what the Hugo2 comes with. The Hugo TT2 only has digital inputs, as it's a DAC/amp and not an amplifier. You get 1x USB B (galvanically isolated), 2x Coaxial (BNC), 1x Bluetooth (aptX) and 2x Optical (S/PDIF) inputs. Output wise you can connect the TT2 via XLR or RCA to your pre-, headphone- or power-amplifier. Of course you can also use the built-in headphone outputs on the front of the TT2. Here you have two 6.35mm and a 3.5mm connector.
For further upgrading the TT2 there are two BNC digital outputs on the back of the TT2. These BNC outputs are to connect the TT2 to an upscaler like the Hugo M Scaler or Blue Mk II. With those in the chain you can boost the tap length up to 1M taps.
The Hugo TT2 supports sample rates up to PCM 32bit/768kHz and DSD up to DSD512. It has a rated dynamic range of 127dB A-weighted. The Hugo TT2 measures 23.5 x 5.2 x 23.8cm (WxHxD) and puts 2.53kg on the scale.
You can get the Hugo TT2 in black or silver finish. Either one will set you back $5,459|£3,995|€4,990 and can be acquired through Chord Electronics' retail channels.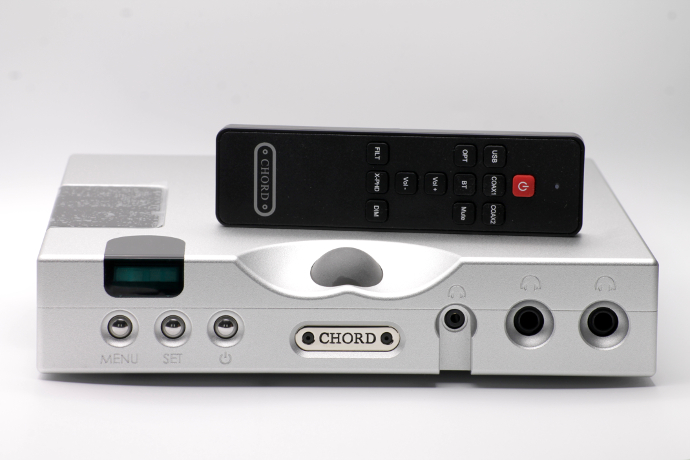 Package
When my Hugo TT2 arrived, I was quite surprised by the size of the package. I knew the TT2 itself wouldn't be very big, but the package DHL brought also was pretty small. The TT2 came packed securely in the box together with all accessories.
Next to the TT2 you get a 15V power supply, a USB B cable and an infrared remote control with Chord Electronics Electronics branded batteries. You'll also find a quick start guide in the box as well as a warranty card.
The quick start guide tells you to look at Chord Electronics' website for a more detailed manual. You can find that one here:
https://chordelectronics.co.uk/wp-content/uploads/2018/05/Hugo-TT-2-User-Manual-1.pdf
Learn more about the Hugo TT2 on page two!