In this review we look at the Hifiman SHANGRI-LA jr electrostat headphone and amplifier. It is selling for $8,000 USD.
Disclaimer: Hifiman sent us the SHANGRI-LA jr on loan for this review in exchange for our honest opinion.
Hifiman
It is simply impossible that you have not heard of Hifiman. They are China-based personal audio company led by Dr. Fang Bian and they have been around for easily 15 years.
If you're into personal audio, then you probably have some knowledge about the Hifiman brand. It was founded in 2007 by Dr Fang in New York to produce high-end personal audio products. Hifiman was the first brand to release a high-end portable audio player, the HM-801, which was like a catalyst for Reference Audio Players that we know today.
One of the many points that make Hifiman stand out is that they are a very innovative company, and they are constantly chasing the better, in every price range. They create different flavoured headphones, warm, neutral, and balanced, for every kind of audiophile out there. We've reviewed many Hifiman gear in the past at Headfonia, and each time we get excited as if it's the first time. Just type Hifiman in our search box.
For those of you who'd like to know more about Hifiman and their founder, there's always this interview we did with him: https://headfonia.com/q-n-a-saturday-hifiman/
In this new Hifiman review, we're looking at their SHANGRI-LA jr headphone system. My reviews seem to be getting longer week by week, so I will try to keep this review short(er) and to the point.
Let's get started!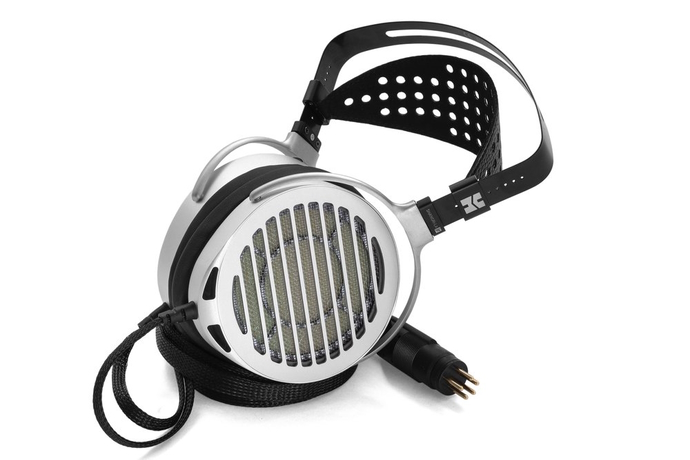 Hifiman SHANGRI-LA jr
We're on the later side with this review but that also means I in the meantime got to listen to it for hundreds of hours. And I – spoiler alert – have enjoyed every single minute of it.
"An Extraordinary Listening Experience Unheard of Performance/value ratio"
You can find the SHANGRI-LA jr dedicated web page here and you can directly buy it from Hifiman here.
The SHANGRI-LA jr is part of Hifiman's Electrostat product line-up where it is right in the middle of Hifiman's offerings. Below you find the Jade II headphone and amplifier system, selling for $2,499 USD and above you find the TOTL SHANGRI-LA system, which is competing with Sennheiser's HE-1, and selling for somewhere around $50K.
The SHANGRI-LA jr system with an ultrawide FR from 7Hz to 120kH2, is full of technical marvels and it – according to Hifiman – "reveals every musical nuance". On Hifiman's website we can find the following info:
The headphone (full-sized circumaural) uses Nanotech Drivers (less then 0,001mm) and it couples near zero distortion with lightning fast response. The Nano-particle coated diaphragm provides an extremely high FR and the metal mesh stators working close to the ultra-fine diaphragm offer superior openness and minimize distortion. The frames incorporate special alloys to ensure sonic stability and to reduce distortion. The width of the mesh gratin is only 50 um so that sound waves below a million Hertz can pass through, making it acoustically transparent. More info on these technologies can be found on Hifiman's website.
The amplifier running the electrostat headphone was newly designed and custom built by Hifiman. The amplifier comes with a discrete 24 step attenuator and the 12 horizontal LED array volume indicators are a nice touch.
It is a tube amplification design, running four matched Hifiman branded dual triode 6SN7 tubes. We have seen many 6SN7 based headphone amplifier designs before, like the Feliks Audio one Euforia, just to name one. The amp also has a bias control at its base for correcting the bias when tube-rolling. The stock tubes are matched and tested though, so out of the box you should not need to worry about this. IF you're not familiar with what you're doing measuring and setting the bias for other tubes, I wouldn't recommend going that route.
Now that we have gotten this theoretical part out of the way, let's dive in further!
Box & Delivery
When you buy a $8K headphone system you expect everything to be nice and perfect. Impressive even. Unfortunately, the trend nowadays with super high-end headphones (say $4k and up) is to scale down the box and accessories. But this is not the case with this full system, and the SHANGRI-LA jr impresses from the moment it arrives.
The box the full system comes in is huge and impressive. It's not just any normal card wood box either, the SHANGRI-LA jr arrives in an enormous hard case that can even be used as a trolley. On the inside you find the amplifier and headphone, safely seated in their cut-out foam section. It's really something else. Luxurious and safe but consider you will have to store this big case somewhere.
Initial impressions couldn't be better.
Build Quality & Lay-out
With an item in this price range, you expect the build quality to be nothing but perfect. I have had the pleasure to have the SHANGRI-LA jr with me for several months already, and I haven't found a single flaw. From the shiny surfaces to the solid frame, the tube sockets, the power button, LEDs and the inputs. Everything is finished at a high level. Even the headphone stand is super fancy.
The SHANGRI-LA jr isn't a small system though. It measures 400 x 265 x 108 mm3 (15.7″ x 10.4″ x 4.2″) and it weighs an impressive 11kg (24lb). And that's without cables and DAC, as that's not included. So, you will need a deep desk or storage rack to place the SHANGRI-LA jr on. I have been using the setup in my living room as well as in my main office, and the whole system just looks impressive in all ways.
Lay-out-wise the SHANGRI-LA jr system is simple. On top the nice shiny, angled smoked-glass(?) surface with the four recessed tubes. On the front we have the power switch, the 12 volume LEDs and the volume dial 24 stepped), as well as double EST headphone outputs (which can be used simultaneously). On the bottom of the amp, you have 2 strong, large feet to firmly support and stabilize the amp and keep it in place on your desk. On the back of the unit you will find the voltage selector, the power plug, both the single-ended RCA and XLR balanced inputs and the input selector.
It's a simple system to work with, but it's pretty and classy at the same time
The review continues on the second page. Click here or use the jumps below.
Page 1: Hifiman, SHANGRI-LA jr, Box & Delivery, Build Quality & Lay-out
Page 2: Design, Comfort, Usability, Isolation, Specifications, Price, Accessories, Sound Intro / General / Classics / Conclusion
Page 3: Sound Comparisons, Conclusion, Pro & Con