Today, we are reviewing the Creative Sound Blaster X3, a $/€129 DAC/Amp from the Singapourian manufacturer.
Disclaimer: Creative sent us the €129 Sound Blaster X3 free of charge, in exchange for our honest opinion.
[responsivevoice_button]
About Creative
For those of you who might not be familiar with this mythic brand, here is a quick presentation.
Creative is a Singaporean brand that's famous thanks to its Sound Blaster sound cards. Long before USB DACs and DAPs became a thing, Creative PC sound cards were there to feed our needs. Even I still own an X-Fi Titanium sound card in my gaming computer, with swapped OP-Amp and the specific headphone front I/O.
For more than 40 years, Creative has been a pioneer at various levels. If you've ever owned a computer, chances are you've already encountered the Soundblaster logo at least once. Sound cards, DAP, speakers, headphones, earphones amplifiers, the brand did it all. They even are hold shares in THX, with Lucasfilm and… Razer.

That said, time to see if the Soundblaster name is still praiseworthy, or not.
The Super XFI Series
Recently, Creative has introduced a new range of products, labeled Supreme XFI. As the name implies, all those models embark the new Supreme XFI chip. Here is a quick presentation.
Creative SXFI AMP
The Creative SXFI AMP is a pocket-sized USB-DAC. Like Nuforce's Hi-mDAC or AudioQuest's Dragonfly Cobalt, it's the kind of device you can just plug anywhere, to up the game with a good headphone or IEM.
It works with Android devices, PC/Mac/Linux, iPhone/iPad and even game consoles like the PS4 and Nintendo Switch. As long as your source offers a USB port, you can connect your SXFI AMP.
Inside, the AMP combines the Super XFI DSP, an AKM AK4377 DAC, and a low-jitter Asynchronous USB UAC2. On paper, the amp is supposed to deliver enough power to drive high-impedance headphones, while keeping the distortion under 0.0022%.
On top of that, the Creative SXFI Amp looks pretty nice, thanks to the aluminum chassis, in matte black finish. Plus, you get physical buttons, a real plus in my opinion, for a little more than $149. Yes, that's $20 more than the Soundblaster X3 we are about to review, and no I can't explain why the Amp cost more than the other.
Creative SXFI AIR / AIR C / Theater
The Creative SXFI AIR is a Bluetooth and USB headphones with built-in Super X-Fi. It's not the sexiest headphone I've ever seen, but for a mere $159, it's packed with a sh*t-load of features.
A classic 50mm Neodymium magnet, 4.2 Bluetooth with no audio codec other than SBC – apt-X, LDAC anyone? – and a modest battery-life (10h). But, it supports USB connection so you can connect your SXFI AIR directly to your computer/game-console/smartphone and bypass the embedded DAC.
Or, you can put your own SD-Card and use your headphones as a DAP. Yes, you read that right. Then, you can either control your music directly on your headset or connect your phone in Bluetooth to access your folders.
The cherry on top? The RGB ring! 16 million colors to match your outfit, your gaming keyboard, your gaming rig, or simply because you don't care, at all, what others may think of you in public transportation. 
And, if that wasn't enough, Creative offers three different versions of the headset :
the SXFI AIR, with Bluetooth, micro-SD port and a NanoBoom microphone
the SXFI AIR C, without Bluetooth and a ClearComms microphone
finally, the SXFI Theater, with 2.4Ghz Wireless, a "gaming microphone" and up to 30h of battery life
Creative Sound Blaster X3
We've already previewed the Sound Blaster X3 previously on a First Listen Sunday, you can read it here in case you've missed it.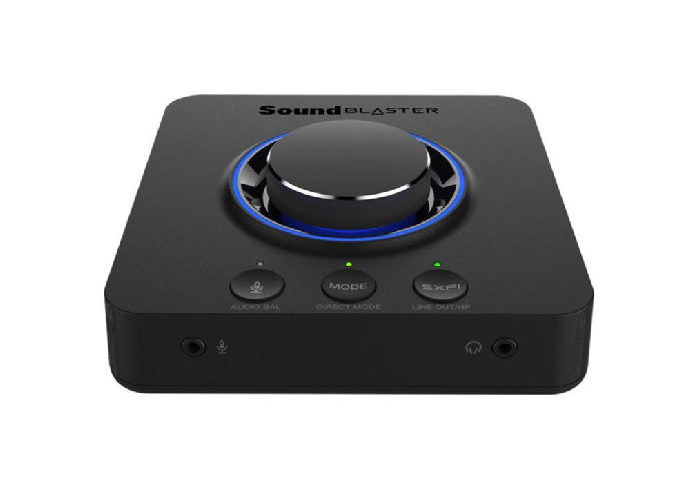 To sum up: the Creative Sound Blaster X3 is a USB DAC/AMP with Super X-Fi, 7.1 discrete outputs and various mods, depending on your use. Moreover, Creative was kind enough to ship it with the Aurvana SE, their Super X-Fi certified headphone.
I've been using it for a few months now, and it's time to give the set, a full review.
The article continues on Page Two, after the click here